Gaming chairs come in many different varieties of models, designs, styles, and features, and you can be in a bit of a dilemma while choosing a gaming chair. Hence, today we will let you know how to select a gaming chair in this guide.
If you've found yourself reading this article, you're probably considering purchasing a gaming chair. But, with so many alternatives to select from, how can you pick the best chair for you? With insights into some of the essential aspects that might make or break your purchase alternatives, this article aims to make your shopping decision a bit simpler.
Types of Gaming Chair
Before knowing how to choose a gaming chair, you need to understand the options and types of gaming chairs. Generally, speaking you will have four different options of gaming chairs to choose from.
Console Gaming chairs
If you are in search of a gaming chair for console gaming, then these types of chairs are a perfect fit for you. They're not as ergonomic as PC gaming chairs and aren't designed to be used at a desk, but many people find them more pleasant for consoles since they accommodate the more relaxed, "laid-back" positions that many gamers who use controller pads like.
But, they're far more adaptable than PC gaming seats, and they tend to come in a broader range of forms and sizes. The traditional 'Rocker' is, nevertheless, the most popular form of console gaming chair.
Rocker gaming chairs do not have pedestal seats or wheels, unlike PC gaming chairs. Instead, they have L-shaped chairs that are positioned directly on the floor. The term "rocker" refers to the backrest of a chair that may rock back and forth as you move.
Moreover, these platform seats shake, and they feature pockets where you can store your controllers. Finally, they frequently have extra technology, like surround sound speakers and USB connections for charging, allowing them to work more closely with your console.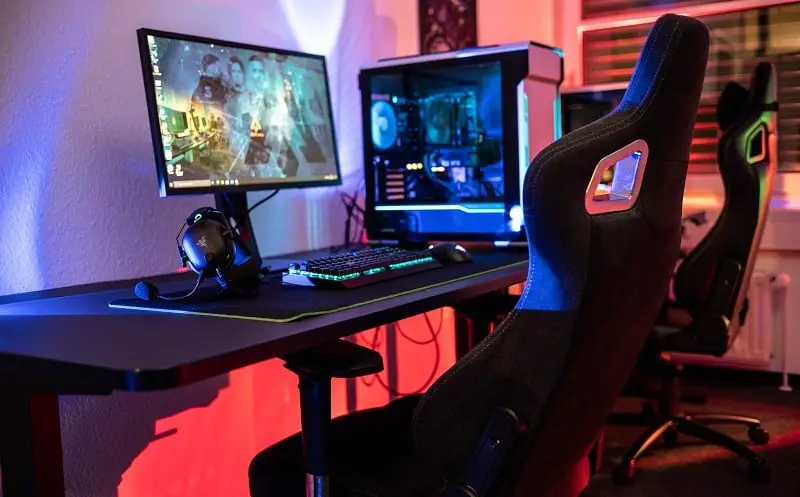 PC Gaming chairs
PC gaming chairs are the most popular form of gaming chairs. These chairs are meant to be used behind desks. They are the siblings of office chairs, as their structures are comparable.
PC gaming chairs, on the other hand, are designed with twice the user's comfort in mind, with extra layers of padding, making them an excellent choice if you play most of your games on your computer or need a chair that can serve as an office chair for a workstation.
Almost all PC gaming seats are initially configured in an upright posture, although many may be tilted backward and locked in different reclining configurations. Due to the fact that they are modeled like car seats, these sorts of gaming chairs are frequently referred to as "racing gaming chairs."
They normally have swivel functionality and elevated armrests for wrist support. This support will ensure that you can use your mouse and keyboard without any wrist pain. Moreover, a high back to support will help your neck and inhibit you from straining while looking at your screen. A transportable 5-star wheeled base with a pedestal seat installed on top is also available.  Some also come with extras, such as built-in speakers.
Read more: Do gaming chairs ruin carpet?
Bean Bag chairs
Although bean bag chairs are not intended particularly for gaming, many gamers like them due to their softness and comfort, as well as the way they adapt to your body. Bean bag chairs are huge bags covered in suede or microfiber and filled with even foam or bedding.
Bean bag chairs are not really good for your posture because they are not ergonomic. But, this style of chair has the benefit of being able to accept a wide range of postures and situations. In addition, even the largest bean bag chairs allow you to lie flat with plenty of space. Another reason why many gamers choose them is that they are typically less expensive than other choices.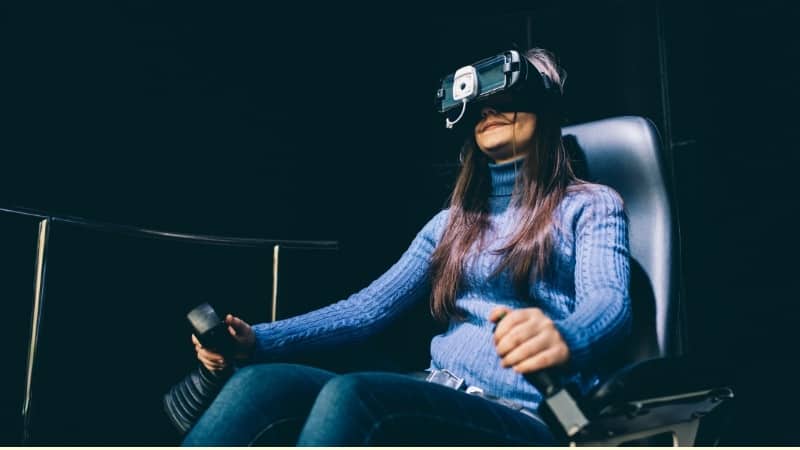 Racing Simulator chairs
If you are a lover of racing, and car games and want a real-life-like experience, then racing simulator chairs are for you. Racing simulator seats are high-end gaming chairs that are mainly built for racing games. They're usually linked to a frame or 'cockpit' on which racing game peripherals like a wheel, gear sticks, pedals, and more may be mounted.
Some racer simulator chairs are appropriate for recreational gamers, while others are intended for professional racing driver training. However, keep in mind that the advanced models are really expensive, the most expensive gaming chairs category.
how to choose the right gaming chair for You
But before you go, you should learn about the many characteristics of gaming seats and what to look for. So, before you start looking for gaming seats, figure out if you want to play on a PC, a console, or both. It's best to have two different seats for these configurations if you're both.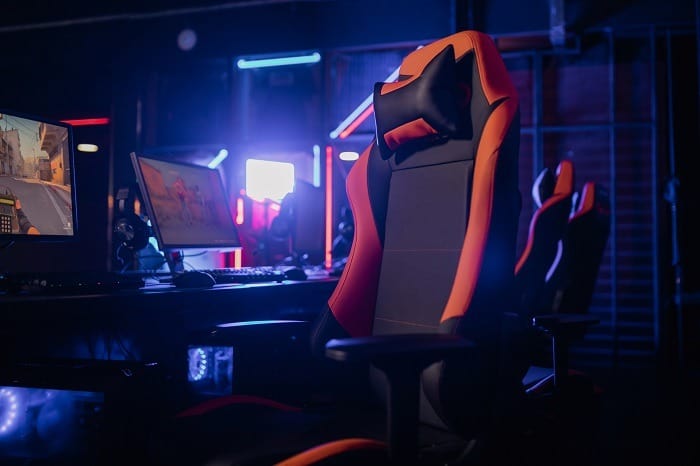 Ergonomics
Comfort is key when it comes to gaming chairs; after all, you don't want your back and neck cramping up in the middle of a long gaming session. You'll also want characteristics that protect you from acquiring chronic discomfort as a result of just playing video games.
This is when ergonomics enters the picture. Ergonomics is a design philosophy that considers human physiology and psychology while developing goods. For example, an ergonomic gaming chair is one that is designed to enhance productivity and efficiency for the player who sits in it.
Furthermore, an ergonomically built gaming chair aids in maintaining appropriate posture, supporting motions, reducing back discomfort, and improving gaming reaction times.
Most gaming chairs come with a variety of ergonomic features, like adjustable armrests, lumbar support cushions, and headrests, to name a few. These elements help you maintain perfect posture and optimal comfort. In addition, a great degree of adaptability is available. For example, you should be able to adjust the seat height, back angle, and armrests to better fit the proportions of your body. The more adjustments you can make, the better.
In addition, an ergonomic gaming chair should feature a high, curved backrest with plenty of upper back and neck support, as well as a tilt lock or tension mechanism to keep your backrests tilted in place and suit various positions. 4D adjustable armrests are also quite nice as they are adjustable to an extensive range; they are not compulsory to have, but having this feature definitely helps.
The best gaming chairs will have adjustable lumbar support that you can adjust to your spine's curvature. A lumbar pillow in a less expensive chair will do the job, albeit in a more basic way. On the other hand, headrests and head cushions provide support for the head and neck, reducing stress for people who wish to relax while playing.
Read more: Best Pink Gaming Chair: Top 7 Reviewed
Material
When it comes to creating a quality chair, the right materials can make all the difference. There are many different materials that are used for upholstery, and each of them comes with its own advantages and disadvantages.
Fabric: Fabric is one of the most popular materials used in office chairs, and it's also utilized in a lot of gaming seats. Fabric chairs breathe better than leather and their imitations, resulting in reduced sweat and heat retention. On the other hand, the fabric is less resistant to water and other liquids than leather and its synthetic counterparts.
PU Leather: We recommend keeping with PU leather since it is generally adequate for most people's needs and offers the best value for money. Although PU is neither as strong nor as breathable as genuine leather, it does offer the benefit of being more breathable than PVC. In terms of look and feel, PU leather is a more accurate replica of genuine leather.
Its main disadvantages over genuine leather are poor breathability and long-term durability. Still, PU is less expensive than real leather, so it's an excellent alternative if you don't want to spend a fortune.
Genuine Leather: Real leather is the most expensive option of material that you can go for. Leather is considerably more durable than its imitators, lasting generations and even improving with age, whereas PU and PVC are more prone to cracking and peeling with time. In comparison to PU and PVC leather, it is also a more breathable material, which means it is better at collecting and releasing moisture, decreasing sweat, and keeping the chair cooler.
PVC: Because PVC is stain and water-resistant, it requires minimal cleanup, which is ideal if you're the type of gamer who enjoys a nice snack or beverage while playing. PVC leather is typically less expensive than leather and PU leather, and the savings are occasionally passed on to the buyer.
Mesh: Mesh is more like fabric, but it's undoubtedly more breathable. It's more difficult to clean than leather, necessitating the use of a specialist cleaner to remove stains without harming the delicate mesh, and it's often less durable in the long run, but it holds its own as a cool and comfy chair material.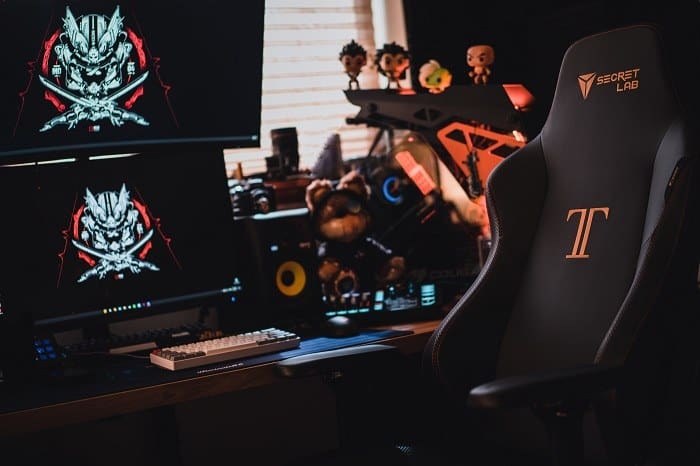 Build Quality
Build quality is more important than the upholstery because gaming chairs are expensive, and you do not want to keep changing your gaming chair every year.
The better the construction, the longer your gaming chair will endure. You don't want to spend money on a chair that breaks or becomes uncomfortably unpleasant after only a few weeks of use. The frame is an excellent indicator of construction quality to look at. Metal, generally robust steel, will be used to make high-quality frames. Frames made of wood or plastic are less likely to survive a long period.
You also need to check the filler inside the cushion; bad fillers will make your cushion flat within a short span of time. Opt for mold shaping or cold foam if you want a high-quality gaming chair with padding that won't go flat after a few months.
Another thing to think about is the foundation. Look for broad metal bases. Nylon bases are less durable since they are narrower. Your casters should also be as broad as feasible. The more casters there are, the more durable the construction is. Three inches or more is great; two inches or less is not so lovely.
Size of the Gaming Chair
Many first-time gaming chair purchasers overlook this, but it's critical to make the correct choice on your first purchase. Gaming chairs can have a wide range of weight capabilities and suggested heights, so make sure you get one that is appropriate for your size and weight.
Many chairs have thinner seats, making them unsuitable for persons with bigger thighs or bottoms. The measurements of most gaming chairs will be listed on the internet page where they are being sold, but if they aren't, don't be afraid to inquire. Remember to measure your available area to ensure that it will fit.
We can divide them into two subcategories:
Big and tall: These Gaming chairs come with the highest weight capabilities and are called big and tall chairs. Most heavy-duty chairs can handle up to and over 500 pounds of weight, depending on the model.
If you're a bigger gamer, you're undoubtedly familiar with the irritation of an uncomfortable gaming chair. But, on the other hand, gaming chair manufacturers are aware of your plight and have responded with seats that finally provide you with the comfort you need.
Small: There are seats out there that may be a better fit than their full-size counterparts if you have a smaller body type or are searching for a suitable gaming chair for kids.
Always make sure to double-check the specifications to ensure that they will suit your available space as well as your personal body type.
Armrests
Armrests are essential for PC gamers. You'll need ergonomic solid wrist support to properly support your lower arms and wrists since this will allow you to have faster response times and, as a result, increase your gaming ability. Adjustable armrests are the finest since they may be tailored to your body and height. You would like to be able to change them so that your shoulders are supported, and your elbows are at a proper angle.
Armrests are standard on most PC gaming seats; however, not all console gaming chairs are. That's OK because you won't be using a keyboard and mouse if you're searching for a console gaming chair, so arm support isn't as critical.
Armrests should be height adjustable at the very least. They should ideally be width adjustable as well, so you can get extra wiggle space when you need it. To make it simpler to get in and out, certain armrests will fold up and out of the way.
Read more: Best GT Omega Gaming Chair Reviews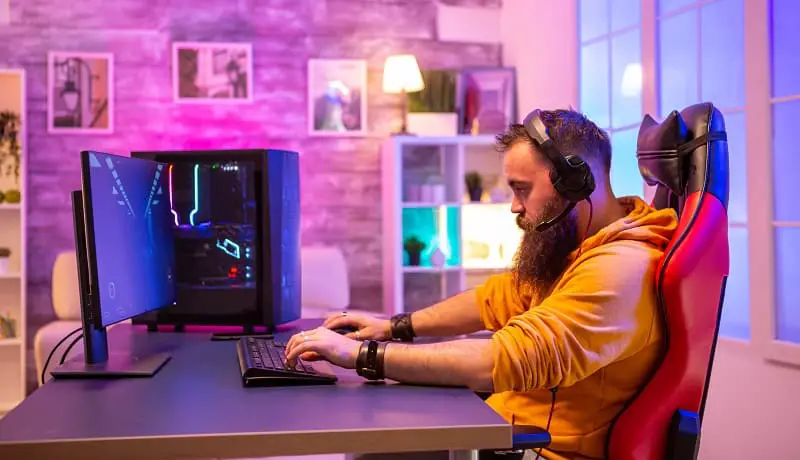 Additional Features
You may require a gaming chair with additional functions depending on your favorite games. Some chairs, for example, include Bluetooth ports, subwoofers, and vibration capabilities, while others have food storage and game controllers. Several chairs include all of these qualities, as well as others.
If you have the money, buying a chair with all of this technology could be a good idea. However, if you'll never use the headrest speakers or the rumbling setting, it's not worth it to invest in them. It would be best if you also thought about getting a chair with armrests and footrests. Both can make gameplay more enjoyable, but they can also obstruct specific actions.
You don't really need footrests to get in the middle of a game that demands leg mobility, and you'll want to make absolutely sure nothing gets in the way if you swing your arms a lot while playing.
Read more: AKRacing Nitro Gaming Chair Review
Budget
The cost of a good gaming chair may quickly go into the hundreds of dollars, if not thousands of dollars. Added equipment such as subwoofers or speakers is frequently the cause of this exorbitant pricing. As a result, it's a good idea to sit down and choose exactly what things you want and are prepared to pay more for. You can skip these features if you already have one of them through your gaming system.
It would be best if you didn't dismiss a chair based on its price; instead, look at the characteristics it offers and decide whether they're worth the money. If you buy a chair that is uncomfortable or lacks the functionality you need, you will most likely find yourself upgrading shortly, wasting the money you spent on your first chair.
On the other hand, many gaming chairs are built to endure for years, so you'll be paying for those features over time which will be worth the money you pay for it.
So, when choosing a chair, make sure it's inexpensive and has the features you'll want to use for years to come, but don't waste money on the features you already have.
Read more: Merax Gaming Chair Review: Is it the best cheap gaming chair?
Style
The looks and style of the chair vary from person to person, and this is not a deal-breaker. But, While the most attractive gaming seats aren't necessarily the greatest for gaming, it makes sense to get one that you enjoy looking at. Also, because the chair will become a permanent feature in your space, you may become tired of it fast if it is too bulky or doesn't match.
Furthermore, other people may see your chair if they come over to play or if you're broadcasting online. So, you might consider getting a good-looking gaming chair for your gaming setup. Some chairs may even be personalized with your favorite characters or games. Because each gaming chair manufacturer offers various customization options, it's always a good idea to ask questions in order to acquire the chair that best suits your needs.
Read more: The Best RGB Gaming Chairs You Can Buy
Conclusion
Choosing a gaming chair can be tricky, and you might end up selecting a lousy gaming chair. To help you from this trouble of wasting money, we wrote this guide on how to choose a gaming chair. We included everything that you must look for while buying a gaming chair.
At first, select the type of gaming chair you are looking for and then read the buying guide very carefully to ensure that you can choose the best gaming chair on your budget.
Read More:
Best Folding Gaming Chair available in the Market
AKRacing ProX Gaming Chair Review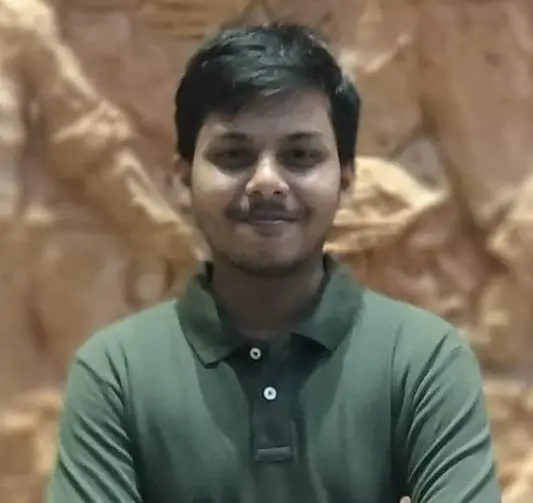 Hello Good People! This is Pavel and Welcome to PC Delight!
I'm an Electronics Engineer by profession with a passion for Gaming & PC builds. When I came up with the idea for PC Delight, it was my goal to share & offer the very best PC building ideas to tech-loving people like myself.
Since my school days, I've been just addicted to gaming & PCs. That leads me to experiment with various ways around the very niche, resulting in great productivity. And I'm here to share those practical experiences. So that next time you start some experiment with your PC builds or struggle to cope with a certain game, I'm here with the solutions. With these philosophies, I started my journey in 2017 and just kept going.