Finding the best gaming chair that suits your needs and matches your preferences is tough. Due to a vast number of varieties, the decision becomes more difficult. So, when we set on a quest to find the best gaming chair for fat guys, the selection even becomes more constricted.
Choosing a gaming chair that accommodates your body type might be especially difficult for big and fat guys. But to make your decision easier, we've put together a list of the 7 best gaming chairs for big and fat people to help you determine which one is suitable for you.
While all of the items on this list are suitable for bigger users, they differ in terms of style, pricing, and functionality.
7 Best Gaming Chair For Fat Guys 2022
We've picked up a terrific selection of 7 chairs that don't fall short when it comes to providing a comfortable resting area for fat gamers. Wider seats, taller backs, and larger load capabilities are available with these choices. As a result, extended gaming sessions are pleasant.
1. DXRacer Tank Series – Best High-End Gaming chair
The Tank Series chair from DXRacer includes a broad, flexible backrest that can accommodate gamers up to 6'7″ tall. Furthermore, with a maximum weight capacity of 450 lbs, this chair is one of the largest accessible for fat guys on the market.
As you'd expect from a high-end gaming chair, the lumbar pillow support is comfortable and fantastic.
What's more intriguing is that this chair has '4D' armrests that you can adjust in any way you can think of. Consequently, you don't have to be concerned about things coming your way.
This chair is made with a robust metal frame and a heavy-duty aluminum base, making it quite sturdy when it comes to the build quality. You can stay assured that this chair will last a long time, even if it is mistreated by overweight and huge players.
The 3″ PU casters are lightweight and straightforward to use, and the class 4 gas lift assures precise and smooth height change. It also boasts a 26″ top breadth to keep your shoulders from feeling constricted and a 20″ diameter base to give your rear plenty of room.
With the amazingly elevated mold shape foam cushioning on the seats, you'll find that additional room and comfort at the upper level. This chair is ideal for gamers that are large and tall. It basically has all of the features you'd expect from a high-end gaming chair.
Pros
Comes with 4D adjustable armrests
Can support up to 450 lbs of weight
Has an ergonomic design
Highly durable, long-lasting PU upholstery
Cons
The chair is a bit expensive
2. AKRacing Masters Series Max – Best Wide Gaming Chair
The AKRacing Max is the latest addition to the product range and the flagship chair of the Masters Series. This chair is designed exclusively for big and fat gamers, combining AKRacing's best-selling designs with XL components.
It also has a larger frame, an updated mechanism, and a maximum weight capacity of 400 pounds, making it suitable for even the most powerful players. The Rock-It and Lock It function allows you to lock the chair in whatever tilt position you like.
Many racing-style gaming seats bind you to your seat. But, the case with AKRacing is completely different; the seats are wide with extra room for fat gamers.
The AKRacing is a racing team based in the United Kingdom. The Max Gaming Chair has a lot of seats, so it's ideal if you want to move about or simply want the added pleasure of having your legs spread wide.
The seat is exceptionally comfortable, with 100 percent chilly foam cushioning that is both soft and supportive. It was selected to ensure great long-term comfortability.
It also comes with superior quality automotive grade PU leather upholstery in five vibrant color variations, allowing you to pick the hue that best suits your preferences.
The build quality is excellent as well. It boasts a custom-made efficient high aluminum foundation with at least 20 times the strength of steel, according to AKRacing. Additionally, the base is meant to match the color of the chair, which is a lovely aesthetic accent.
Pros
Comes in a variety of different color options
Highly durable aluminum base
Extra-wide seats
Frame comes with a 10-year warranty
Cons
The reclining back can be wobbly at times
3. GTRacing Big and Tall – Best Budget Gaming chair for Fat Guys
If you're on a tight budget, you may have to make some sacrifices in terms of comfort and overall quality. However, with GTRacing large and tall, you will never have to sacrifice quality or even comfort. If one of your needs is to pay as little as possible while yet receiving a great product, this chair is the best of both worlds.
This heavy-duty gaming chair, which is created with a robust base, can hold up to 400 pounds, making it perfect for fat individuals. Other features include reclining up to 170 degrees, a 360-degree swivel, and a detachable headrest.
GTRacer was more concerned with comfort than with anything else. The S-shaped ergonomic backrest construction is proof of that. This ergonomic back keeps your spine in good shape as you play for lengthy periods of time.
You'll also get a comfortable, cushioned headrest to help you concentrate on your game or job. Furthermore, you may adjust the headrest to avoid any cervical spine problems in your back.
A wide back gives more room for relaxed seating, allowing your back to remain comfortable and pain-free throughout the day. Big and tall gamers require plenty of legroom when playing games for lengthy periods of time, and the retractable footrest will aid them in this endeavor.
The GTRacing gaming chair is excellent for work, studying, and gaming. Its sleek and trendy design will look great in your game area or home office.
Pros
Included along with a retractable footrest
The headrest is adjustable, and the removal
S-shaped ergonomic back design
The lock function has an advanced mechanism for providing a locking position.
Cons
The build quality could be better
4. Ficmax High Back Ergonomic Gaming Chair – Best Ergonomic Gaming Chair for Fat Guys
Ficmax is one of the major producers of gaming chairs in the world. This gaming chair is meant to last, with a solid metal chassis and heavily loaded wheelbase, and has a 350-pound weight capacity.
The massaging lumbar support, which relieves strain on your waist and allows you to adjust it up and down to your preferred position, is a unique feature of this chair. This feature definitively sets it apart from many of the other seats on this list.
Because of the 180-degree full tilt mechanism, you can even take brief naps throughout your gaming sessions. In addition, the retractable footrest will contribute to the convenience.
This huge gaming chair also comes with a complimentary neck cushion and broader, thicker armrests that can be modified for both height and depth. Because of the class 4 gas lift, height adjustment is simple.
Another aspect worth noting is that caster wheels are pretty quiet and mild enough to allow free usage on hardwood, carpet, and tile. Furthermore, these wheels are constructed in such a manner that you will never have to worry about scratching or marking your flooring.
Pros
The caster wheels are silent and smooth
Comes with an adjustable massage lumbar pillow
The backside has a full 180-degree tilt
Armrests are very thick and comfortable
Cons
We would like the chair to have more weight capacity.
5. Vertgear PL600 Racing Gaming Chair – Best Tall Gaming Chair
The p-line Pl6000 is a comfortable chair with excellent ergonomic characteristics. The industrial strength and extra big padding and headrest structure provide extra support and durability.
Vertgear PL600 is ideal for those who need additional room, and tall people up to 6'11" can utilize it. The PL6000 has a maximum weight capacity of 440 lbs. As a result, even the fattest gamers will be comfortable in this gaming chair.
Due to the superb steel structure and super quality Highly Dense resiliency foam for optimum comfort, the construction quality is also exceptionally durable.
The reinforced 5-star foundation has a heavy-duty aluminum alloy metal built that ensures a sturdy construction, so you'll never fall out of this chair.
It's also covered in ventilated, permeable PVC leather. This means that air flows more easily while seated on the chair, keeping you more relaxed throughout lengthy playtime.
It also looks fantastic. Many of the now-familiar high-end functions, such as 4D armrests, are included in the PL6000. The armrests are padded and molded, which allows four-way adjustment. As a result, you may set the armrests as you wish for a comfortable sitting position.
The tilt lock feature allows you to set the back of your chair in practically any position you like.
Pros
Includes a comfortable 4D adjustable armrests
Very high weight capacity of 440 lbs
The base is a 5-star rated heavy duty structure
Upholstery is made from breathable PVC leather
Cons
6. Anda Seat Kaiser 2 Gaming Chair – Best Comfortable Gaming Chair
This chair is most certainly the most durable, thickly padded, and comfy gaming chair available for fat gamers with that huge of a physique since it can handle a weight limit of up to  400 pounds.
It boasts an ergonomic design with thicker elevated one-piece 60kg/m3 foam that conforms to your figure. The huge 'H-shaped' headrest pillow and lumbar cushion are detachable and give spine and neck support, avoiding discomfort. Even after many hours of gaming or work, the design offers a comfortable sitting position.
It's constructed of smooth bonded PVC leather that's of premium quality and created for fat men's satisfaction. It's not only simple to clean, but it's also considerably more durable, allowing the form to last for a long time.
The customizable tilt pressure system lets you raise or reduce the tension by simply rotating the dial below the chair to better support your body weight. This enables you to rock gently without exerting too much force on your muscles, which lessens muscle soreness.
The 4D armrests are also ergonomically engineered to conform to the curvature of the arm, which is cushioned and height-adjustable. This armrest supports the forearm, alleviating muscular tension and wrist pressure.
Kaiser 2 has five different back-angle settings ranging from 90 to 160 degrees. An angle-adjustable back that allows you to customize your seating posture throughout your gaming session based on your preferences.
Pros
5 different backrest angle positions
Comes with thick padding on the seat
This gaming chair comes with a Class 4 hydraulic piston for maximum comfort.
Easy to clean upholstery
Cons
The seat is not very wide
7. VON RACER Gaming Chair for Big and Fat Guys
Von Racer is not a new brand in the market; they have been producing high-quality gaming chairs for a very long. The Big and Tall gaming chair from Von racer is designed by keeping all fat guys in mind. This chair has a very weight capacity of 400 lbs.
It is made with an incorporated metal structure and a world-quality explosion-proof gas spring. The shell is made from heavy metal, and the base is equipped with seamless castors, resulting in a superbly sturdy structure.
As a result, you will never have to worry about breaking this chair, no matter how big you are. This racing-style chair will look excellent in both your gaming room and even in your office setup.
Furthermore, this huge gaming chair is unusually large, which adds to its allure and flair. Because of its versatile features and comfort, it is the ideal chair for enthusiastic and fat gamers.
The armrests may be rotated and adjusted in three dimensions: up and down, forward and back. All of these practical technologies are simple to change and regulate.
Pros
Three-way adjustable armrests
The seats are extra comfortable and thick
Both the headrest and lumbar support are detachable
The rolling casters are very stable
Cons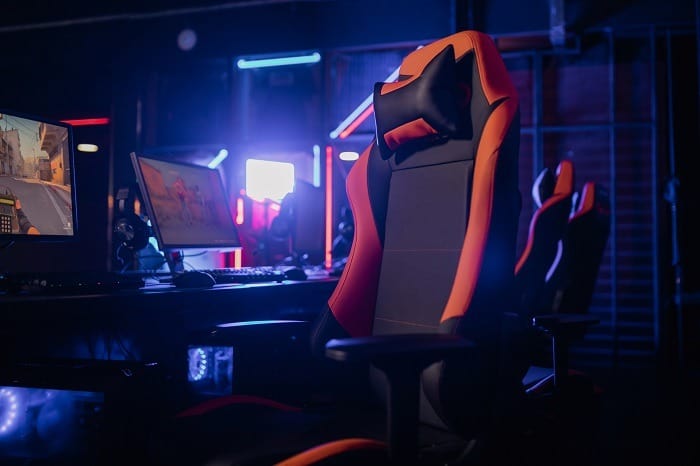 Buying Guide For The Best Gaming Chair For Fat Guys
Before you select the perfect gaming chair for big and tall gamers, we need to know how to find the best one. Below our buying guide will help you make the ideal decision.
Durable Steel Frame
A durable steel frame is the first and foremost thing to keep in mind while choosing the best gaming for fat guys. While a steel frame does not indicate weight capability in and of itself, it does suggest that the maker has gone through the processes of making a heavy-duty chair.
For example, some of the less expensive chairs on the market are simply plywood fastened to a steel frame. This isn't going to suffice. So, when looking for gaming chairs for fat guys, you should look for a heavy-duty steel frame.
You also need to look for a stronger base. Instead of the plastic bases seen on many chairs, go for a metal base. While you move on the chair, the metal base will ensure that your chair does not break down owing to severe weight strain.
Comfortable Seat
You should make sure that your seat has broad seats. Bucket seats with minimally cushioned aluminum bolster on either side are common in racing chairs. The bolsters will bite into your butt and hips if the seat is too tight.
After many long workdays trying different sorts of seats, we've observed that this may be either instantly unpleasant or worn on you over time. It's critical to double-check that a chair's quoted width does not include the bolsters.
Even better, some huge and tall gaming chairs don't have these bolsters, which is an indication that the chair maker understands who they're making for.
Make sure the seat is deep enough to reach the backs of your knees, tall enough to allow your lower legs to fall straight to the floor while still touching it,
More Adjustment Options
Also, keep in mind your height. Your vertical modifications will have a significant impact on your comfort and ergonomics. The chair should have a high and expanded backrest to support your spine. To be able to recline in your gaming chair during lengthy gaming sessions, seek seats with multiple back angle adjustments.
The adjustable lumbar and neck cushions are also essential since you can move them to fit your back and alleviate discomfort. If the curves of the seatback line up with the contours of your spine and shoulder, your posture will be affected.
FAQ
What are big and tall gaming chairs?
Answer: Big and tall gaming chairs basically mean heavy-duty chairs, which are taller, bigger, and heavier and meant to accommodate fat and tall guys. They're usually manufactured of extra-durable materials, with broader foundations and taller backrests to accommodate persons with bigger, heavier, and taller frames. Many gaming chair manufacturers will provide a 'large and tall chair' option. 'XL chairs' is another word that you can hear instead of 'large and tall chairs.'
How much weight can a gaming chair hold?
Answer: A weight limitation of 250 to 300 pounds is usually advised for gaming seats. When it comes to gaming seats for large gamers, they may handle anything from 300 to 500 pounds. We can even find more expensive ones with a weight capacity of more than 700 pounds in some circumstances.
Does gaming chair size matter?
Answer: Yes, gaming chair size does matter. You'll be able to arrange your neck pillow appropriately if you have a back length that matches your body. The majority of backrests are between 33′′ and 30′′ tall. Anything shorter or taller is for sizes that are exceedingly tall or short. Picking the right seat size will provide the most ergonomic comfort.
Conclusion
Looking for the best gaming chairs for fat guys can be challenging as you need to keep a lot of things in mind when finding a large gaming chair. Hence, to make your selection procedure easier, we reviewed our guide's best large gaming chairs.
Always make sure to check the weight limit and the durability of each chair before selecting the chair for you. Your chair's maximum weight limit capacity must not exceed your weight, or else it will break down.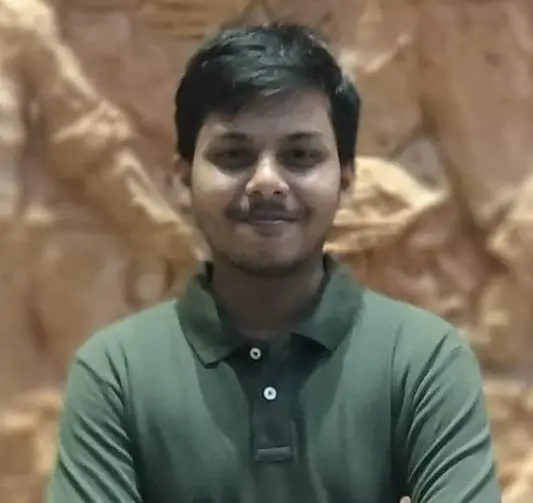 Hello Good People! This is Pavel and Welcome to PC Delight!
I'm an Electronics Engineer by profession with a passion for Gaming & PC builds. When I came up with the idea for PC Delight, it was my goal to share & offer the very best PC building ideas to tech-loving people like myself.
Since my school days, I've been just addicted to gaming & PCs. That leads me to experiment with various ways around the very niche, resulting in great productivity. And I'm here to share those practical experiences. So that next time you start some experiment with your PC builds or struggle to cope with a certain game, I'm here with the solutions. With these philosophies, I started my journey in 2017 and just kept going.