Gaming chairs are no longer just simple-looking chairs, comfortable chairs just to sit around and play games. With the advancement of technology, they have developed into something more sophisticated and unique. Nowadays, you can find gaming chairs serving multiple purposes, from serving as a proper office chair, workstation chairs, massage chairs, and many more.
The greatest gaming chair for you is one that provides all of the comforts you desire. But, is that all? The answer is no. Whether you're playing role-playing games, racing games, or shoot them ups, you'll need the best gaming seats with speakers to get the most out of your experience.
Hence, today we will review the 10 best gaming chairs with Bluetooth speakers, These gaming chairs with Bluetooth speakers will certainly make your gaming experience like real life.
Why should you get a Gaming chair with Bluetooth speakers?
Before you go and buy a gaming chair with a Bluetooth speaker, you must know whether it is worth buying a gaming chair with Bluetooth. As a gamer, whether casual or professional, your in-game audio preferences will be split between speakers and headphones. Speaker systems are now best suited if you're not the only one gaming on the same screen. Alternatively, you may like the entire in-game audio experience, with the sound reverberating throughout the room.
So, the main question arises, which environment do you like; using Bluetooth headphones or a more immersive experience by having sound vibrate through all your room. Gaming chairs with built-in speakers can undoubtedly provide a more realistic audio experience. Almost all built-in speakers are located around or around the chair headrests. It's only natural to have a panoramic audio experience.
Hence, Gaming chairs with built-in Bluetooth speakers are more cost-effective and provide a better experience than gaming chairs with external speakers.
10 Best Gaming Chair with Bluetooth Speaker
Down below, we will review the 10 best gaming chairs with Bluetooth speakers. All these gaming chairs have been well tested thoroughly by our experts, and hence we created this list.
1. GTRacing Gaming Chair with Bluetooth Speakers
Sale
Weight and Dimension
The GTRacing GT890M comes in a dimension of 29.13 x 24.41 x 24.41 inches with a weight of 50 pounds.
Description
The GT890M is a gaming chair designed by a well-renowned racing simulator designer company GTRacing. What sets this chair apart from the rest is the bucket seat-like design, which imitates a race car seat. In addition, this gaming chair comes with two Bluetooth speakers and a Bluetooth receiver producing an astonishing and richly detailed stereo sound. The sound is delivered loudly in powerful bass and crisp, complete audio, enabling it to produce pure, true surround sound, which will redefine your gaming experience.
You can connect the chair with your tv, pc, mobile, or any device with a Bluetooth connection and enjoy your music playing experience like a cinema theatre.
What we like the most are the thick cushions it is designed with. The GT890M  has a thick layer of high-density foam for hours of comfort, as well as a wipe-clean faux leather covering that won't be damaged by coffee spills. As a result, it's a fantastic game chair as well as an office chair. When you're on a tight budget, multi-function is a godsend.
Another excellent feature in any gaming chair you must look for its ergonomic design, and the GT890M delivers that. The GTRacing has achieved this by using a strong metal frame that promotes a neutral, balanced posture while reducing pressure and strain, keeping you comfortable after long hours of gaming or work.
This gaming chair can recline in four positions ranging from 90 degrees to 170 degrees that is quite impressive. Moreover, the armrests are adjustable for more comfort. However, there is a slight problem; The GTRacing GT890M doesn't have any footrest considering that it reclines very low.
Pros
Comes in four different color combinations.
Can recline very low from 90-170 degrees
Ergonomic design
Adjustable seat height
Adjustable armrests and comes with a lumbar support pillow.
Cons
The Armrest padding has less depth.
2. X Rocker, 5172601, Surge Wireless Bluetooth 2.1 Sound Video Gaming Floor Chair
Weight and Dimension
The X Rocker 5172601 comes at a dimension of 36.81 x 32.28 x 20.89 inches with a weight of 36.16 pounds.
Description
Unlike the GTRacing, This gaming chair from X Rocker is a floor chair that comes with Bluetooth speakers. This chair has a Bluetooth 2.1 sound, and With the chair's built-in audio system, you can get more out of video games, shows, and movies. This captain-style video gaming chair offers two speakers and a large seating space for a real video gaming session.
This chair has been designed by keeping mobile, tv console players in mind, and in case you fall into these categories, then this gaming chair is certainly for you. However, what we like the most about this gaming chair is the comfort. Ironically, the X Rocker Surge's advantages begin with its design.
When it comes to comfort, this is one of the best gaming chairs available. There is plenty of padding that is holistically contoured to the frame's curves. Soft but supportive cushioning is essential for any floor gaming chair to deliver on comfort, and X Rocker 5172601 ensures you have that comfort. However, keep in mind that this chair isn't for you if your height is above 6'2″".
It doesn't come with any armrests, and this can be either an advantage for you or a disadvantage depending on your taste. It's a self-assembly chair, yet it's quite simple to assemble. If your gaming room is cramped, you can fold it up and tuck it away in a corner. This is, incidentally, one of the benefits of not having armrests. As opposed to being bent back over the base, it will hold its balance on its side.
Pros
Comfortable sitting position.
Suitable for mobile and tv console gamers.
Excellent Bluetooth 2.1 sound system
Foldable, so easy to keep in tight spaces.
Comes at a good price point.
Cons
3.  GTRACING Gaming Chair with Footrest and Bluetooth Speakers Red
Sale
Weight and dimension
The GTRacing 890M Red comes at a dimension of 53.15 x 20.87 x 15.35 inches with a weight of 50 pounds.
Description
The GTRacing GT890M red comes with nearly the same features as the blue version. However, this one comes in a more vibrant red color which looks quite enthralling to the eyes. In addition, this gaming chair offers a Gtracing Bluetooth adapter which you can buy separately; this will allow you to connect your gaming chair easily with any Pc and Ps4.
The footrest is quite sturdy and retractable; hence you can recline your gaming chair to up to 170 degrees and use this footrest for taking quick naps. However, we will suggest you not recline it to the very last position as the footrests will not be enough for that recline position. We like the fact that this chair has a 360-degree rocking swivel position which is great. Moreover, you can remove the headrest in case you do not like it.
Like the blue version, the red version is also pretty comfortable thanx to the thick padded cushions in the seat, which are made from high-density foam. The upholstery is made from high-quality Smooth Pu leather, which is easy to clean and is comfortable.
Pros
It can be used in both offices and for gaming.
Comfortable Padded cushions.
The Bluetooth speakers can play music for 6 hours on a single charge.
The vibrant color mixture of red and black.
Removal headrest and lumbar
Cons
The footrest is not large enough for tall people.
4. VON Racer Rocking Video Gaming Chair
Weight and dimension
The VON Racer Rocking gaming chair comes at a 27.3 x 34.3 x 37.8 inches dimension with a weight of 47.9 pounds.
Description
Von Racer Rocking gaming chair is one of the cheapest models out there in our list of best gaming chair with Bluetooth speakers. Even though this comes at a lower price tag, this is one of the most feature-full gaming chairs out there. Just like the X Rocker gaming chair that we reviewed above, the VON Racer rocking gaming chair was created with console gamers in mind, providing support for casual to intensive gaming sessions. It's a step up from old-school rockers while yet maintaining its functionality.
The built-in Bluetooth in this gaming chair has a wireless transmission for Bluetooth connectivity. Hence it will be easier to connect it all devices like mobile, tabs, and pc that comes with Bluetooth. Moreover, the VON rocking gaming chair has Two speakers near the headrest and what we like is the 4 inches subwoofer in the backrest's outer half provides a low rumble that amplifies your game, movie, or music. This subwoofer is so powerful that it will always produce a real life-like sound experience.
The seat is at a comfortable angle on a 360-degree spherical aluminum base with a swivel mechanism. When not in use, you can stick the extra headrest to the back with Velcro. Padded armrests provide additional comfort and may be folded up out of the way when not in use.
Pros
Comfortable Tilt angle
It has a 360-degree swivel metal base
The extra headrest is designed to give you extra comfort.
The back has segmented padding with a high-density sponge.
Comes with an excellent 4 inches subwoofer.
Cons
Not suitable for tall people.
5. Shiatsu Full Body Electric Shiatsu Video Gaming Chair with Airbag Massage
Weight and dimension
The Shiatsu Full Body Massage gaming chair has a dimension of 26 x 36 x 36 inches with a weight of 63.4 pounds.
Description
Well, the Shiatsu Full body massage gaming chair is a unique gaming chair on our list, and we absolutely love this chair. It is not only just a gaming chair with a Bluetooth speaker, but it is a fully functional gaming chair with a full-body massage option.
Just think you have been playing games for very long hours, and your body starts to pain a bit; what do you want now? A message, but, well, with Shiatsu massage gaming chair, you will have that privilege.
There are three pre-programmed auto massage programs on this massage chair. Knocking, kneading, tapping, shiatsu, and air pressure are the five massage modes. There are four airbags that swing the hip by air inflation and deflation on both sides of the seat, similar to how a professional massage master swings your body. Improve the tense of the waist and hip muscles to create a better body shape by effectively relieving pelvic pressure.
The chair's body is made from high-quality steel, which is sturdy and long-lasting. This chair moreover has a load capacity of 200 lbs. The chair is also made from durable PU leather which is easy to clean and waterproof. Another feature that is worth mentioning is you can charge your phone, tablet easily using the USB port in this chair.
Pros
It has three preset auto massage options.
 It comes with four airbags which are placed on both sides of the seat for a more comfortable massage.
SL track massage system.
This gaming chair has a USB port to charge your mobiles or tabs
Full body massage option
Cons
The chair has a narrow design
6. X Rocker Vibe 2.1 Bluetooth Pedestal Gaming Chair
Dimension
The X Rocker Vibe has a dimension of 33.86 x 40.55 x 23.62 inches.
Description
You might be wondering why we are putting so many chairs from X Rocker, but when it comes to the best gaming chair with Bluetooth speakers, X Rocker makes so many different variants, so it was a must to include the best ones on our review list. This is also a floor gaming chair that comes with 2 bluetooth speakers around the headrest and a subwoofer placed in the outer part of the backrest.
A piece of breathable mesh fabric is included. Long hours of gaming in a chair have just gotten a whole lot better, eliminating the discomfort. This is a floor gaming chair with speakers, similar to the X Rocker Surge, but it includes armrests. Additionally, The Vibe 2.1 Bluetooth Pedestal Gaming Chair comes with vibration motors that coordinate with the bass tones in your audio to generate a more powerful full-body experience that will keep you comfortable and amused for hours.
What we like the most is that you can connect this gaming chair with other X-rocker chairs. The control panel has independent volume and bass settings and input and output jacks for connecting to your audio source so that other X-Rocker chairs can join in multi-game mode.
Pros
The seating material is made from breathable mesh
Foldable design, so it takes less space to keep it.
Ergonomic design
Can connect with multiple chairs.
Has additional vibration motors that sync with audio's bass.
Cons
7. Brazen Stag 2.1 Bluetooth Surround Sound Gaming Chair
Weight and dimension
The Brazen Stag 2.1 comes at a 21.26 x 37.01 x 27.95 inches dimension with a weight of 37.2 pounds.
Description
The Brazen Stag was first seen on The Gadget Show and has since swept the gaming industry. The British-designed gadget comprises two 2.1 surround sound loudspeakers and a subwoofer that can be linked via Bluetooth or wired connections. So play your favorite game, watch a Hollywood blockbuster, or listen to chart-topping music while relaxing on this chair.
What we like the most is the aspect that the Brazen Stag 2.1 is designed with Memory foam which is very comfortable to sit on and work for hours.  This is the multimedia entertainment chair you've always wanted. It works with practically any audio out the device, including PS4, PS3, Wii, Xbox One, Xbox 360, TVs, and more.
This gaming chair looks quite appealing to the eyes; it comes in a combination of black and white colors. The light grey/black cushioning cushions have some bold logos printed on the front. It's not meant to blend in with the rest of your decor. It's not the flamboyant colors and angular construction you'd expect to see someone on Twitch sitting in. You will be able to fold the chair when not in use.
However, do keep in mind that the chair is a bit on a smaller side, and if you are big, you need to look for a different option.
Pros
2.1 surround speakers
You can connect to all devices
Made of memory foam for superior comfort
It has a 2-year warranty
Designed with a tilt and fold away mechanism
Cons
This gaming chair is small
8.  X Rocker Pro Series H3
Weight and dimension
X Rocker Pro H3 comes at a 29.13 x 22.05 x 20.87 inches dimension with a weight of 17.34 pounds.
Description
The X Rocker Pro H3 is one of the most popular gaming chairs with Bluetooth speaker models from X Rocker. However, hardcore gamers will appreciate the X Rocker Pro 51259 H3 4.1 Audio, Wireless Gaming Chair. In this ergonomically built chair with vibration, full back support, and a headrest, you can play all day.
What we like is this chair comes with 4 very large speakers, unlike 2, which we can find in most other gaming chairs with Bluetooth speakers. In addition, the tufted leather is supported with solid yet forgiving foam, and the cockpit-style construction of the chair's position ensures that your movement is firmly planted and that the chair doesn't jiggle too much.
Unlike the other gaming chairs on our list, this one has a wood and metal structure. It's smaller and foldable, making it the only chair on this list that genuinely embodies mobility. Armrests are included, but they can only be fixed in one position.
Pros
It comes with 4 huge speakers.
4.1 amazing audio system
Foldable and easy to store
Weight capacity of 275 lbs
It can be used for all-purpose
Cons
Cannot connect directly with Ps4
9. SOUTHERN WOLF Gaming Chair
Weight and dimension
The Southern Wolf gaming chair comes at a 27.5 x 22.05 x 48.8 inches dimension with a weight of 52.9 pounds.
Description
The Gaming Chair from Southern Wolf is a multipurpose chair. It can be used as a gaming chair, a high-back office chair, a reclining chair, a computer chair, or a swiveling chair. This is an excellent chair not just for its inbuilt Bluetooth speaker but also for the lumbar massage option.
Yes, you heard it right. The Southern Wolf gaming chair might look like a regular desk gaming chair, but it has a lumber massage option which is the most liked feature by us, and hence we included this chair in our list of best gaming chair with Bluetooth speaker.
The chair design follows a racing seat and is ergonomically designed for long hours of usage. Moreover, Body tiredness can be relieved by using the massage feature when sitting for lengthy periods of time. The construction is solid as it is made from an all-steel frame. But do keep in mind you can have a hard time knowing the chair as the instruction manual is a bit confusing.
Pros
Electric Lumbar Massage feature
Adjustable backrest 90-165 degrees
Infinite tilt locking positions.
Stretchable large footrest
Adjustable height
Cons
Installation instructions are a bit confusing.
10. Ace Casual 5130001 Gaming Chair
Weight and dimension
The Ace Casual 5130001 has a 33.46 x 16.14 x 25.59 inches dimension with a weight of 27 pounds.
Description
This chair has a built-in 2.1 Wireless Audio System with two headrest-mounted speakers and 1 subwoofer to give high-quality audio for enhanced video game immersion. It works with the majority of gaming systems. Moreover, as this chair has a rocking mechanism, you will have a comfortable game-playing experience.
The design and the colorful look make it an ideal chair that can be used in-game rooms, living rooms, bedrooms, and anywhere else where you want to play your games. The foldable option further makes it convenient to move it around and store it without wasting any space. In addition, the Ace Casual gaming chair is compatible with most gaming systems, and to set up, simply connect your game system to the chair.
The back support is designed to be ergonomic, so you can play your games or watch movies the whole day without having to worry about back or body pain.
Pros
Ergonomic back support
Beautifully designed
Rocking mechanism to find the perfect playing angle
Foldable and compact in size
Cons
Not suitable for taller people
Buying Guide for the best gaming chair with Bluetooth Speaker
So far, we have seen our list of best gaming chairs with bluetooth speakers, but now it is time for us to read this buying which will help you to narrow your choice further to find the best gaming chair with Bluetooth according to your likings and preferences.
Speakers
Since you are looking for the best gaming chair with Bluetooth speakers, we should look for the speaker and audio quality. You should look for how many speakers it comes with and whether or not the speakers produce crisp sound to give you an immersive gaming experience.
Another thing that will add up to this is the subwoofer; good-quality subwoofers will enhance your gaming experience more. Also, look for the speaker's placement; having them close to your head will be an advantage.
Comfort
Comfort is also important as you will use this gaming chair on a regular basis for long hours. When you're watching, waiting, and learning for those game times, both shorter and tall players might wish to invest in a footstool. You should pay attention to the chair's measurements, like the back support's height, the seat's depth, and make sure your things are not firmly stuck and your legs have enough room to roam around.
Check that the lumbar support is soft and cushioned, the seats should be soft as well, and if it is made from Pu Leather which is comfortable as well as easy to clean, this adds to the advantage more. Also, look into the factor that you can recline the seat and lock it into your required position. Also, make sure that the chair is ergonomically designed.
Weight capacity
If the chair can't hold your weight, it's pointless to buy it. Instead, carefully double-check the chair's specifications to ensure that it is suitable for your body type and size. You might find that some of the gaming seats on our list are either short or too narrow for you. Some, on the other hand, maybe overly wide, making it difficult to use the armrests.
Frequently Asked questions
1. Are gaming chairs with speakers wireless?
Answer: Gaming chairs with speakers are not truly wireless, but the gaming chairs with Bluetooth speakers can play music wirelessly using Bluetooth.
2. Does the gaming chair have speakers?
Answer: Yes, now gaming chairs come with a huge variety of models consisting of built-in Bluetooth speakers, which will give you an immersive game playing experience. They are usually found on either side of the headrest or behind the backrest at shoulder height. A subwoofer is also included with some chairs.
3. What is the best gaming chair with a Bluetooth speaker?
Answer: It is hard to handpick one single best gaming chair with a Bluetooth speaker. But we have picked the 10 best gaming chairs for you to choose from. You can find the best gaming chair with Bluetooth in our list above.
Conclusion
People nowadays want a more realistic gaming experience, and hence gaming chairs are designed with built-in speakers to further enhance that game playing experience.
So, today we designed this list consisting of the 10 best gaming chairs with Bluetooth speakers for you to choose from. After testing multiple gaming chairs, our experts put down this list, finally shortlisting these 10 gaming chairs, which we believe are the best gaming chair with Bluetooth.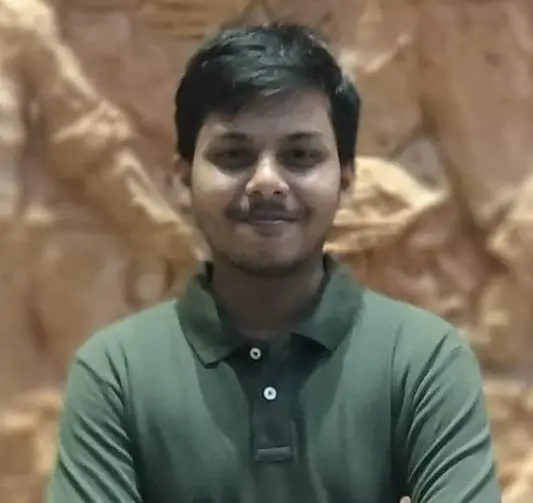 Hello Good People! This is Pavel and Welcome to PC Delight!
I'm an Electronics Engineer by profession with a passion for Gaming & PC builds. When I came up with the idea for PC Delight, it was my goal to share & offer the very best PC building ideas to tech-loving people like myself.
Since my school days, I've been just addicted to gaming & PCs. That leads me to experiment with various ways around the very niche, resulting in great productivity. And I'm here to share those practical experiences. So that next time you start some experiment with your PC builds or struggle to cope with a certain game, I'm here with the solutions. With these philosophies, I started my journey in 2017 and just kept going.