You ordered your favorite gaming chair, and you are excited about the thrill of using a new gaming chair. But as soon as you open the box, you see that the chair is disassembled. What can you do?
You need to assemble the gaming chair, but how to assemble a gaming chair. If you do not know the correct steps, you can spend multiple hours without going anywhere or any result.
Hence, today this article will guide you with all the steps of assembling a gaming chair by yourself.
Why Do Gaming Chairs Come Disassembled?
Gaming chairs are big, and such big products are not easy to be shipped. Moreover, when they are shipped assembled, there is a high chance of breaking down or getting damaged.
So, the easiest solution is to send gaming chairs disassembled which is easier to ship as well as you can get the product without scratches, dents, or damage.
Are Gaming Chairs Easy to Put Together?
Yes, gaming chairs are really easy and straightforward to assemble. In most situations, the objective is to connect the significant components, such as the casters, primary base, and seat, and ensure that all of the bolts that secure them are tight.
However, numerous retailers provide furniture assembly services if you still don't want to put it together yourself. Simply contact them and schedule an appointment, and they will complete the assembly for you.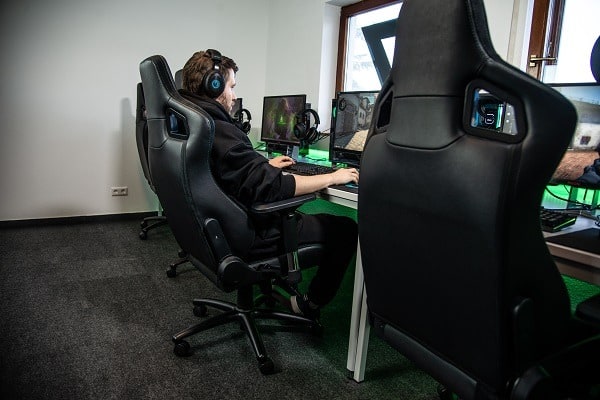 How to Assemble a Gaming Chair – Step by Step Guide
Before you start assembling your gaming chair, you need to keep in mind that all gaming chairs can not be assembled following the steps mentioned below, as many of them vary in design and functions.
However, these steps will be applicable to most gaming chairs out there.
1. Get all the necessary tools.
The first step is to get all the essential tools for the assembly. Before you begin the assembly, make sure you have gathered and sorted all of the various screws and related components. In most circumstances, an Allen wrench, a screwdriver, and a wrench are all you'll need.
Most modern gaming chairs are designed not to need any special equipment to put them together. Furthermore, certain chairs may be fully built with only an Allen wrench, and many chairs come with this equipment.
Gathering all tools beforehand will guarantee that you don't lose any screws or components that might prevent you from customizing your gaming chair to your preferences.
2. Unbox your chair completely and place everything in an open space where you will work.
Remove the office chair kit from the box. Remove all of the pieces from the kit, as well as any remaining plastic. Follow this as this is an effective method for ensuring that you install a gaming chair correctly and in this way you can avoid the chance of losing any small screws or parts
Also, make sure to check the instruction booklet and double-check to ensure you received all of the necessary supplies to begin building.
3. Go through the instructions manual.
Almost all gaming chairs will come with an instruction manual on how to put them together.
Because these instructions aren't always the most straightforward, we recommend reading them many times before beginning to construct the chair. Also, make sure to read the directions thoroughly before attempting to construct a gaming chair.
AKRacing Instruction Manual: Assembly Guide for AKRacing
DXRacer Instruction Manual: Assembly Guide for DXRacer
SecretLab Instruction Manual: Assembly Guide for SecretLab
4. Organise all the pieces
Allocate and arrange the various components and bits of your chair so that you can find them when you need them, and then organize the multiple elements of the chair so that you can find them afterward.
In most circumstances, Before beginning anything else, you should grab the bottom of the seat, that you will need to set up. Also, make sure you have a beautiful, expansive workspace to work in so that no pieces get misplaced or blockages occur.
5. Connecting the main chair mechanism with the underside of the seat
Attach the bottom to the main chair mechanism with the four screw head bolts provided, and then fasten the mechanism to the seat with the four screw head bolts provided. When attaching the chair, be sure to tighten the bolts.
Please tighten the nuts because this connection carries the majority of the weight. After all, this link must support nearly all of your weight and be as strong as feasible.
Slide the chair back onto the mechanism after that. To do so, turn the chair upside down so that you can easily slip it onto the mechanism.
6. Bolt Everything
For this step, you will need a wrench and in most cases, the 12mm open-end wrench will come in handy. Make careful you use the bolts included with your kit to put every part together as instructed in the instruction booklet. Attach the armrests to the holes on the underside of the chair.
7. Attach the Casters into the base
Time to attach the caster in the 5/4-starbase of your gaming or office chair in this stage. You may need to apply a lot of pressure to the castors to get the washers to pop over the plastic socket bracers. If you hear a "click," you've completed the task successfully.
8. Gas Strut connection
After connecting the casters, you need to cover the gas strut with the gas strut cover. Put the gas strut on the 5-star base of the chair and join the chair mechanism to the gas strut on the 5-star base as quickly as possible.
If you have any issues, see the instruction booklet or watch some of the easy gaming chair assembly videos available online.
9. Fix the headrest and backrest
If your office or gaming chair has a backrest, attach the headrest to it. This step, however, only applies to gaming or office chairs with separate headrest or backrest attachments.
The attachments must be secured to the chair's components. After that, you should check to see if the backrest or headrest attachments operate correctly and are in the proper locations.
10. Time to Check
The gaming chair assembly should be done by now. You need to check and test the gaming chair. Make sure that all of the bolts are properly secured. You may take a little leap from your gaming chair. However, do not jump from a great height.
All of this leaping is to hear if any noises are coming from the bolts that aren't tight enough.
Once you've completed this check, you'll know you've put everything together correctly. You'll also get a gaming chair that works well and is ready for hours of gaming, studying, or whatever else you choose to do with it.
Extra Tip
If you want to learn by watching videos, you should go to YouTube before starting the assembling process. There are various assembly tutorials available on YouTube for a range of gaming seats. Some are manufactured by the chair's producers, while others are made by ordinary people after they have acquired the chair. For some people, these video tutorials may be quite beneficial.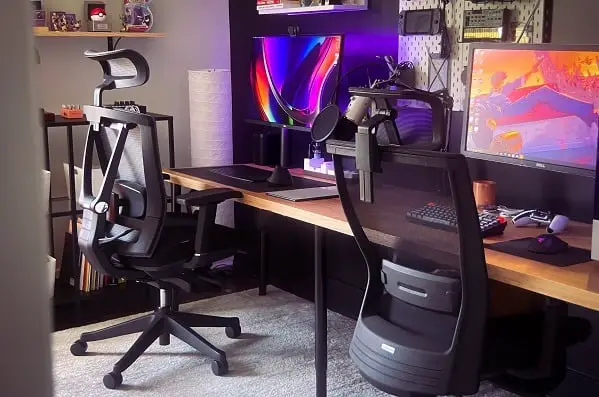 Frequently Asked Questions
How many people do I need to assemble my gaming chair
Answer: Gaming chairs are designed in such a way that they can be assembled easily by one person if you follow all the steps properly. However, you can keep another person for some extra help.
What Are the Requirements for Putting Together a Gaming Chair?
Answer: You don't need heavy tools for setting up a gaming chair. You will just require a few essential tools. All you will need is the 12 mm open-end wrench and the gaming chair kit that comes with the chair. These few tools will be enough to assemble your gaming chair properly.
Can I follow the same assembly process for all the gaming chairs?
Answer: On average, most of the gaming chairs can be assembled following the procedure that we stated above. However, there can be a few exceptions that might need a more complex assembly process.
Try following the user manual and searching on Youtube for the exact assembly process for those gaming chairs.
Why are gaming chairs that aren't ergonomic dangerous for your back?
Answer: Briefly said, they aren't made to resemble the human spine's natural curve. They may cause discomfort and harm over time and with repeated usage.
Conclusion
Whenever you get a new gaming chair, the first question that will come to your head is how to assemble a gaming chair. The procedure might seem very difficult, but in reality, it isn't that hard if you follow the instructions correctly.
Hence, today our article focused on giving all of you gamers out there proper instruction for assembling your gaming chairs without any hassle.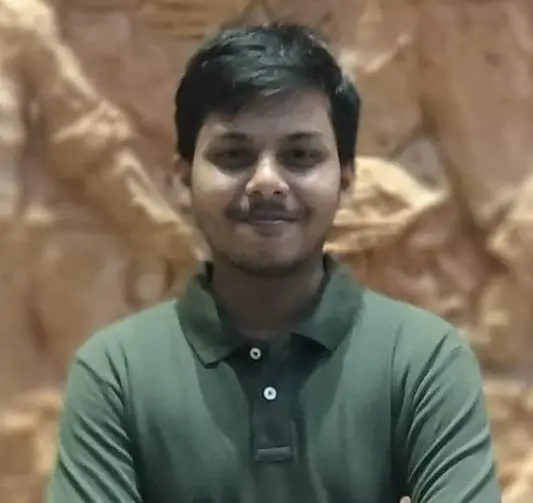 Hello Good People! This is Pavel and Welcome to PC Delight!
I'm an Electronics Engineer by profession with a passion for Gaming & PC builds. When I came up with the idea for PC Delight, it was my goal to share & offer the very best PC building ideas to tech-loving people like myself.
Since my school days, I've been just addicted to gaming & PCs. That leads me to experiment with various ways around the very niche, resulting in great productivity. And I'm here to share those practical experiences. So that next time you start some experiment with your PC builds or struggle to cope with a certain game, I'm here with the solutions. With these philosophies, I started my journey in 2017 and just kept going.