Gaming chairs are a must for gamers. But as you telecast your gaming sessions on YouTube or other social media, you wouldn't mind having a unique gaming chair that gains attention.
Gaming chairs are well-known for coming in a variety of designs and sizes. Not every chair has built-in speakers, illumination, cooling fans, and other features. Creating your own gaming chair can be a fun experience.
Hence today, we will take you down in detail, and in no time, you will understand how to customize a gaming chair.
Can I build my own gaming chair?
Yes, a gaming chair could theoretically be built from scratch. But, it would be exceedingly tricky. To create an ergonomic chair, you'd have first to find the materials and components you'd need, which may be time-consuming and pricey, and then educate yourself on how to put them together.
So, the best way to go is to customize your gaming chair according to your preferences. And today, we will show you exactly how you can do that easily without any hassle.
Can you reupholster a gaming chair?
Upholstery gives your chairs a terrific makeover, making them more robust and able to handle severe use in the future. In a different sense, you may upholster any type of chair, from gaming chairs to office chairs and even dining chairs.
Having them upholstered may transform an old, worn-out chair into a brand-new one or even completely change the aesthetic of your gaming chair.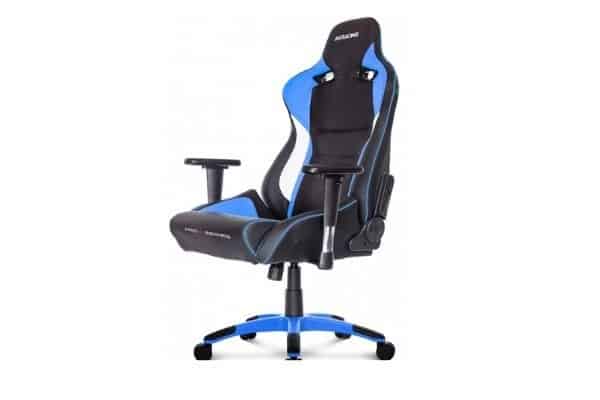 How to Customize your Gaming Chair: A Guide
Down below, we will give you a complete guide on how to customize your gaming chair.
1. Painting your gaming chair
A lot of gamers don't want pre-colored gaming chairs; they want something that is unique for them and has a different color that no other gaming chair of the same model has.
These gamers often find it challenging to choose a new gaming chair since they don't want to make a selection based just on appearances. There are a few things to think about before you start painting.
First, you must determine which paint will perform best on your surface. Secondly, make sure the surface is non-porous and will allow the color to attach readily.
You may paint your gaming chair to match your favorite team or to stand out from the crowd with a very minimal amount of materials.
Paint the chair's bases whatever color you like and use stickers and patches to decorate the outside. Have some fun with your imagination since you never know where it may lead you.
It's simple to paint your gaming chair. It's critical to select the appropriate paint for the project. Water-based and oil-based are the two most prevalent alternatives. Water-based paints are often simpler to work with, but they dry faster. Oil-based paints are more durable, but they're also more difficult to clean up.
DIY gamers may customize their gaming chairs by painting them whatever color they wish. They may customize it with their favorite colors, stripes, and logos – anything they want. For a higher quality finish, the chairs can be professionally painted.
2. Adding Adjustable Footrests
If your gaming chair lacks a footrest, you might be able to get a similar effect by obtaining an adjustable footrest. These devices allow you to alter the position of your feet, allowing you to discover the ideal position for your body type.
Moreover, you can use this footrest to take quick naps when you feel tired or even have more comfort while playing games for long hours.
3. Placing Your Name on the Gaming Chair
Many gamers like to personalize their chairs by writing their names on them. However, it isn't that easy to write your name on the gaming chair upholstery. You can't merely glue or iron your name on the cloth since it will peel off and harm the chair's finish.
Additionally, you can't even paint or write your name on the cloth because this would degrade the fabric, and after some time, the paint would smudge, and your whole effort will be lost.
Some gaming chair suppliers now provide custom embroidery services online. Customers' text names or logos will be embroidered on the gaming chair they bought.
This is ideal for gamers as well as fans of sports such as football, basketball, and baseball. Customers merely need to offer the text name or logo design to the vendor and email it to them.
4. Adding lumbar support cushions
Even though most chairs come with lumbar support cushions, they can feel uncomfortable, and you can buy additional cushions for your gaming chairs.
They're simple to put together on a gaming chair. Usually, all you have to do is wrap the cushion's straps over the seatback and place the pillow along the chair's lumbar area. Memory foam and other comfort-oriented materials are commonly used in these cushions.
5. Adding a Cover
Thousands of gaming chair covers are available online. You can choose any design, material, or fabric you like. Adding a cover to your gaming chair will make its appearance go one step up from the ordinary.
Covers will not just give your gaming chair a unique look, and they will also protect the chair from additional liquid spills, dust, and scratches from your pets.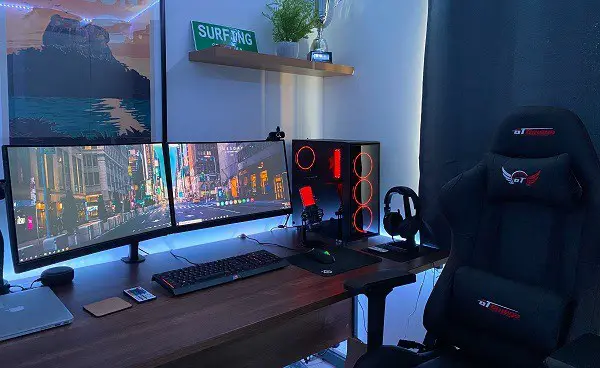 6. Adding Bluetooth speakers
Not all gaming chairs come with built-in Bluetooth speakers, and those who come are a hell of a lot expensive. But, do not worry because you can customize your regular gaming chair with Bluetooth speakers by yourself.
Buy small Bluetooth speakers; you can choose any brand. But make sure that the size of the speakers is such that they can be kept hidden below the seat of the gaming chair.
After you get your speaker, turn your gaming chair upside down and glue your speakers below the seat. You can also wrap them with stickers, as they will stay below the seat they won't be visible. You can also stick speakers on the back of your gaming chair and wrap them with similar colon stickers as your gaming chair to hide them.
7. Add LED Lights
Adding stunning RGB Led Lights for Gaming Setup to your gaming setup can improve your gaming experience. You'll have to think carefully about which colors would work best together, and your budget may or may not limit you.
To Add customizable RGB lights to your gaming chair, first of all, you will need to get RGB lighting KIT (choose the length, model, and features as you want). You will also need to get a portable power bank and some strong tape.
You can either stick the RGB light to your whole chair like on all the edges of the whole frame or somewhere specific; it's your chair, make it the way you want it to be. Moreover, glue a pocket below the chair where you will keep the power bank for powering up the LEDs. Make sure not to glue the power bank, or else it will be very difficult to charge it.
Frequently Asked Questions
Is it possible to build your own gaming chair?
Answer: Yes, it is possible to build your own gaming chair. For building your own gaming chair, you need to do extensive research and get all the necessary components from the internet. The whole process isn't that easy, but you can do it if you wish to.
What is the advantage of a customized gaming chair?
Answer: The main advantage is that the chair will be unique and it will be suited to all your needs and requirements. These will give you a better gaming experience sitting in your gaming chair for long gaming sessions.
Can gaming chair manufacturers customize chairs for me?
Answer: Yes, many gaming chair manufacturers offer customization options for some additional bucks. All you need to do is choose the option during checkout. But if you want more customizations, then you can mail them directly.
Conclusion
Customizing your gaming chair may be an important element of your overall gaming experience. It not only gives gamers the ideal ergonomic arrangement for extended hours of gaming, but it also lets you customize it to make it uniquely yours.
When customizing your gaming chair, do not care about anyone else's design. Customize it the way you want it to be, make it so that it gives you satisfaction and comfort.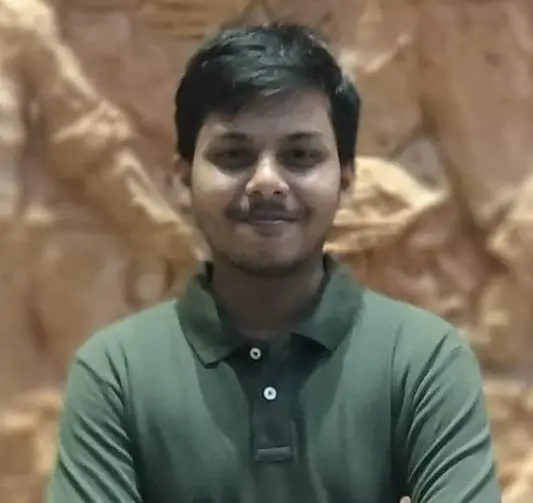 Hello Good People! This is Pavel and Welcome to PC Delight!
I'm an Electronics Engineer by profession with a passion for Gaming & PC builds. When I came up with the idea for PC Delight, it was my goal to share & offer the very best PC building ideas to tech-loving people like myself.
Since my school days, I've been just addicted to gaming & PCs. That leads me to experiment with various ways around the very niche, resulting in great productivity. And I'm here to share those practical experiences. So that next time you start some experiment with your PC builds or struggle to cope with a certain game, I'm here with the solutions. With these philosophies, I started my journey in 2017 and just kept going.