If you're planning to get a gaming chair but worried about whether it will be able to hold your heavier body type, here's some good news, all gaming chairs do not have the same capacity of weight. It differs from chair to chair, brand to brand, and model to model.
The maximum weight capacity of average gaming chairs is usually within 250 to 350 pounds. However, this limit varies with the chair's build and type. There are many other big and tall gaming chairs with more capacity that are specially built for bigger and taller guys.
Many times, gaming chairs can hold more than the stated capacity, again sometimes less. So, there must be a gaming chair somewhere that's perfect for bearing your weight. You just need to look for it. Don't worry, we'll help you out!
In this article, we will not only provide you with a complete idea of how much weight can a gaming chair hold but will also suggest some of the best gaming chair options for heavy people and the way to select the right one for you. Here we go!
Weight Limit of an Average Gaming Chair
Gaming chairs are designed to ensure absolute comfort and appropriate posture to support the gamers while playing for hours. They are loaded with cushions and are usually made really strong to withstand a lot of pressure and weight that a gamer can put while gaming on the chair.
And that is why the weight limit of average and standard gaming chairs is much more than the weight limit of office chairs or other chair categories. An average gaming chair has the capability to combat up to 300 to 350 pounds max. However, it really depends on the quality and builds of the gaming chair.
Many other gaming chairs that are comparatively cheaper might not have a similar capacity. But a decent gaming chair is expected to at least be able to hold a weight limit of 250 pounds.
Weight Limit of an Extra-large Gaming Chair
Though gaming chairs have much more capacity than other chair categories, they still might not be enough for many weighty gamers. Moreover, if a heavier weight is regularly put on the gaming chair, it gradually loses its durability and hence its lifespan.
And so, for big users, there are some specially built big and tall gaming chairs. These gaming chairs do not only have more capacity than average gaming chairs but also are larger in size and taller in height to fit big and tall body types.
Such extra-large gaming chairs can hold up to 400 pounds of weight regularly without compromising longevity. Though it is not like they can't hold a weight of more than 400 pounds, it is highly suggested not to.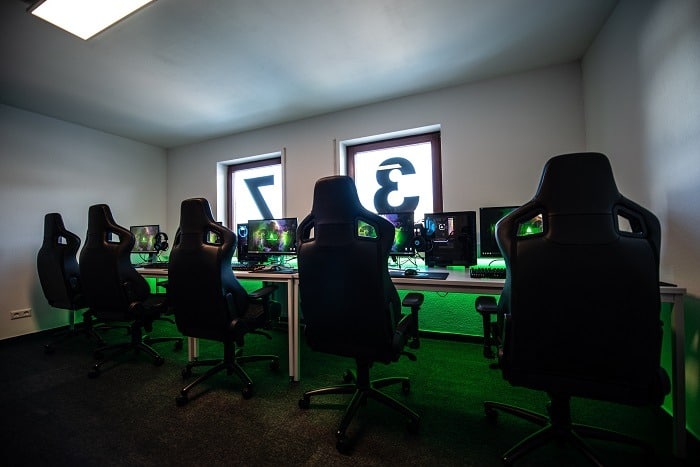 Do Gaming Chair Weight Limit Matters?
Many people while buying a gaming chair or even a regular chair does not even bother to check the weight limit of it. And why would they? After all, to some people, it is numbers and unnecessary details by the manufacturers.
However, this is to let you know that, the weight limit that is included in the manual or the tags of the gaming chair really matter or else the manufacturers would not have included it. They would just skip it like many cheap and nameless brands do.
The weight limit is not only there to ensure that weight more than the gaming chair can bear is not put on it, but it also indicates that a person with a weight more than the weight limit will not feel comfortable on that gaming chair. Therefore, if you plan to buy a gaming chair that consists of a weight capacity less than yours, it will be a really bad option for your posture and physique.
How Strict is the Weight Limit of the Gaming Chairs?
How about you put yourself in the shoes of the manufacturers for a moment and think about it? A manufacturer would always want the product to be sold well. And they would always try to include and highlight more and more features in every attractive way possible to attract the buyers.
In the case of the weight capacity of the gaming chair, the more weight the gaming chair can bear at most, the more will it get prioritized and rated. And so, the manufacturers try to input the highest ability of tolerance of their product while stating the weight limit.
They will never intentionally put a weight limit lesser than the actual. They might put more, but never less. And before putting the weight limit on the tag, they go through several tests to ensure that the gaming chair successfully passes the level of capacity that is being put.
Therefore, it is obvious that the weight limit stated on the manuals or tags of the gaming chairs are required to be strictly followed and it is better to use it with weight as less as possible than the maximum capacity stated to maintain the integrity and longevity of the chair.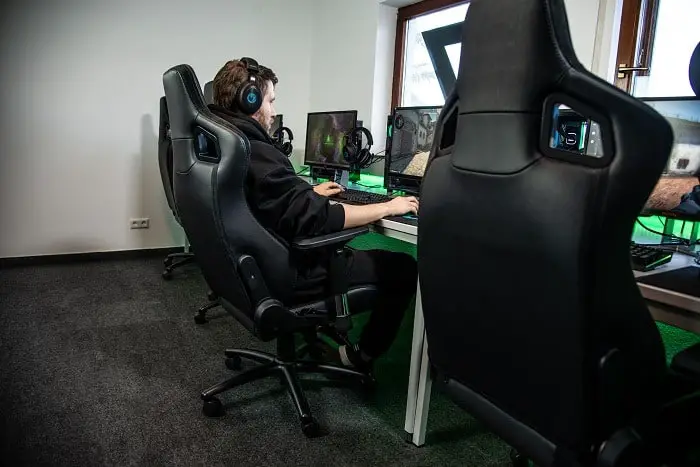 What Happens if you Exceed the Weight Limit of the Gaming Chair?
Till now, we have been consistently telling you to strictly follow the weight limit stated with a particular gaming chair by its manufacturers. Thus, you must have a question by now humming in your head what will exactly happen if you exceed the weight limit of the gaming chair.  So, let's discuss that.
Well, if you exceed the weight limit assigned for a gaming chair by a few pounds sometimes like once or twice for not really too long, it will not make a huge difference to your gaming chair. However, if you keep doing it regularly, for a long time, and with a higher weight than the maximum limit, then it is a huge concern.
First thing first, gaming chairs are some of the strongest structures of chairs that are not supposed to break apart. However, if the difference between the weight and the maximum capacity suggested is too much, there are no promises.
However, if the weight put on the gaming chair does not cross the maximum weight capacity by a big difference, but still is put regularly and for a long time, such as a person who is slightly heavier than the weight limit using it regularly; it might not immediately break apart. But you're pushing the chair towards the following risks.
Decreased Lifespan
If you regularly exceed the weight limit of the gaming chair, it will affect the durability of the chair. The materials and build of the chair will decay and damage slowly and gradually. And thus, your gaming chair will serve you for a lesser time than it would have.
Increased Wear and Tear
When you put extra weight on your gaming chair, it has to take an extra burden on its stands and castors that gradually wear it out much faster. The materials of the gaming chair are prepared to be able to hold up to a certain weight limit. When that exceeds, both the materials inside and outside the gaming chair wear and tear faster.
Discomfort and Posture Issues
Exceeding the weight limit is not only harmful to the chair but harmful to you as well. Because if you are regularly using a gaming chair that can hold lesser weight than yours, that means it is not meant for your body type. Thus, it will cause discomfort in you and will not be able to help you maintain a good posture. That can further lead to body aches and other problems.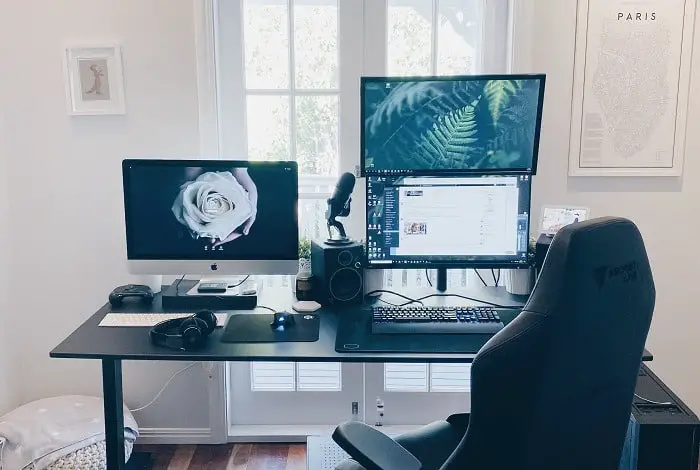 What is the Maximum Weight Held by a Gaming Chair?
Even though experts suggest not to exceed 400 pounds in any gaming chair type including big and tall ones that are specially built for bigger and taller users. And the highly preferred weight scale to use an average gaming chair regularly is below 300 pounds.
However, the capability and level of weight tolerance of a gaming chair vary from one chair to another. Many types, the same model, manufactured from the same manufacturers might seem to have a different weight tolerance from each other. That can be because of one being built with better perfection than the other.
Till now, the maximum weight held by a gaming chair is reported to be 600 pounds approximately. That too by a high weight-bearing gaming chair model. Gaming chairs having the ability to bear more than the range of 600 pounds have not been traced yet.
Does Gaming Chair Size Matter in Weight Capacity?
Most premium and good-quality gaming chairs have different size options of each model to choose from to fit different individuals with different body types, sizes, and physical features. 
Just like the smaller size is considered more appropriate for smaller and thinner users such as kids or teenagers, the larger size like XL or XXL is meant for bigger and heavier users.
And that is why most gaming chairs that provide an option of choosing larger sizes, usually ensure they have more weight capacity to bear larger people. However, this is usual and expected from popular, good quality, and premium brands of gaming chairs.
But many cheap and low-quality gaming chairs that are bigger and heavier, might not have a high weight capacity. Therefore, the brand and quality of the gaming chair is more important factor to consider in weight capacity than the size of the chair.
Best Gaming Chair Options for Big and Heavy People
As promised, we would suggest some of the best options of gaming chairs for big and taller users in order to make it easier for them to choose the right one. So, below we are listing out the best gaming chairs for heavy people exclusively picked by us for your convenience along with their maximum weight capacity stated by manufacturers. Have a look!
– Maxnomic Titanus Black (Maximum weight limit: 375 pounds)
– Secretlab Titan EVO XL (Maximum weight limit: 390 pounds)
– DXRacer Tank Series (Maximum weight limit: 400 pounds)
– AKRacing Masters Series Max (Maximum weight limit: 400 pounds)
– Respawn-400 (Maximum weight limit: 400 pounds)
– Fantasylab 8331 (Maximum weight limit: 400 pounds)
– Yitahome Heavy-Duty Gaming Chair (Maximum weight limit: 400 pounds)
– Cooler Master Ergo L (Maximum weight limit: 440 pounds)
– Anda Seat Kaiser Series (Maximum weight limit: 440 pounds)
– Anda Seat T-Pro 2 Series (Maximum weight limit: 440 pounds)
– Killabee 8247 (Maximum weight limit: 440 pounds)
– EWin Flash XL (Maximum weight limit: 500 pounds)
– AutoFull Slam Dunk (Maximum weight limit: 2500 pounds; Best preferred for users weighing <400)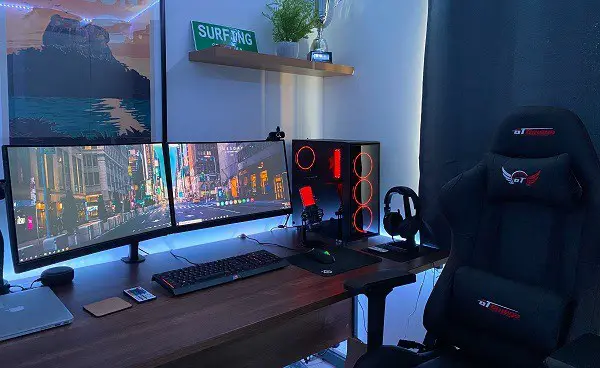 What to Consider While Choosing Gaming Chairs for Big and Tall Users
Struggling to choose the right gaming chair for yourself from the above list? Don't worry, here is a guide discussing the factors you need to consider while selecting a gaming chair for big, tall, and heavy guys. The following factors are very important to judge before getting a gaming chair for big and heavy people.
Weight Capacity (Included in Manual)
The weight capacity is an obvious addition to this list. However, we still enlisted it on the very first point to remind you that this should be the first thing you note before moving further with buying a gaming chair. Compare the weight capacity with your weight. And decide which one would fit you the best.
Manufacture and Build Quality
The next thing you need to consider checking while buying the gaming chair is the manufacture and build quality of the gaming chair. And one of the best ways to judge it is by selecting a popular brand that has good reviews.
Moreover, interact with the manufacturers or sellers before purchasing it. Choose a chair that has fewer joints, but more bends. Because joints wear out easily due to the pressure of weight whereas bends survive longer.
Materials Used
One of the most important elements to check during the process of judging the build and quality of the gaming chair is the materials used for its manufacture. A good quality gaming chair should consist of PU and PVC leather body, high-quality aluminum base, foam padding, and premium mesh quality. Make sure the gaming chair you choose is composed of these elements.
Base Rigidity
The rigidity of the base of the gaming chair is a very significant factor to check especially when buying for a heavy guy. Most premium gaming chairs have an aluminum 5-star base. They are usually more rigid and durable and capable to tolerate higher weight ranges and different types of postures while gaming. A gaming chair with poor base rigidity wears out easily due to holding higher weight regularly.
Seat Depth
Usually, the depth of the gaming chair seat is not a factor people consider before buying. But when you are getting a gaming chair for a big and heavy guy, it is quite an important thing to look up to.
Because a higher weight pushes the cushion and mesh of the seat much downwards than a comparatively lower weight. So, if the mesh of the seat is not deep and thick enough, it will get thinner real soon as a heavy person uses it. And this will eventually turn the gaming chair into really uncomfortable for the user.
Appropriate Height and Size
The dimensions of the gaming chair are ignored by most buyers before buying it. But this is one of the major concerns for a big and tall guy as they do not fit into every dimension. Also, like chair sizes for extremely smaller people are kind of rare, it is a similar case for extremely bigger or taller people too.
And matching the height and size of the gaming chair with your body type and physical attributes is more important than you think. Especially, if you are a gamer who spends most of the hours of the day gaming on the gaming chair. 
It severely impacts your body. There are several popular gamers who face severe physical problems for not choosing the right dimension of gaming chairs matching their body type.
Warranty
Last but not the least, when you are in a dilemma between choosing some of the best options for you. Go for the one with the highest years of warranty. Because warranty is a surety and is profitable when you have a fear that your chair might not be able to serve you for too long.
The weight limit stated in the manufacturer's guide or manual is a warrantied weight limit. So, if your weight is within this weight capacity and your gaming chair fails to serve you properly within the years of warranty, you will get a free repair. Hence, the more the years of warranty, the more it is profitable.
Final Words
Now that you know how much weight can a gaming chair hold, it should get easier for you to find the best chair to hold your weight. Just avoid choosing a chair that has a weight limit lesser than yours. Because you don't want to end up with a broken or damaged chair within a span of a year. Do you? So, make your choice wisely!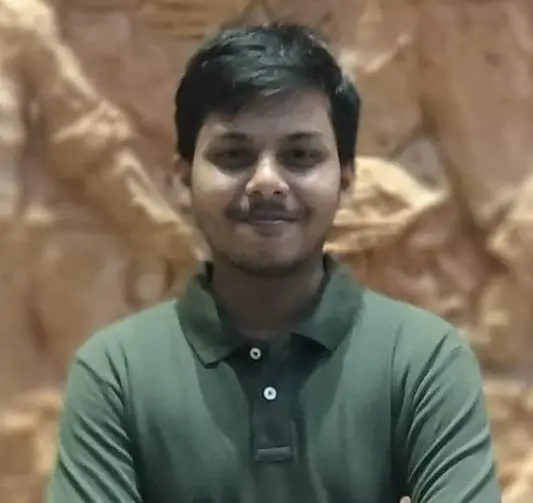 Hello Good People! This is Pavel and Welcome to PC Delight!
I'm an Electronics Engineer by profession with a passion for Gaming & PC builds. When I came up with the idea for PC Delight, it was my goal to share & offer the very best PC building ideas to tech-loving people like myself.
Since my school days, I've been just addicted to gaming & PCs. That leads me to experiment with various ways around the very niche, resulting in great productivity. And I'm here to share those practical experiences. So that next time you start some experiment with your PC builds or struggle to cope with a certain game, I'm here with the solutions. With these philosophies, I started my journey in 2017 and just kept going.