Even though most gamers like to buy gaming chairs with wheels, there is a huge proportion of gamers who wish to buy a gaming chair that does not have wheels.
Because some gamers dislike moving seats, gaming chairs without wheels are a comfortable solution for them, providing a solid and comfy experience.
When it comes to selecting the finest gaming chair without wheels, several elements determine what makes a decent gaming chair without wheels.
So, today we will review the top 5 gaming chairs without wheels and discuss everything you need to know to select the perfect gaming chair for yourself.
5 Best Gaming Chairs Without Wheels 2022
The existence or lack of wheels has little bearing on its comfort attributes, as there are many floor gaming seats with excellent ergonomics. As a result, we've compiled a list of the finest gaming chairs without wheels for 2022.
1. X Rocker Surge – Best Console Gaming Chair Without Wheels
The X Rocker Surge Wireless Bluetooth 2.1 Sound Video Gaming Floor Chair is a great way to improve your gaming arrangement. With the chair's built-in audio system, you can get more out of video games, shows, and movies.
For an immersive and engaging gaming experience, this captain-style video game chair offers two loudspeakers and a large seating space. It features a tiny yet contemporary design with dimensions of 36.8 x 32.28 x 20.89 inches. The overall design is attractive, and it will add a touch of class to your gaming setup.
The bonded leather material on this chair is quite comfy. Moreover, the seat and extra-wide shape of the chair are made of mesh material. The armrest is quite elegant, with neck support for further comfort.
You will also find independent control for controlling sound and bass built-in, as are inlet and outlet connectors for linking to your music source and additional seats for a multiplayer gaming experience.
When talking about built quality, the overall construction quality is excellent, and most users, including ourselves, have had no problems with the chair's internal electronics or lifespan.
This is a rocking chair that does not have wheels. As a result, if you like to rock back and forth when gaming or watching movies, you'll love it. However, do keep in mind that it doesn't come with any lumbar support pillow.
Pros
Includes two built-in wireless speakers
Foldable design so easy to move around and store
Upholstery made from good quality premium faux leather
Can rock back and forth
Cons
Doesn't come with a lumbar support
Read more: The 10 Best Gaming Chairs for Back Pain
2. Giantex 360-Degree Swivel Gaming Chair – Best Multipurpose Gaming Chair Without Wheels
Giantex designed this gaming chair to recline for simplicity and pleasure organically. It comes with an ergonomic backrest that you can adjust to 4 distinct settings. The Giantex, unlike other floor seats, swivels 360 degrees, which is a great feature for a gaming chair without wheels.
This lazy floor sofa can transform from a chair to reclined chair in moments and has six positions. As a result, you may take a nap in your chair. It comes at a dimension of 24 x 26 x 35 inches and can hold up to 330 pounds of weight.
Furthermore, this chair has a wonderful build quality and reliability since it is made of sturdy steel tubes and a high-density sponge.
A high-quality cover covers the top of this foundation. You may clean it when you want by removing it.
The folding design will allow the users to simply fold up this gaming chair up when they're done playing or resting. It is portable and easy to store. You don't need any tools to unfold this couch again, you can just pull up the back, and the sofa is ready for use again.
Furthermore, you can use this sofa for a variety of purposes, not simply gaming, including the living room, the playroom, or any other location that suits your needs.
One thing that we don't like is that this chair does not have any armrests.
Pros
Easy to fold and store
Offers 360-degree swivel
The cover can be removed and washed
The whole chair is  made from high resilience sponge for better comfort
Cons
Read more: The 8 Best Gaming Chairs with Speakers
3. Vitesse VIT Gaming Recliner Chair – Best Budget Gaming Chair Without Wheels
Sale
The Vitesse is a reliable alternative if you're seeking a racing-style incliner gaming sofa. It's certainly comfy, simple to put together, and well-made.
It comes with a dimension of 28.5 x 25.2 x 40.7 inches which can support weights up to 300 lbs.
This gaming chair has no wheels and is really comfy. High-density thicker sponges and high-density sponges are covered in high-quality, durable PU leather to let you sit more comfortably. Furthermore, the leather is waterproof, making it extremely easy to maintain.
To construct the frame, Vitesse used a mixture of metal and mahogany. Furthermore, the PU leather on the surface appears to be of decent quality. Moreover, this couch is one of the easiest and quickest to construct on the market right out of the box. However, other than that, the build quality is superb.
The movable back and footrest may be adjusted from 90 to 180 degrees, making it ideal not just for gaming but also for watching TV, sleeping, and other activities. It also has an ergonomic design that includes a headrest and back support for long-term comfort.
Without question, this gaming chair has been meticulously designed to allow you to play for hours on end. The Vitesse gaming chair will certainly meet your aesthetic demands thanks to its sleek modern design.
It's not too intrusive. The color patterns and simple motifs, on the other hand, are attractive to the eye. However, the region around the shoulders seems a little restricted for taller guys.
Pros
The frame is made from sturdy stainless steel
The seat feels extremely comfortable
You can adjust the back between 90-180 degrees
Ergonomic design
Cons
The shoulder region feels a bit constricted for taller guys.
Read more: How Long Does a Gaming Chair Last?
4. X Rocker Pro Series H3 – Best High-End Gaming Chair Without Wheels
The X Rocker Pro Series H3 is a gaming chair that may be used for a variety of purposes. This leather lounging gaming chair is ideal for playing video games, viewing movies and television, or simply resting in your spare time.
This chair has a dimension of 35 x 22 x 34.5 inches with a maximum weight capacity of 275 pounds. As a result, you can expect excellent back support as well as an exceptional gameplay experience.
As this floor gaming chair incorporates a powerful wireless subwoofer and four speakers to give the ideal gaming experience you've been searching for. Thus allowing both casual and pro gamers to hear and feel the game's audio.
So, your gaming experience will always be authentic; you will feel as if you are immersed in the actual world rather than merely playing a game.
It also has extra vibration motors that match your music's bottom tones to generate a more intense full-body feeling that will keep you comfy and delighted for hours. But, the weight capacity is a bit less for a chair at such a price point.
Pros
Comes with a powerful subwoofer and four built-in speakers
Compatible with almost all gaming consoles
You can connect the chair to multiple chairs for multiplayer gaming mode
Easily foldable design
Cons
The weight capacity is on the lower side.
Read more: How Much Do Gaming Chairs Cost?
5. RESPAWN RSP-900 Racing Style Reclining Gaming Chair – Best PC Gaming Chair Without Wheels
The RESPAWN-900 is a top-of-the-line gaming chair that has received rave reviews from gamers. Furthermore, the completely reclining feature of this chair allows you to level up when leaning back.
The chair includes a soft detachable headrest pillow and split cushioning that provides you with the utmost relaxation and pleasure. It's ideal for working, gaming, or simply unwinding after a long day.
Coming at a dimension of 35.04 x 30.71 x 44.88 inches and has a weight capacity of 275 lbs. So, it can fit most moderate-sized gamers.
It also has a detachable side bag that hangs off the left arm to keep game controllers close at hand, as well as a cup holder integrated into the left arm, so you don't have to stop playing to refuel.
The armrests have pleasant cushioning, and the headrest has sufficient ventilation. You will find imitation leather on the footrest, which feels soft on the touch.
Furthermore, the chair appears to be rather solid and durable, with the ability to withstand repeated usage for an extended period of time.
You can comfortably recline in this gaming chair up to 135 degrees without any worries of falling down. The extensible footrest and reclining back are both supported by a 360-degree swivel base, allowing you to concentrate on your game rather than your balance.
Pros
360-degree swivel base
Detachable side bag for keeping controllers
Added cup holders
The footrest is really comfortable and feels soft
Cons
The headrest is a bit low
Read more: The 10 Best Folding Gaming Chairs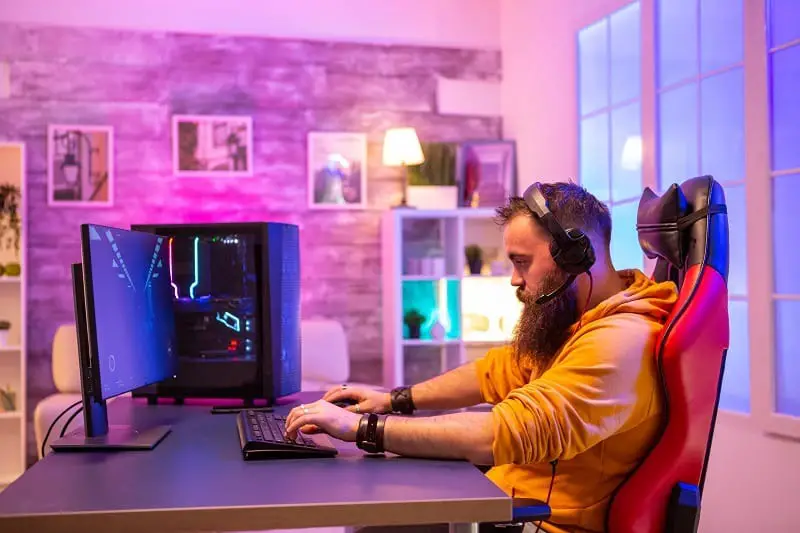 Buying Guide For Gaming Chair Without Wheels
Upholstery Material
The non-wheeled chairs are composed of the same elements as the wheeled gaming seats. You may select from a variety of leather types that are both easy to clean and maintain. Then there is the choice of using fabric, which is a permeable and comfortable material, or using mesh. It is entirely dependent on your own choices.
Type of Chair
You can choose between two types of gaming chairs without wheels. The first option is to get a rocking chair for the floor. These are ideal for video gaming and for use in the living room.
Pedestal gaming seats are the second choice. It has the comfiest seat and often includes different functions you choose. It is supported by a single spherical pedestal, allowing you to use the rock and tilt functions without having to move.
For PC gaming, we recommend pedestal gaming chairs, whereas, for console gaming, we recommend a floor rocking chair.
Ergonomics
It is important to choose a gaming chair that is a perfect match for your body. It must be comfortable and supportive, including a headrest and lumbar support cushions.
If your chair does not have ergonomic qualities, you may have a variety of physical issues over time. Choose a chair with enough back cushioning, a lumbar support pillow (which you may purchase separately), and a headrest pillow.
Why Should You Get A Gaming Chair With No Wheels
There are a few important reasons for you to get a gaming chair with no wheels, which are as follows.
If you have a lot of money invested in flooring, you will not want to cause any damage to it. The biggest benefit of a PC gaming chair without wheels is that you will not harm your flooring because these chairs do not move continually and remain stationary, leaving no scratches on the surface.
These seats are ideal if you have a little area in your room. The gaming chair without wheels might be shorter and have a small base in order to save space. It will remain in the desired location once you have placed it.
Conclusion
Gaming chairs without wheels come with many different advantages. It all depends on your choice and taste whether you need gaming chairs with wheels or without wheels.
Above everything, a gamer desires exceptional comfort, which a gaming chair comes with an ergonomic design to provide. All of the chairs in our list of the best gaming chairs without wheels are very advanced and feature-rich for avid gamers.
These seats will not let you down and will provide you with a relaxing and enjoyable gaming experience.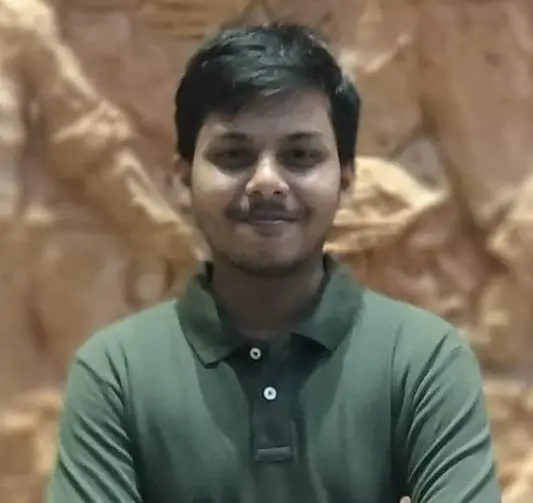 Hello Good People! This is Pavel and Welcome to PC Delight!
I'm an Electronics Engineer by profession with a passion for Gaming & PC builds. When I came up with the idea for PC Delight, it was my goal to share & offer the very best PC building ideas to tech-loving people like myself.
Since my school days, I've been just addicted to gaming & PCs. That leads me to experiment with various ways around the very niche, resulting in great productivity. And I'm here to share those practical experiences. So that next time you start some experiment with your PC builds or struggle to cope with a certain game, I'm here with the solutions. With these philosophies, I started my journey in 2017 and just kept going.