Pink keyboards will instantly bring color to your gaming setup and help you stand out from the crowd. Now, in this world where every other piece of gaming equipment is mostly black, finding the best pink gaming keyboard for all pink settings might be difficult.
But, you do not need to worry, as today we will review the 8 best pink gaming keyboards for you. If you want to become a pro gamer, a good gaming keyboard is a must. While there are many different kinds, a mechanical one is the finest option.
This review will go through these top pink gaming keyboards in detail so you can make a perfect choice. Having a theme for your gaming room is fun, and if that theme happens to be pink, you've come to the correct spot.
So, be sure to keep reading this post to find the best gaming keyboard for you.
8 Best Pink Gaming Keyboard 2022
We'll look at the top 8 pink gaming keyboards to add some vibrancy to your gaming setup. So, without further ado, let's dive right into our comprehensive evaluation of the best pink gaming keyboards.
1. ASUS ROG Strix Flare Pink Cherry MX Red Limited Edition
The Asus Rog Strix Flare keyboard, which is part of the limited edition Pink Rog Strix series, has a gorgeous, bold, and feminine design. Choose from the well-known Cherry MX Red or Brown switches to customize it to suit haptic input needs.
Additionally, it has 100% anti-ghosting completely programmable keys, onboard memory for storing profiles, and on-the-fly macro keyboard recordings, which have compatibility with ROG Armoury II software.
This Asus keyboard has excellent build quality. When we apply pressure to it, it seems solid and does not bend. It has a quality feel to it, and you can tell it is well-made even by looking at the technical data online.
Aside from the eye-catching pink style, you can also personalize this keyboard with a one-of-a-kind acrylic badge. If you don't want to create your own logo to be placed on the keyboard and illuminated with Aura RGB, you may use the included ROG badge.
Furthermore, this keyboard is very nice in terms of aesthetics. The ROG Strix Flare Pink exudes sophistication with its sleek lines and stylish pink and light grey color scheme. It doesn't hurt that there's a transparent logo on top.
However, despite its great features, it doesn't come up with a keycap puller, which would be a great addition.
Pros
Dedicated control of media
Options of selecting between Cherry Red and Brown Switches.
All keys are fully programmable
It comes with Aura Sync RGB light
The logo is fully customizable
Cons
The weight is on the heavier side
Final Verdict
The Asus rog Strix flayer pink keyboard is really appealing in terms of design. With its elegant contours and attractive pink and light grey color palette, the ROG Strix Flare Pink oozes sophistication. It also doesn't hurt that there's a translucent logo on top.
2. Akko World Tour Tokyo R2 65% 68-Key RGB Hot-swappable Mechanical Gaming Keyboard
Akko World Tour Series – With a cherry-blossom-colored cover and ornamental novelty keys, this small 65 percent 68-key pink RGB gaming keyboard with a dimension of 12.5 x 4 x 1.46 inches is meant to portray Tokyo's local cultural traits clearly. The included Type C pink cable also matches the keyboard.
Popular Tokyo characteristics and exquisite cultural icons are included in the Akko World Tour Series – "Tokyo" R2 keycap set. Classical sights such as cherry blossoms, Skytree, Tokyo Tower, Shinjuku, Asakusa, Harajuku, and Akihabara may be found, and charming Japanese pets such as cats, owls, golden carp, and Shiba Inus.
Furthermore, it is a 5-Pin Hot-swappable keyboard with Beken Multi-modes Chip and BT5.0/2.4Ghz/Type-C All-in-One. This ultra-slim wired 65 percent hot-swappable keyboard can easily be transported anywhere with your mobile workstation and has configurable RGB backlighting.
All keys on the keyboard, save those required to operate the Macro mode, maybe re-mapped to enable action sequences, allowing you to tailor the keys to your liking.
But, 65% 68-key isn't really preferable for all types of gaming.
Pros
Fully customizable keys
Configurable RGB lighting
Easy to carry around
Follows Japanese theme which can be aesthetically pleasing
It can be used as a wireless keyboard
Cons
Some gamers might find the size of the keyboard to be a bit small.
Final Verdict
Typing on this keyboard feels wonderful; the keys have a soft yet strong, satisfying feel, and the bespoke RGB lighting is stunning. It includes the novelty keys, the keycap remover, and, of course, the Type C cable to attach it to. So you don't need to buy anything else to go with it.
3. Razer BlackWidow V3 Mechanical Gaming Keyboard
If you need a pink light-up keyboard for your setup, the iconic Razer BlackWidow V3 is now available in pink. This full-size keyboard's Razer Green mechanical switches provide clicky and tactile feedback.
To enhance your gaming experience, the Razer Chroma software completely syncs with popular titles, with the 16.8 million color RGB illumination responding to in-game events.
This keyboard's design is what makes it uniquely match your natural alignment. What distinguishes it from other pink keyboards is its cutting-edge design. This design lends itself to a different manner, exerting less strain on your hands and allowing you to feel more at ease when playing.
A cushioned wrist support is included for those extra-long gaming sessions to guarantee that you don't tighten up at an inopportune time. This beautiful pink keyboard contains a multi-function dial for media settings that you may customize to your liking. It also supports voice control when connected with an Alexa.
The Razer V3 also includes a prominent scroll wheel in the upper right corner. All of the keycaps use a double-shot Acrylonitrile Butadiene Styrene (ABS) design that may ultimately shine. But, do keep in mind that if you are a Mac user, the chroma won't work.
Pros
Razer Chroma for maximum customization and gaming experience
Comes with wrist support for extra support
Razer green switches are included
Can be used for both typing and gaming
Compatible with both Windows and Mac.
Cons
The chroma doesn't work in Mac.
Final verdict
The Razer Blackwidow V3 mechanical gaming keyboard has double-shot keycaps and an aluminium top plate. It features a full-size design and a low cost. However, it does not have a USB pass-through or dedicated media keys. BlackWidow V3 is a pink gaming keyboard with a plethora of functions. It contains features that improve performance for gamers.
4. Steampunk Mechanical Gaming Keyboard
If you are someone who likes Retro, then this Steampunk keyboard is just for you. This vintage typewriter-style will please any retro enthusiast not only with its appearance as well as with its functionality.
The letters on the keycaps are beautiful since they are translucent, non-fading, and better display the backlight. The edges are electroplated, making them more gleaming and fashionable. Furthermore, the panel is composed of high-quality metal that will last for a long time.
If you need to regulate your music or change a song, there are three media center controls as well as a huge customizable knob. The professional Blue switches provide a loud click and a high level of tactile feedback for even the most intense button-mashing bouts.
The keyboard offers 30 different lighting effects, which is a great feature. However, the backlight is only available in white.
Pros
Retro style design
Comes with blue switches
Has an impressive 30 backlight effects
Three dedicated multimedia control keys
Ergonomic key design
Cons
The backlight is only white
Final verdict
This is a really good quality keyboard for all Retro fans out there, especially if you want a loud, clicky keyboard sound. Furthermore, the Blue switches are Cherry MX, so you can be certain of their quality and performance.
5. MageGee MK-Armor Mechanical keyboard
While MageGee is not as well-known as ASUS or AKKO, this company did an excellent job producing an LED mechanical keyboard with more than 104 functioning keys.
MageGee's pink keyboard is a fun and affordable way to improve your gaming experience. The bigger size provides for more key spacing but takes up more desk space than a standard pink keyboard.
The brilliant LED Backlit allows you to type equally across all keys during the dark of night. The lightweight ABS plastic design provides a worry-free investment since it can endure the demands of both demanding typists and gamers.
This keyboard has a one-of-a-kind look. You're looking at a pink and white design (cover and keycaps) that you may personalize to your liking.
Backlighting is one of the product's standout features, with four brightness settings and 24 configurations to choose from. If you enjoy rainbow landscapes, this lighting is an excellent alternative for you.
In terms of layout, this keyboard contains 104 mechanical keys, an N-key rollover, and a 100% anti-ghosting system. It has blue Cherry MX switches, so if you like the tactile experience of mechanical keyboards, this is the one for you. However, the keys sometimes seem to rattle a bit.
Pros
Extra keycaps so you can customize the keyboard
Affordable
Switches are tactile and clicky
Attractive design with waterproof
RGB lighting
Cons
Final Verdict
The MageGee mechanical keyboard is an excellent alternative for someone starting out on a limited budget since it provides excellent performance and high-quality full-tactile switches. The RGB illumination adds to the keyboard's allure.
6. HK GAMING GK61 Mechanical Gaming Keyboard
The GK61 is housed in tough housing comprised of thick plastic and an aluminum plate. Attempting to bend the board has no effect.
 It is not readily moved and can easily sustain a fall. It includes four rubber feet to keep it from wandering around and a back built for comfort. On the other hand, the casing naturally leans in to support your hand while you write.
The RGB backlight provides 16.8 million color combinations, configurable brightness settings, and a variety of lighting effects. There are no drivers required; simply plug and play.
Furthermore, it has incredibly durable Gateron optical switches that are certified for 100 million keystrokes and have an extremely rapid reaction time, making it the perfect choice for gaining an advantage in gaming.
These keys may also be hot-swapped with other optical switches without the need for soldering or desoldering. The software, however, is a bit difficult to use.
Pros
Affordable
Durable construction
Comes with durable optical switches
Very fast response time
Easy to swap keys
Cons
The software interface is a bit difficult
Final Verdict
This keyboard is an excellent choice for anyone in the market for an optical switch. We believe it is ideal for gaming since the reaction time it provides is significantly faster than normal mechanical switches, allowing you to respond more quickly in fast-paced games.
7. Motospeed Professional Gaming Mechanical Keyboard
Sale
If you are a Mac user, then there can't be any better choice than Motospeed. This keyboard has been perfectly optimized for mac users.
You can rely on the manufacturer to ensure that each key can withstand at least 50 million keystrokes. We appreciate this keyboard because, while having 87 keys, it is pretty small and does not take up a lot of room. It measures 13.78 x 5.24 x 1.18 inches and weighs just under 2 pounds, making it very compact.
The Motospeed is outfitted with Outemu blue and red mechanical switches, which is a perfect mix for individuals who want a tactile bump as well as those who don't want a noisy keyboard.
This one satisfies all industry requirements in terms of endurance, thanks to double-injection technology and suspended keycaps. More than five game modes, 6 colors, and 14 dynamic effects are available with the RGB backlighting.
You don't have to worry about sturdiness given the aluminum-ABS, ergonomic, waterproof construction. Keep in mind, though, that the space bar makes a rattling sound.
Pros
Compact design
Ergonomically built
Very Responsive
Comes with a combination of Outemu blue and red switches
Doesn't make a lot of loud noise
Cons
Spacebar makes a rattling noise
Final Verdict
This is a lovely entry-level keyboard with a choice of blue or red switches. There are various RGB designs to select from, and it's a really excellent keyboard overall.
8. NPET K10 Gaming Keyboard
Sale
The NPET K10 is a tough gaming keyboard with 104 quiet keys that provide lifespan, durability, and responsiveness while providing precise tactile feedback for excellent gaming performance.
The NPET K10 gaming keyboard is a two-in-one membrane keyboard designed for gaming and casual usage. Although it is a membrane keyboard, the tactile feedback provides a mechanical sensation. 26 of these keys have anti-ghosting, so you may play games without worrying about software faults.
It also features an LED Backlighting with 4 LED lighting backlit options and a 7-color alternative breathing mode. There are three adjustable permanent mixed backlit settings and a variable breathing mode, and a permanent lighting option. Furthermore, the keycaps provide clean, uniform illumination.
Although the keycaps are tiny, the base is constructed of metal and has a drain hole in case of an unintentional leak.
The main selling feature of this pink keyboard is its versatility to be used for both gaming and typing, and it is comfortable for hours of usage doing either. Yet, because the keycaps are thin, they might weaken with time.
Pros
Full-size keyboard
Has a water-resistant design
A true value for money
4 backlighting modes
Comes with 26 anti-ghosting keys
Cons
Keycaps can become weak over time.
Final Verdict
This huge keyboard has been over-engineered and is meant to last. It has heavy-duty aluminum, ABS construction, and double-shot injection molded keycaps. So, if you have the room and are looking for a simple entry-level pink gaming keyboard, this is a good option.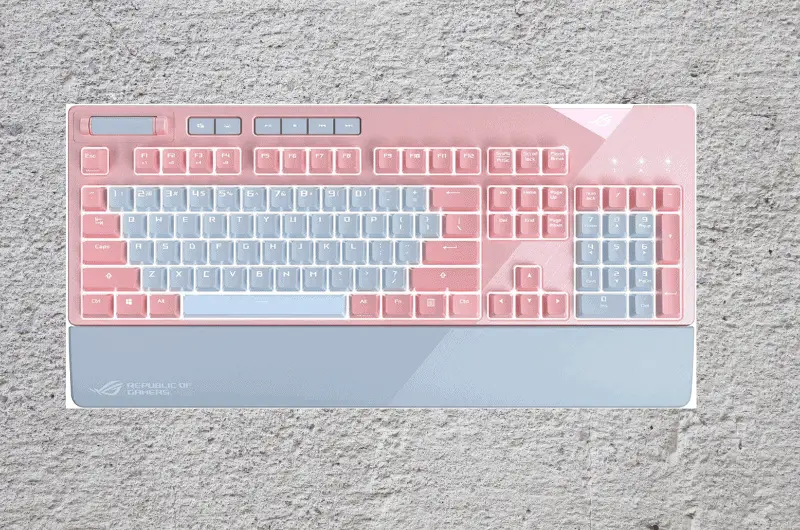 Buying Guide for the Best Pink Gaming keyboard
So far, we have reviewed the best pink gaming keyboards, but it is important that you know how to choose the perfect keyboard. Thus this buying guide will help you find the perfect pink gaming keyboard.
Membrane or Mechanical Keyboard
When shopping for a gaming keyboard, the first thing to consider is whether you want one with mechanical switches or one with membrane switches. Mechanical keyboards are generally chosen by gamers owing to their tactile feedback and clickiness.
Mechanical switches are more dependable and can be customized to meet the demands of the user, but feedback on membrane keyboards cannot be customized.
The choice between mechanical keyboards and membrane keyboards is totally up to you since it ultimately relies on how much typing you do every day.
Type of Switches
Mechanical and optical switches, with the former being quicker in terms of performance and feedback than the latter. Several suppliers, including Razer, have created their own customized versions of switches that are best suited to their own keyboard series. 
Several mechanical keyboard switches, including Cherry MX, Kailh, and Gateron switches, are still frequently utilized in gaming keyboards and custom-built keyboards. There are three types of mechanical keyboard switches: clicky, tactile, and linear. Clicky and Tactile are often utilized in gaming, but Linear is commonly used by typists that want silent typing.
Intended Usage
If you want a specialized gaming keyboard, find one that meets your demands with the appropriate switches and check for mechanical keyboards built with robustness in mind to guarantee they can endure heavy usage. Anti-ghosting technology is another something to look for.
However, if you're searching for a keyboard that can be used for both gaming and office work, a keyboard with Brown switches is excellent, so you don't bother your co-workers. Another factor that may be important is design. Consider ergonomic elements such as curved keycaps and palm rests.
Size of Keyboard
Pay particular attention to keyboard size if you're a rapid typer or spend a lot of time in front of a computer. Search for models with full-sized keys. There are versions with ergonomic features for everyone who types for extended periods of time.
Consider your available space; if you have limited room or frequently travel, a smaller 61-key or ten-keyless design is preferable. A full-size keyboard might be a fantastic choice for a home workstation because it provides the much-needed numbers.
FAQs
Are pink switches good for gaming?
Answer: Pink switches are excellent for gaming because mechanical switches are snappy, with consistent actuation points and travel distances. Many gamers prefer the feel of mechanical switches to membrane switches on their keyboards.
What color keys are best for gaming?
Answer: Razer Green keys stand out among gaming keys and are suitable for both typing and gaming. The Cherry MX and Kailh have a somewhat lower actuation point than the Razer green. Aside from that, it behaves almost identically to Cherry MX Blue and Kailh Blue.
Is the red switch good for gaming?
Answer: Linear switches are represented by red switches. This implies that you need less effort to press the keys, but you don't feel or hear when the key is registered. The red switch is popular among gamers because it responds faster and requires less force to keep a button pressed.
What is a Cherry pink keyboard?
Answer: The Cherry MX 3.0S RGB Pink Mechanical Keyboard is a full-sized keyboard with Cherry MX Silent Red switches. It also features a technological design with an aluminum casing and RGB lights. The main feature is the complete N-key rollover, which also includes anti-ghosting keys and a Windows lock key. There are also scratch-resistant laser-engraved keycaps and a removable USB cable.
Conclusion
A good gaming keyboard is essential for an immersive gaming experience. When choosing a gaming keyboard, consider the backlight, style, durable construction, and longevity. So, if you're seeking the best pink gaming keyboards, go no further, as our guide has got you covered.
The choices discussed above have provided you with insight into the purposes of keyboards and will assist you in selecting the finest one for you. Of course, the final decision is entirely yours.
Hence read this article fully before deciding on which pink keyboard is the best one for you.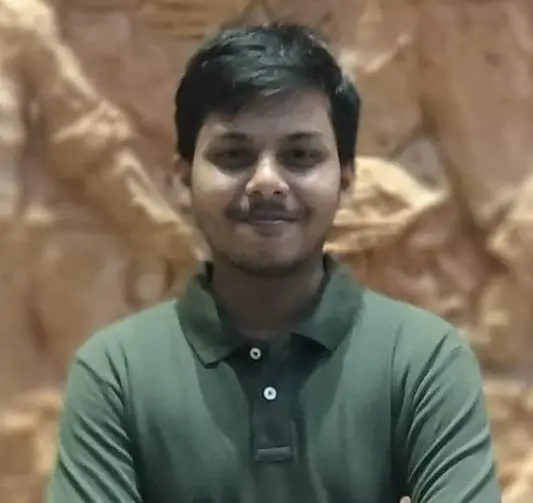 Hello Good People! This is Pavel and Welcome to PC Delight!
I'm an Electronics Engineer by profession with a passion for Gaming & PC builds. When I came up with the idea for PC Delight, it was my goal to share & offer the very best PC building ideas to tech-loving people like myself.
Since my school days, I've been just addicted to gaming & PCs. That leads me to experiment with various ways around the very niche, resulting in great productivity. And I'm here to share those practical experiences. So that next time you start some experiment with your PC builds or struggle to cope with a certain game, I'm here with the solutions. With these philosophies, I started my journey in 2017 and just kept going.