In the world of gaming, VR is the new thing to go for. VR will definitely make your gaming experience more realistic and enjoyable.
During gaming, you will be sitting in a chair for lengthy periods of time, and this might cause back discomfort and posture deformities. When you don't have the proper chair, and it doesn't provide enough comfort, the situation becomes much worse.
Since virtual reality gaming has become the new desirable trend, a plethora of VR chairs with the most up-to-date features are flooding the market, assisting in the reduction of the health concerns connected with gaming.
So, today we will help you find the best VR gaming chair out of the many available models in the market.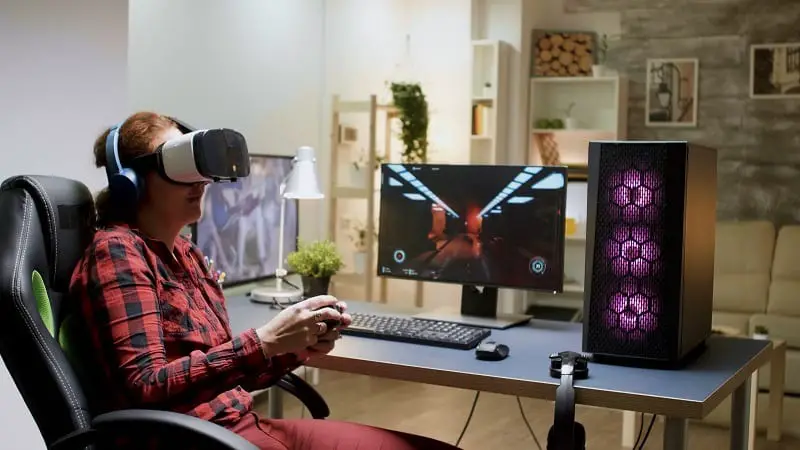 Best VR Gaming Chair: Top 5 Reviewed
1. The Roto VR chair
Description
The Roto VR chair comes at a weight of around 53 kgs. This is one of the best VR gaming chairs available in the market. As a single chair, the Roto VR Chair is rather nice. It has an adjustable headrest, lumbar support in the form of a triangle cushion, and adjustable armrests.
It also reclines and features a barber-stool-style foot pedal for controlling its motorized base.
When you connect the Roto VR Head tracker to any VR headset, the Roto VR Chair will automatically turn to wherever you are looking. In addition, the rechargeable Head tracker is compatible with nearly all VR Headsets, allowing for intuitive and hands-free exploration on any system.
This sensor is a small device that you can attach to your virtual reality headset. It sends your head motions to your chair's built-in systems in real-time. In your Roto VR 360 chair, there is a storage box.
This is also the location where the module is charged. The sensor can run for around six hours on a full battery before needing to be recharged. It also has a built-in rumbling feedback system that works with the computer's speakers.
Three USB data connections and two USB charging connectors are available in the control box on the chair's underbelly. It also includes a 24V 2A power supply for extra attachments like the TMX 150 force feedback steering wheel and touch pedals.
What we like the most is the Vibration system which comes as an extra option. Dual 500-watt modules, sometimes known as rumble packs, are placed at the back of the backrest and under the chair. This method will compel feedback, resulting in a more realistic immersive game experience.
Pros
Auto 360-degree movement on wherever you look
It comes with adjustable arms and a removable headrest
Dual 500 watts extra motor option for vibration
Has motorized base with foot pedals
Comfortable sitting position
Cons
Quite heavy for a VR gaming chair
Final Verdict
The Roto VR 360 Chair is one of the most interesting and creative virtual reality chairs ever to reach the market. This VR motion chair provides a gaming experience unlike any other.
What makes the Roto VR exclusive and unique is the number of different attachments it supports; you can customize this chair with a variety of different accessories. So if you're on a good budget and want one of the best VR chairs, the Roto VR is the chair for you.
2. Cоugаr Deluxe Premium Collection Titan Ultimate Gaming Chair
Description
The Cougar Deluxe Titan chair is not exactly a VR chair but more like a comfortable option for VR gaming. Armor Titan is a gigantic gaming throne that supports up to 160 kg and has a steel construction.
It is a rock-solid seat that will comfortably sustain you for hours, with a seat width of 60cm and a huge size that will accommodate even the heaviest of players. We like it the most because it has a sturdy steel base that can hold up to 350 pounds. To put it another way, if you lean over too much when gaming, this chair does not tip you over.
When reclining your chair, you are not limited to set STEPS. Rather than being restricted to a few alternatives, you may choose the exact location that maximizes your comfort and stay there.
Moreover, it also includes a 4D adjustable armrest that can be adjusted in four different ways, three dimensions, and eight directions to suit your requirements. Armrests on the Armor titan can be adjusted in four different ways, three dimensions and eight directions.
A built-in neck cushion is included with the chair. This isn't one of those fragile inflatable items you'd bring on a plane with you. This is a thick, soft neck cushion that, like a racing helmet, cradles the base of your head.
The Titan Ultimate's plush lumbar support cushion makes it even more comfortable to relax on. So, you can do gaming for long hours in full comfort. This doesn't have any VR capabilities, but it rotates 360 degrees and can be used to lean back into another world without collapsing.
Pros
Can adapt the largest of gamers
You can recline the chair fully
4D adjustable armrests
The base is made from heavy steel
Cons
It doesn't have any VR features
Final Verdict
You're probably not searching for a chair with a motorized base if you're seeking comfort with your VR. Instead, you desire anything that will provide you with as much assistance as feasible.
The Cougar Titan chair does exactly that, even though it doesn't have any actual VR features. But it offers you a very comfortable sitting position, and 360 degrees rotate option. Hence, you can do VR gaming very comfortably.
3. VRGO Eclipse VR chair
Description
The VRGO eclipse has a weight of 4 Kg only, and it is a unique-looking VR chair that looks like a stool. This motion simulator converts a real-world spin or tilt into a simulated one. VRGO is simple and enjoyable to use.
The VRGO is the world's first seated virtual reality locomotion system. In your virtual environment, gentle tilting or rotation of the chair simulates walking, running, or even flying or driving.
Users do not need to hold a gamepad because it is fully hands-free. It is compatible with all PC HMDs, including the Oculus Rift, Oculus Go, HTC Vive, HTC Vive Pro, and Windows MR, as well as all Smartphone platforms, including the Samsung Gear VR.
It also features a design that resembles a stool that can lean in any direction. You travel in the same direction in the virtual world when it does this. What we like the most is the shape of this chair.
The stool is equipped with several sensors that allow you to survey your surroundings in a 360-degree video easily. Weights are placed at the bottom to prevent you from falling over. Furthermore, it is smaller and lighter than a traditional office chair, allowing you to move it about your house and beyond.
Through Bluetooth, this simulator connects wirelessly to both a PC/MAC and a mobile phone HMD set. Because of the device's minimal latency and widespread acceptance, you may enjoy the most responsive hands-free experience possible.
You can connect quickly with the touch of a button, just like you would with a mouse, keyboard, or joypad. It's simple to open the device and use the interior to store adaptors, HMDs, headphones, plugs, and other accessories.
Pros
Can connect wirelessly with a simple touch of a button
Has a storage space inside this motion simulator
Innovative design that looks like no other
Compatible with almost all PC HMD and smartphones
Very lightweight hence easy to carry and store
Cons
Not very comfortable, as there is no back support
Final Verdict
If you are searching for an innovative and unique-looking VR chair or motion sensor, then the VRGO Eclipse is for you. The VRGO is a stunning new breakthrough in the field of virtual reality motion controllers.
It is one of the greatest VR seats on the market today in terms of both design and performance. This motion simulator converts a real-world spin or tilt into a simulated one.
4. Lap Works VR Swivel Seat
LapWorks VR Swivel Seat
Spins 360 degrees - Safely explore Virtual Reality...
No assembly - No battery or electronics - Built to Last...
Description
The Lap Works VR swivel seat comes at a weight of less than 1 kg. It is another unique floor seat that works great for VR games.
Work on the lap During gaming, a VR swivel seat protects a gamer from falling due to disorientation and dizziness. It is cheap and good for children, adults, and the elderly. 360 spinning is a simple and quick way to take your VR experience to the next level.
What we like most is the rotation mechanism of this VR chair. This VR Swivel Seat has a weight capability of 250 pounds and revolves on 18 steel ball bearings. Moreover, a 1.5-inch firm foam cushion cushions the top, which will not compress with time. The slipcover maybe is removed and washed.
The Lapworks VR Swivel Seat is a low-cost, lightweight, and portable option. You'll never need to play without your VR Swivel since it can be easily stowed in a cupboard or closet when not in use or simply packaged into a bag or backpack while traveling.
It may also be used on a sturdy chair or stool, provided there is enough area for a 16″ diameter circle. However, we advise users to take caution. This VR seat may be used on both hard and soft flooring. Rubber pads on the bottom offer a sturdy base that is non-skid and non-scratch.
Furthermore, because the user spins the seat with his or her feet, no batteries or electricity are necessary. Finally, it features a detachable and washable covering, so you can always wash it if it becomes filthy.
Pros
It comes at a low price.
The slipcover can be removed and washed as there are no electrical connections.
Easy to carry around
Comes pre-assembled
Very lightweight
Cons
No back support, so you might suffer from back pain
Final Verdict
The VR Swivel Seat from LapWorks allows you to lose yourself in the game or virtual environment! There's no need to be concerned about stumbling and falling.
Because you're already seated comfortably on the floor, you may spin around freely without exerting any effort or causing any discomfort as you prepare to confront the next challenge or explore the next area.
If you want a simple-looking VR seat at a low price, then this is the one for you. It takes your VR experience to a completely new level.
5. Openwheeler Advanced Racing Simulator chair
Sale
Description
The Open wheeler advanced racing simulator comes at a weight of around 25 Kgs. If you want a VR racing game experience, then this chair is for you. Unfortunately, it's difficult to find a racing seat simulator that provides both stability and comfort.
This chair's simple design and high-quality materials distinguish it as a one-of-a-kind piece of steering wheel and video gaming platform equipment.
What we like the most is the Openwheeler Advanced gaming chair is that it works with most racing wheels manufacturers. It also works with the Playstation 3, Playstation 2, Playstation 1, Xbox 1, Xbox 360, Xbox, Nintendo Wii, Nintendo Gamecube, N64, Sega, and PC.
A gamer needs a strong structure with a superb racing seat for stability and gaming control. Furthermore, depending on the sort of player you are, you may always position the gear shifter on the right or left side of the driving simulator.
Pros
Made from a sturdy frame
Compatible with almost all types of steering wheels
The gear shifter can be positioned either right or left
Comfortable seat
Great back support
Cons
Final Verdict
If you are in search of a sturdy, comfortable racing set simulator to experience real-life racing, then the Openwheeler Racing simulator is for you.
In conjunction with the ultimate racing seat, the chassis provides all of the stability that a game racer requires for complete game control in a wonderful posture for comfort.
Frequently Asked Questions
So far, we have reviewed the best VR gaming chairs, but there are few frequently asked questions that we must address for a better understanding of VR gaming chairs.
1. How much does a VR chair cost?
Answer: The price of a VR gaming chair can vary a lot; the price ranges from a couple of hundred dollars to thousands of dollars. The price depends on the innovative features the chair has to offer.
As the features increase, the price also increases. So, it depends all on your budget and requirements for a VR gaming chair.
2. What is a VR chair?
Answer: A chair that moves in tandem with the gamer and links them to the virtual environment. It disconnects the user from the actual world and allows him to have a comfortable virtual world experience.
3. How real does a VR feel?
Answer: Depending on the headsets, game, or video experience, and especially the video graphics, it seems very much like reality. When people are immersed in the virtual world, they may experience dizziness, nausea, or motion sickness.
4. Is it worth buying a VR chair?
Answer: If you are bored of playing regular games daily, then yes, a VR chair is worth buying. It improves your gaming experience and makes you feel like you are inside the game yourself.
Moreover, you can use a VR chair not only for gaming but also for watching VR movies, virtually taking a tour of different places, and many more.
Conclusion
You now have a list of the five best VR gaming chairs, along with a description of each one's characteristics. It will be simple for you to make the best decision. All these chairs are different from each other.
These VR chairs vary in design as well as features. So, the final choice will always depend on you which features you need the most.
However, if you ask our opinion, the ROTO VR is the standout winner among all these models, comparing the price, design, and features. This chair can give you a VR experience like no other.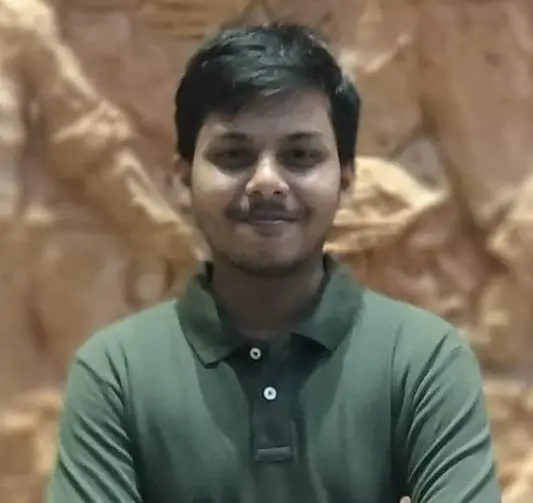 Hello Good People! This is Pavel and Welcome to PC Delight!
I'm an Electronics Engineer by profession with a passion for Gaming & PC builds. When I came up with the idea for PC Delight, it was my goal to share & offer the very best PC building ideas to tech-loving people like myself.
Since my school days, I've been just addicted to gaming & PCs. That leads me to experiment with various ways around the very niche, resulting in great productivity. And I'm here to share those practical experiences. So that next time you start some experiment with your PC builds or struggle to cope with a certain game, I'm here with the solutions. With these philosophies, I started my journey in 2017 and just kept going.