Are you looking for gaming chairs? But, don't know what budget should you set? Then you are in the correct place because today we will talk about how much you should spend on a gaming chair.
How much do gaming chairs cost? An average gaming chair can cost you anywhere between $200 to $500. You can find budget gaming chairs under $100. There are expensive gaming chairs that can cost you more than $1000. These expensive chairs offer premium build quality and exclusive features.
Hence, Here's a summary of what you should anticipate from a gaming chair based on its price range to make it easier for you to choose your preferred gaming chair.
Average Cost of a Gaming Chair
As we mentioned earlier, the price of a gaming chair can vary a lot. However, for a good gaming chair, you should spend anywhere between $300 to $500 dollars.
You can even find expensive gaming chairs for higher prices like $1000 or more. These types of gaming chairs will be filled with exclusive and high-end features.
Nonetheless, you can even find cheaper gaming chairs for as low as $100. But these chairs are not that sturdy of feature pact.
If you are going to spend less then you will get a gaming chair that is useable, but it won't have the same high-quality materials or features as an expensive chair.
On the other hand, paying extra will get you more features like cup holders and extra cushioning, and many other exclusive features. Hence, you always need to select a chair based on what features you need.
We recommend spending at least $300 to get a decent gaming chair that can last up to 3 years.
Budget Gaming Chair (Between $100 to $200)
The budget segment of gaming chairs usually ranges from 100-200 dollars. These gaming chairs are a bit better than the cheapest chairs. Moreover, you will find all standard features like armrests. However armrests are usually fixed, but some models do come with 3D armrests.
You can expect cover material of PU Leather or Fabric along with sponge foam. Most of the chairs will also come with head and lumbar support. Budget gaming chairs have a weight capacity of anywhere between 220-330 lbs.
You are getting the most required features in this price range. But the quality of foam, leather, and build quality are not like that of expensive gaming chairs. Another problem is these gaming chairs are quite small and not suitable for big and tall gamers.
If your budget is between 100-200 dollars, then take a look at this list of gaming chairs that are best in this budget.
GTRACING Gaming Chair – $110
Furmax High-Back Gaming Office Chair – $99.89
Homall Gaming Chair – $99.89
X Rocker Mammoth Pedestal 2.1 BT PC Office Gaming Chair – $199.99
RESPAWN RSP-110 -$149.98
Mid-range Gaming Chairs (Between $200 to $350)
The mid-range gaming chairs come at a price range of $200-$350. This is usually the price range where most of the common and well-known gaming chair brands appear. The well-known brands include DXRacer, AKRacing, and many more.
When compared to gaming chairs in the $200 level, you'll find a lot of the same functionality and design possibilities, but the quality of the materials utilized is typically better.
The construction quality has been much improved in the Mid-range gaming chairs. Additionally, the frame is also made from heavy-duty aluminium or stainless steel frames which are becoming more popular, as they are more sturdy and likely to survive for years.
The foam has been upgraded to a high-density cold-cured foam that is far more durable. The PU leather is thicker and has a better appearance and feel.
This range of gaming chairs usually comes with a weight capacity of 250lbs – 350lbs. Moreover, you will find 1D to 4D armrests in most of the gaming chairs. Furthermore, the size of the chair can vary from small to big.
Even there are many options of great gaming chairs in this budget, down below we will suggest our top 5 choices that you can take a look into.
AKRacing Core Series EX Gaming Chair – $354.49
Dowinx Gaming Chair – $249.99
Ficmax Gaming Chair – $249.99
Vonesse Gaming chair with footrest – $209.99
X Rocker RGB Prism Pedestal 2.1 Dual Gaming Chair with LED Lights – $317.32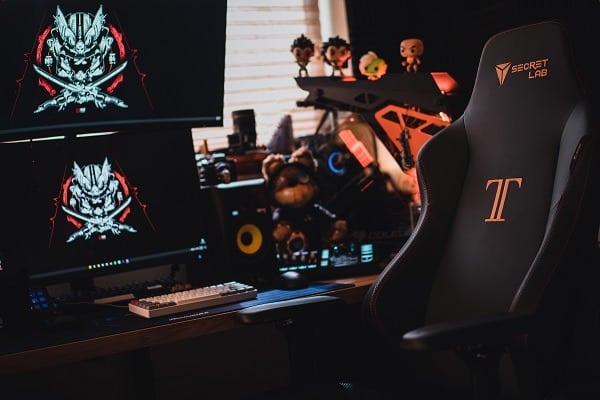 High-end Gaming Chairs (Between $350 to $1000)
High-end gaming chairs provide the most exclusive features and premium build quality. The high-end segment comes at a price range of $350-$500. This is where you'll discover all of the well-known luxury gaming chair manufacturers. These chairs have it all in terms of build quality, functionality, and comfort.
You will find gaming chairs in this price range from manufacturers like SecretLab, DXRacer, and many more.
The most comfortable gaming seats are usually known as high-end gaming chairs and these high-quality items need a lot more work from the manufacturers. Since you spend a lot of time in your chair on a daily basis, you should consider investing in a chair from one of these more recognized brands, as they are made to last up to 5 years.
The most noticeable difference in characteristics is that 4D armrests are significantly more frequent in high-end gaming seats. In addition, unlike cheaper gaming seats, actual leather chairs are available here. These chairs also have a higher weight capacity of 265 to 400 pounds.
Larger chairs with higher weight limits usually cost more since they require more sturdy materials, so if you're a big guy, expect to pay a bit extra.
Down below let's see our top 5 recommendations for high-end gaming chairs.
Secretlab Omega 2020 Prime 2.0 PU Leather LCS Gaming Chair – $399.99
Razer Iskur Fabric Gaming Chair – $499.99
DXRacer Master Module Gaming Chair – $474.69
Thermaltake Tt eSPORTS X Fit XF100 Racing Bucket Seat – $437.33
BestMassage Full Body Electric Shiatsu Massage Chair – $345.98
How Much Should You Spend on a Gaming Chair? – The Sweet spot
Now comes the real question, how much you should actually spend on a gaming chair? The answer is quite simple, the sweet spot depends on you, like what features you need and what's your budget.
But, our opinion is you can find pretty good gaming chairs within a range of $200- $350 dollars. Nonetheless, if you are a professional gamer who will seat in a gaming chair the whole day you should consider gaming chairs for over $350.
Because all of the famous and respected manufacturers charge at this pricing point, this is the price point at which most people will pay for a good gaming chair.
But if you are someone who enjoys gaming and wants a gaming chair at a reasonable budget then consider gaming chairs within $200. You will always find good deals on amazon. Hence it is important to do your own research before buying any gaming chair.
What Influences the Price of Gaming chairs?
So far we have read about gaming chairs in different price ranges and their features. But, now you should understand what factors usually determine the price.
Build Quality
Build Quality is what differentiates between cheap and high-end gaming chairs the most. On the outside, a low-cost gaming chair may easily imitate the look of a high-end gaming chair. However, depending on the chair's pricing, the actual construction and quality of the materials used vary greatly.
On the other hand, expensive chairs are very sturdy and made from high-quality aluminium and heavy-duty steel frame which increases the longevity of a gaming chair.
Features
As we said earlier, the features of a gaming chair vary with the price. The common features include an armrest, adjustable backrest, rocking-chair tilt, and lumbar support. However, the quality of all these features varies in the different price ranges.
You can select the optimal position for your elbows with the adjustable armrest. In addition, finding a good backrest angle requires adjusting the backrest angle. The ergonomics of the rocking chair are also dependent on the tilt mechanism.
Additional amenities such as built-in Bluetooth speakers, footrests, massage motors, and more will be available on some gaming chairs. Furthermore, some gaming chairs provide upholstery enhancements, such as high-quality cloth or genuine leather.
So, make sure to get the features that you will need to make your gaming sessions more enjoyable.
Brand Value
Buying a chair from a well-known brand name like SecretLab Omega, DXRacer, or Razer ensures that you'll get a high-quality chair, but you'll pay more for the brand name.
Regular low-budget gaming chairs, on the other hand, maybe obtained from overseas companies for a lower price, but they are typically less durable than branded items and are more difficult to guarantee if you have a problem.
What is the Cheapest Gaming Chair?
By Cheapest Gaming chair we usually mean gaming chairs below $100. But these chairs will never be long lasting and will seem wobbly in many cases. The majority of these gaming chairs will be in the racing style, but you could also come across some low-cost couch recliners or floor rockers.
They're typically poor in terms of quality and durability, and they'll only seem appealing from the top. From the inside, though, it's all flimsy construction. Moreover, the frame will most likely be made of plywood and plastic rather than aluminum or stainless steel, which means it will be less sturdy and the chair may split over time.
So, our suggestion is going to be you should avoid buying cheap gaming chairs.
What are the most expensive Gaming Chairs?
Most of the high-end gaming chairs from top manufacturers come at a price of $300-$500. But, that doesn't mean you will be limited to only $500. You will find many models which will cost you over $1000.
When it comes to expensive gaming chairs, you will find them from Secretlab. SecretLab makes some pretty expensive gaming chairs,  So, you can take a look into that.
Are Expensive Gaming Chairs Worth it?
Expensive Gaming Chairs are worth it if you are looking for the most premium gaming chairs with the most exclusive premium materials.
However, if you are a gamer and you need a gaming chair with average features, then expensive gaming chairs are never worth it.
Conclusion
No Matter how much your budget is, you will always find a gaming chair. But, the real question is, are all gaming chairs good? The answer is no.
And setting the budget for your gaming chair can be confusing. So today this article focused on how much a gaming chair costs.
Gaming chair basically comes in three different price ranges and each varies from the others. Hence, make sure to set the budget according to the features you need and find the best gaming chair according to your preferences. 
Read more:
AKRacing ProX Gaming Chair Review
AKRacing Nitro Gaming Chair Review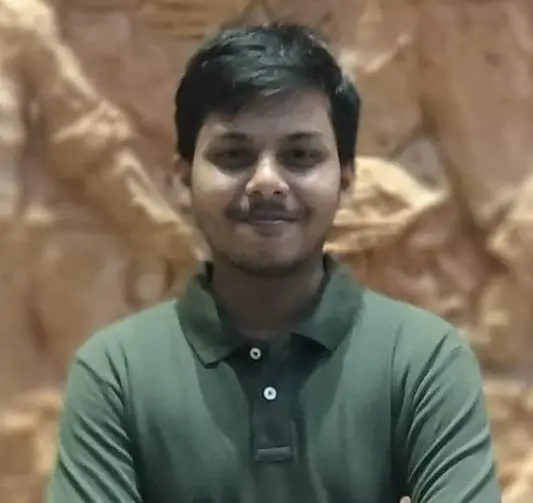 Hello Good People! This is Pavel and Welcome to PC Delight!
I'm an Electronics Engineer by profession with a passion for Gaming & PC builds. When I came up with the idea for PC Delight, it was my goal to share & offer the very best PC building ideas to tech-loving people like myself.
Since my school days, I've been just addicted to gaming & PCs. That leads me to experiment with various ways around the very niche, resulting in great productivity. And I'm here to share those practical experiences. So that next time you start some experiment with your PC builds or struggle to cope with a certain game, I'm here with the solutions. With these philosophies, I started my journey in 2017 and just kept going.