Professional gamers spend hours and hours sitting in front of their pc. It Is essential that you think about your comfort while gaming. You may have come across the age-old issue are gaming chairs are ergonomic when looking for the ideal desk chair. No need to worry; your search brought you to the perfect place because today we will discuss whether gaming chairs are ergonomic or not, and many things related to this topic.
Gaming chairs and office chairs can vary in many means starting from design to the basic features as both are meant for different works. Saying all these, today, our primary focus will be gaming chairs.
If you're a gamer, the first decision you'll have to make when selecting a chair is whether to go with a gaming or regular office chair; if you're not, the thought of buying a swanky gaming chair has already crossed your mind. Now the real question remains are gaming chairs ergonomic? Let us see down below and try to find the answer to this age-old question together.
Are gaming chairs ergonomic?
If you know the exact definition of ergonomics, then seeing the design of most of the gaming chairs, you can clearly say that gaming chairs are ergonomic. However, many other factors play a part here, like the exact design of the chair. The design varies according to budget, the type of seats used, the design of the backrest, and many more.
Generally, most types of gaming chairs are designed to provide comfort and minimal back pain when you sit around for hours.
Gaming chairs often substitute vivid colors, shiny rims, and an overall trendy look for the elegant style of an office chair. Many gaming chairs should be pretty comfortable, even though they don't have as many modifications or padding as a high-end office chair.
Gaming chairs are not just designed randomly; many important things are kept in mind while designing gaming chairs. They use back support technologies that are used by the race car seat industry. Gaming chairs use a bucket seat, and a tall reclining backrest is included.
A comfortable padded seat and flexible neck and lumbar pillows are among the standard features. Arms that can be adjusted provide additional support by carrying the weight of the arms. Moreover, gaming chairs also provide with backrest recline. This enables the user to switch about while seated in the chair. These racing-style designs have a tall rear.
To sum up, Gaming chairs are more ergonomic than regular chairs. When sitting, an adjustable bench, backrest, and armrests work together to keep the body up against gravity. As a consequence, the muscles are not required to do so.
These ergonomic features are designed to help all pro gamers and regular users to have a relaxing and comfortable session while sitting in front of a computer for longer periods. Instead of your muscles, the chair controls your sitting posture. This enables you to work for longer periods of time in a more relaxed setting, allowing you to concentrate and focus more.
Read More: Best Folding Gaming Chair available in the Market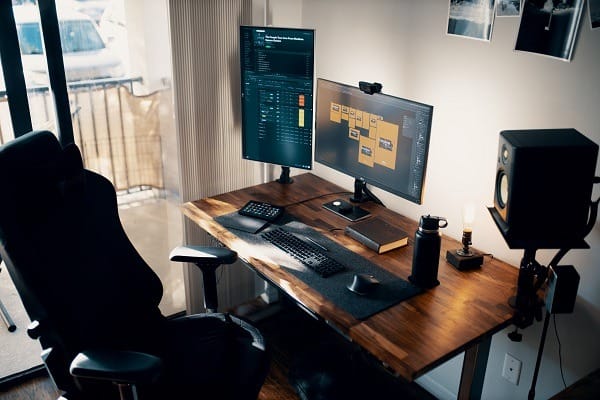 Are gaming chairs good for posture?
Gamers tend to spend very long on their chairs, and that is when the real question comes are gaming chairs good for posture. Gaming chairs not only have a supportive seating experience, but also protect the back, neck, and shoulders.
Gaming seats, unlike office chairs, are ergonomically built with a sedentary lifestyle in mind. Even the padded chairs may not be of much use. Your lower and upper back, elbows, head, neck, arms, and hips are all supported by a well-built gaming chair.
Maintaining proper posture is easier with a decent gaming chair. The pressure on your neck is relieved when your head is positioned correctly. Back pain is often reduced when the spine is correctly positioned. You can sit comfortably for long periods of time if your hips are in the proper position.
Are gaming chairs good for your back?
Yes, gaming chairs are good for your back, particularly when compared to less expensive office or task chairs. High backrests and neck pillows are standard design features in gaming chairs, and they all contribute to providing full back support while promoting great posture.
Regular office chairs do not provide enough backrest and can result in severe health problems. Back pain accounts for 264 million missed workdays per year, according to the American Chiropractic Association. ​
Gaming seats, on the other hand, offer sufficient back support.  The gaming chair is ideal for gamers because it offers lumbar and neck support for those who sit for long periods of time. Adjustable armrests are also available, as well as lumbar assistance in some cases.
The backrests of many of the gaming chairs have "wings" that are strictly decorative, based on those on racing car seats that help hold the driver in place as he swirls left and right. If you're a big guy, look for a backrest with no wings or one that's extra tall, so your back has enough space to move around while you sit.
Read more: Best Gaming Chair with Footrest and Massager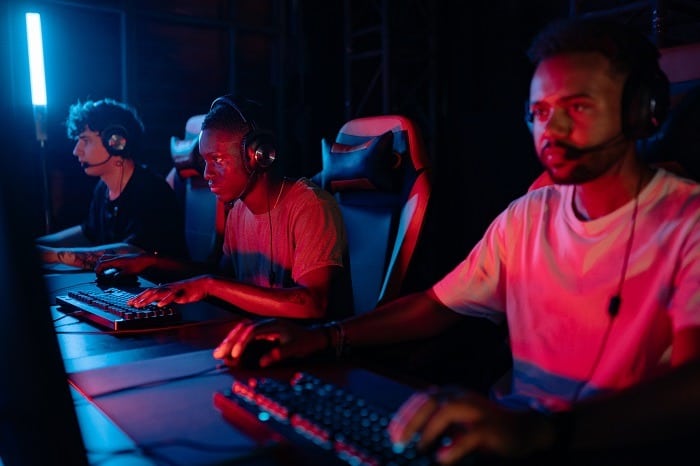 Are gaming chairs worth it?
Gaming chairs are worth it not just for gamers but also for professional workers who have to sit around the computer for the whole day. It is suitable for desk workers also. Gaming chairs are well worth the investment for people who spend their days sitting. Many people sit upright early in the day, using their back muscles to support their bodies. They begin to wilt as the day progresses. The muscles do not have to protect the body in gaming chairs.
A gaming chair is an obvious option if you're a full-time computer user looking for a productivity boost. They can use the energy saved from working the muscles for more beneficial activities. That is why pro gamers and professionals should invest in gaming chairs.
Read more: What Gaming Chairs do Pro Gamers Use?
What is the point of a gaming chair?
Gaming chairs are beneficial to the health and well-being of those who use them. These chairs will help you stand taller and feel more energized. It is designed in such a way to set you in the perfect position for playing games as well as working perfectly.
Place the support cushions at the curves of your neck and back while sitting in a gaming chair. Set the recliner to a comfortable angle of 100° to 110° then recline against the backrest, your arms resting on the armrests. With your head balanced atop your chest and the neck cushion, the chair will absorb your body weight. Your eyes are fixed on the computer screen, and your hands are within easy reach of your mouse and keyboard.
And you won't even feel pain or uncomfortable during a long session of gameplay and work, whether in the office or at home.
Read more: The Best Gaming Chairs for Neck Pain (Reviewed and Rated)
How long do gaming chairs last?
Gaming chairs vary in design as well as style and quality. They come in different price ranges starting from very high prices to low prices. The lifespan of a gaming chair will depend upon many factors; how well you use it, what's gaming chair brand you opted for, and many more.
Generally speaking, a good gaming chair should last you at least 5 years, and normal gaming chairs will last you around 2-3 years. If you use it well and keep doing regular maintenance, a good gaming chair can even last you more than 5 years.
Do gaming chairs break easily?
Yes, a gaming chair can break if you buy a poorly designed cheap gaming chair, and there are several reasons for it to break. The gas lift cylinder can break, and most of the time, the main reason is an overcharge. The base can also break due to this reason. Hence it is crucial to check the chair's capacity before putting a load on it.
The cover material is likely to be the first to deteriorate over the period. After a few years, poor PU leather can break easily, and tissue can get very messy. The armrests, on the other hand, are just as good as their consistency. If you notice a lot of wiggles in the armrest, this isn't a positive sign.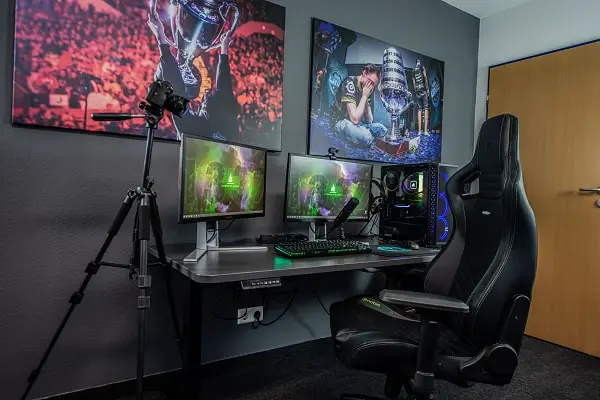 How to extend the lifespan of a gaming chair?
The primary step is to choose a durable and well-constructed gaming chair. That is to say, if you weigh about 150 pounds and the gaming chair's weight limit ability is 130 pounds, you are playing a risky game. I can guarantee you that the gas lift will fail and the chair will crash within a year or two.
The second reason you should do this is to exercise caution while handling the chair. If you wish your gaming chair to last for five years, you'll have to put in some effort to keep it clean regularly and maintain it by continuously greasing the lifting mechanisms when it makes squeaking noises.
What is a reasonable price for a gaming chair?
The cost of gaming chairs can vary by a huge amount depending on the features and what options you are looking for in your chair. The majority of gaming chairs range in price from $200 to $400.
The majority of gaming chairs range in price from $200 to $400. Nevertheless, based on the options and performance you need, you will find gaming chairs for less than $100 or for more than $500 if you'd like superior build quality and much more exclusive features.
Do expensive gaming chairs last longer?
The material quality is the most important factor in determining how long your gaming chair can last. In that scenario, it's a fair bet that more luxurious gaming chairs would last longer than less expensive ones. Another factor to think about is the guarantee scheme. A more respectable brand comes with a more robust warranty program and genuine customer service.
Conclusion
Gaming chairs are one of the essential components that you need to get to help you in your journey of becoming a pro gamer. It is worth saying that gaming chairs make a difference, and ergonomic gaming chairs are all about comfort, and comfort is extremely important in the world of gaming.
Consider doing something that makes you feel uneasy. You lack the discipline and attention needed to complete the task flawlessly. When it comes to gaming seats, you want to be as comfortable as possible, and that is why gaming chairs are designed to be ergonomic to give you the best possible support in your back and other body parts during gameplay and on desk office works.
Read more: Best GT Omega Gaming Chair Reviews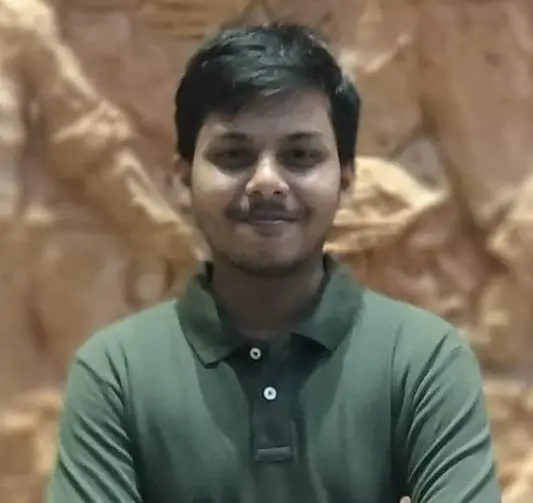 Hello Good People! This is Pavel and Welcome to PC Delight!
I'm an Electronics Engineer by profession with a passion for Gaming & PC builds. When I came up with the idea for PC Delight, it was my goal to share & offer the very best PC building ideas to tech-loving people like myself.
Since my school days, I've been just addicted to gaming & PCs. That leads me to experiment with various ways around the very niche, resulting in great productivity. And I'm here to share those practical experiences. So that next time you start some experiment with your PC builds or struggle to cope with a certain game, I'm here with the solutions. With these philosophies, I started my journey in 2017 and just kept going.