If you want the best console gaming experience on your PS4 and PS5, you need an excellent gaming chair. But, when it comes to selecting a gaming chair for PS4 and PS5, things get tricky. As finding gaming chairs for consoles is not the same as finding chairs for PC gaming.
But, you can leave this worry to use as today in this guide, we will review the best gaming chair for PS4 and PS5. We asked around, experimented, and came up with the following listing. Captivating audio, comfort, sturdy construction, versatility, and a reasonable price are all features that make a gaming chair ideal for console gaming.
All of the chairs on our list may not have all of these characteristics, but they are all worth the money you will pay nonetheless.
How Did We Select The Best Gaming Chair for PS4 and PS5
Before we go into our list of the best gaming chair for PS4 & PS5, we will discuss how we selected these chairs to be regarded as the best for console gaming.
Price
Expensive does not always imply superior quality. Consider what features you need from your PS5 and PS4 gaming chair and how the products on the market fulfill those demands.
There are clearly some concessions when it comes to selecting a cheap gaming chair, but once you start paying well over $400 – $500 for a gaming chair, you'll find that the benefits start shrinking.
We do not suggest you go over 400 dollars for a gaming chair, as the quality doesn't really improve over that. The price hike is only for brand value at this stage. At the same time, don't anticipate a gaming chair that costs less than $200 to last your entire life.
Comfort
Flexibility and comfort are the first things you should look for in a PS4 and PS5 gaming chair. Unlike PC gaming chairs, your console gaming chair should be flexible so you may take it to the next level, whether you choose to tilt and take a nap, place your feet on some other platform, or just find your optimal setting.
Upholstery Material
Console gaming chairs come with different types of upholstery material. The most expensive is genuine leather. They are the most long-lasting upholstery material, but your back will sweat more, and also leather requires heavy maintenance.
PU Leather is a low-cost leather substitute that looks and feels real. Furthermore, PU leather is easy to clean and does not stick to your skin, even if you become hot while gaming.
The last option is fabric upholstery. Fabric will feel lighter than PU leather, and it will provide a basic charm to any chair that is covered with it. These materials are also quite breathable, so they are more preferred if you live in a summer country.
Type of Chair
There are numerous different sorts of console gaming chairs. Only you can pick which of these styles is best for your gaming lifestyle. A typical gaming chair with armrests, footrests, and movable wheels is an option.
Alternatively, depending on your preferences, you might choose a reclining gaming chair or a floor gaming chair.
Body Measurements
Console gaming chairs are available in a multitude of forms and sizes to accommodate the various sizes of gamers throughout the world. The majority of gaming chairs, with some exclusions, will accommodate most body types.
So, you must choose the gaming chair according to your body type. Tall gamers or those who fall into the tall and huge group will want a chair appropriate for their body type.
Similarly, if you're looking for a gaming chair for your child, you'll want to have something smaller.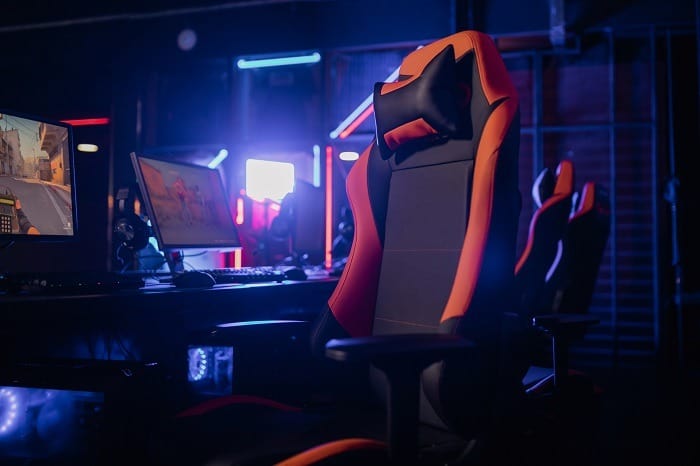 9 Best Gaming Chair For PS4 and PS5 Review
Below, we will review the 9 best gaming chairs for PS4 & PS5. Our list has selected all these chairs through hundreds of user reviews and extensive research.
1. X Rocker Pro Series H3 – Best Budget Gaming Chair for PlayStation
The X Rocker Pedestal Pro Series H3 is a good option if you want a closer to the ground chair than standard PC-style gaming seats. Its dimensions are 28.5 x 23 x 23.5 inches, and it weighs 24.49 kg and can support up to 113 kg of weight.
It has a generously cushioned headrest, ample lumbar support, a curved backrest, supporting short-gun armrests, and a pressure-relieving base for enhanced comfort. It has a fake leather surface that is easy to clean.
The X Rocker Pro Series gaming rocker includes two concealed loudspeakers in the back and an Ace Bayou Audio Force Modulation Technology subwoofer. This design incorporates speakers and ports to power subwoofers into the open field of the X Rocker, rather than merely the frame, to enhance sound quality and enhance your enjoyment.
Extra vibrating motors in the Pro Series H3 synchronize with your audio's bass sounds to generate another more intense full-body experience that will keep you comfy and delighted for hours.
Hence, the X Rocker Pro Series 2.1 is perfect for console gamers, with a variety of fascinating features for a terrific gameplay experience.
Pros
Compatible with almost all gaming consoles
Comes with built-in speakers and subwoofers
Foldable design for easy storage
It can be connected to other chairs for multiplayer gaming.
Cons
Weight capacity could be more.
2. Respawn 110 Racing Style Gaming Reclining Chair for PS4 and PS5
RESPAWN 110 Chair, Red
NOTE : To ensure proper assembly, please follow all...
GAMIFIED SEATING: A racecar-style gaming chair that...
The Respawn RSP-110 gaming chair is a racing car-inspired piece of console gaming chair that adds flair and functionality to any space. Its dimensions are 28.5 x 28 x 51.5 inches, and it weighs 51.81 pounds. This console gaming chair can hold up to 275 pounds.
The chair tilt and raise levers are situated beneath the chair on the right, and the fixed armrests are cushioned for elbow comfort. The RSP-110 has bonded leather and a 155-degree tilt with an infinite angle lock, so you can choose the perfect position for you. The movable lumbar and head cushion provide the necessary support for long hours of play in any game.
This ergonomic chair has a segmented cushion for precisely curved assistance when and where you need it most, as well as an extensible footrest for position reinforcement.
In addition, the soft and cushioned 4D adjustable armrest swivels with the chair when it reclines. A complete 360 degrees of swivel motion is also available, allowing for fluid movement. As a result, this chair may be used as both a console and a PC gaming chair.
It's covered in bold contrasting patterns for a sumptuous design, and the imitation leather texture makes it simple to clean. This is an excellent choice for a gaming chair with a lifetime warranty and a low price for console gamers.
Even though this gaming chair comes with great features, you cannot use this for very long hours of gaming.
Pros
Comes with a comfortable retractable footrest under budget
Suitable for both PC and console gaming
Includes additional lumbar support pillows
Looks bright and vibrant
Cona
Not recommended for long hours of gaming
3. Vitesse Gaming Recliner for PS4 and PS5
Sale
This Vitesse gaming chair is one of the most attractive PS4 and PS5 console gaming solutions. It has distinctive stitching, which is great praise in a world where most gaming seats look the same.
This gaming chair is 30 x 30 x 40 inches and weighs 63 pounds. It can accommodate weights of up to 300 pounds. It is one of the best recliner sofas for console gaming out there.
This recliner is suitable for console gaming because it takes approximately 10 minutes to assemble, allowing you to go back to gaming sooner. Furthermore, it is quite simple to operate, as you simply need to sit and then push to modify this gaming recliner to your preferences.
This chair is built entirely of premium materials, including skin-friendly PU leather and a wider, higher resilient sponge for a more pleasurable experience.
Leather that is both durable and waterproof makes cleaning easier. Steel transmissions and a protected footpad are included to enhance the comfort further.
The reclining chair includes a comfortable headrest, lumbar support, and a footrest. You may also modify three different shapes from 90 to 180 degrees. You'll also get three-point head, lumbar, and leg support.
A side storage bag keeps your controllers, cords, and other accessories organized. However, the customer support of Vitesse is not that great.
Pros
Super Comfortable design thanks to the thick foam used
Comes with a side bag for additional storage
Can support large gamers
Easy to set up and only takes 10 minutes for full assembly.
Cons
Customer support is not that great
4. X Rocker Vibe 2.1 – Best Overall Console Gaming Chair
Sale
The X Rocker Vibe 2.1 Wireless Bluetooth Gaming Floor Rocker will enhance your PlayStation experience. Ace Bayou's high-tech audio system allows you to engage yourself in gaming, movies, and music fully. It is 23.62 x 14.57 x 17.69 inches and weighs 26.39 pounds, allowing it to support a maximum weight of 275 pounds.
This is a floor gaming chair, which means it doesn't have any casters, which makes it portable. You can simply take it anywhere around your house without much trouble. Furthermore, this console gaming chair also has a folding design.
Yes, as you may expect, you can easily connect your X Rocker 2.1 with another model of X Racer PS4 and PS5 gaming chair your friends possess.
The wireless receiver is built-in to the chair and allows you to stream music from any Bluetooth-enabled gadget, ensuring that you enjoy an immersive gaming experience at your Play stations at all times.
Furthermore, this high-tech video gaming rocker is larger for additional comfort, with ventilated mesh material and an ergonomic shape that can provide maximum comfort during lengthy gaming sessions.
However, bear in mind that this PS5 game chair is pretty heavy, and carrying it across the living room on your own will be challenging.
Pros
Fabric upholstery provides a breathable surface for gamers to sit on
Easy to fold and keep away when not in use
Built-in speakers are loud and have heavy bass
Looks aesthetically pleasing
Cons
Very heavy to move around
5. Respawn Omega – Xi – Best Aesthetic Console Chair
If you are searching for a cool and aesthetic-looking console gaming chair, then the Respawn Omega-Xi is the one for you. It is a more compact and lightweight version of the Respawn 110.
Its dimensions are 28.5 x 28 x 51.5 inches, and it weighs 41.9 pounds. It is, however, capable of supporting gamers weighing up to 275 pounds.
The ergonomic extended padded footrest on this Fortnite-inspired Omega gaming chair allows you to kick up your feet with ease. The tilting and raise controls are on the side below the chair, which is easy to reach and use. Furthermore, the armrests come with cushions for elbow support.
A huge focus has gone on comfort while designing this gaming chair. To make you feel comfortable during long gaming sessions, this chair comes with segmented cushioning on the back along with a headrest.
You can also recline between 90 and 155 degrees with unlimited locking points to find your ideal posture. Like the Respawn 110, the soft, cushioned armrests swivel with the chair as it reclines. But, the armrests seem a bit wobbly.
Pros
Easy assembly
It has an excellent build quality corresponding to the price you are paying for it.
Fortnite inspired design
Extremely comfortable sitting position and the backrest is fully padded
Cons
The armrests seem wobbly at times.
6. ANDASEAT Fnatic Esports Pro – Best Luxury Gaming Chair for PS4 & PS5
The ANDASEAT console gaming chair is in the higher-end gaming chair sector. But, despite its high price point, it offers some heavy-duty features.
It comes at a dimension of 40 x 30 x 30 inches with a weight of 74.4 pounds and has a weight capacity of a staggering 441 pounds. This weight capacity is the highest among all the other chairs listed in our review list.
This chair boasts a multi-functional tilt mechanism with 4D armrests that provide ultimate comfort for your forearm and hand. The improved Class 4 Hydraulic Nitrogen cylinders additionally enable consistent adjustability and recline from 90 and 160 degrees with locking in 5 distinct settings.
Furthermore, when looking for the finest gaming chairs, examine the foundation and frame building material, which is often overlooked by others. Anda Seat builds a sturdy constructed gaming chair with a powder-coated metal frame with big bars to handle the tilting and rocking functions.
This luxury racing chair adapts to your figure with larger elevated one-piece 60kg/m3 foam. The vertebrae and neck are supported by the detachable M-size neck cushion and XL memory foam lumbar cushion.
Even after many hours of gaming or work, this ergonomic chair provides a very pleasant sat position. But, the price is a bit high.
Pros
Heavy-duty and sturdy frame build quality
It can support weight up to 441 pounds making it suitable for large gamers
Comes with class 4 cylinders for easy height adjustment
The PVC leather cover is of premium quality
Cons
7. AKRacing Master Series Pro – Best Racing Style Console Chair
Sale
It's time to get ready for a fight with the AKRacing Premium gaming chair, which has original PU leather upholstery patterns and exceptionally comfy cushioning with additional cold cured foam. Its dimensions are 21.5 x 29 x 50 inches, and it weighs 57 pounds with a 330-pound weight capacity.
Heavy-duty design with a large metal framework and anti-corrosive finish. This chair has reinforcing belts and is powder-coated with anti-corrosive lacquer. Additionally, the chair frame goes through 11 quality checks and is guaranteed to endure at least 10 years.
The AKRacing Master series also includes an AKRacing-designed revolutionary good strength aluminum base that is 20 times stronger than steel. The base is made to visually complement the chair color, which is a lovely touch.
With the "Rock & Lock" function, you may change the chair to your preferred comfortable spot by locking the seat at an angle. Alternatively, simply rock it, or you may totally lock it.
It's also worth highlighting the 4D armrests. The arms and wrists are cushioned and supported by these patented AKRacing style armrests made of a unique foam blend. You may also swivel them to the sides and modify them in four directions.
The whole assembly process of this console gaming chair is really easy. So you won't have any trouble assembling this gaming chair. However, this chair is quite heavy, and you will have a hard time moving it.
Pros
Comes with padded 4D armrests
The patented base is 20 times stronger than metal
The cold cured foam makes this chair extra comfortable
Suitable for tall gamers
Cons
The chair does feel a little wobbly
8. Giantex 360 Degree Swivel – Best Floor Console Gaming Chair
This Giantex spinning chair has a 360-degree swivel base, making it very convenient to move things about. It may also change your mood, help you relax, and make your job and life more enjoyable. No matter if you wish to use it for gaming or for or for, watching movies, or even simply relaxing, this gaming chair has got you covered
The Giantex floor gaming chair is 23 x 29.5 x 32.5 inches in size and weighs only 20 pounds. Despite its small size, it can hold up to 300 pounds.
Super comfortable is the word for this PS4 & PS5 gaming chair. Several high-density springs are integrated in, which give outstanding flexibility and pleasure.
It also has high-density sponges to provide added comfort. You might entirely unwind while sitting on it. Not only that, but the Giantex lazy floor offers six different angles. Hence this sofa can transition from a chair to reclined seat in minutes.
This lazy couch chair's backrest is totally foldable. Hence you may fold it up to generate extra space for various fun activities. The sofa becomes small after folding, so it doesn't take much space to store. However, this chair may seem too low for tall gamers.
Pros
The back is adjustable at six different angles
Foldable design, so easier to store it
A low weight which makes it easier to move around
Comes with interior springs for extra comfort
Cons
Tall gamers might find the chair comfortable
9. Homall Gaming Recliner – Best Massage Recliner Console Chair
Sale
The last console gaming chair in our list of best gaming chairs for PS4 & PS5 is the Homall gaming recliner. It comes at a dimension of 29 x 26 x 41 inches with a weight of 63 pounds that can support up to 265 pounds of weight.
If you're searching for a gaming chair that also serves as a piece of furniture, the Homall Gaming Recliner is the way to go. This gaming chair is a comfy and elegant recliner.
Furthermore, this gaming chair is manufactured of skin-friendly premium quality PU leather and a high-resilience thicker sponge, resulting in a more pleasant gaming atmosphere.
You also have a lot of customizable options. Adjust the chair from 90 degrees to 180 degrees if you want to recline. The added message support lumbar will make your Console gaming sessions even more enjoyable. When sitting in the same posture for lengthy periods of time, this pillow can help relieve back stress.
This gaming reclining couch comes pre-assembled, and it will take you only 3 minutes to put it together if you follow the directions. The Homall gaming recliner, on the other hand, could be comfier.
Pros
Comes pre-assembled
Includes a lumbar massage pillow
It can be used as a regular sofa too
180 degrees recline, so you can take quick naps in it
Cons
The recliner could be more comfortable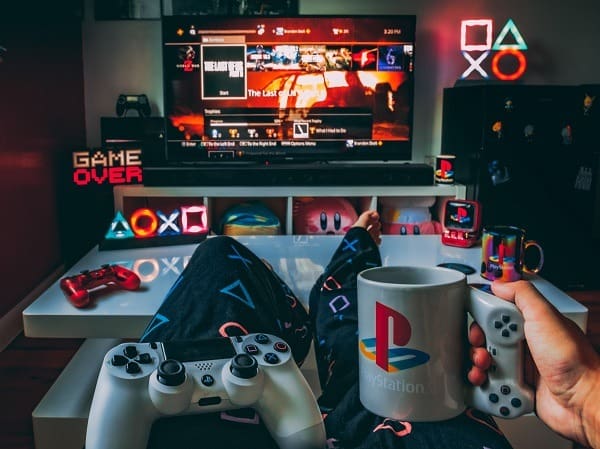 How to connect a gaming chair with a PS4 & PS5
Many gaming chairs can be connected directly to your PS4 & PS5, and there are two methods for doing it.
When playing on a PS4 or PS5 console, several of the above console gaming chairs come with suitable built-in speakers, whereas others are simple gaming chairs you may pick for comfort and aesthetics.
Optical Wireless Method
An optical cable linked to your PlayStation system and the wireless DAC converter can be used for this sort of connection. The process for connecting a gaming chair to a PS4 or PS5 differs.
PS 5 – Turn on the Switch output device automatically button in Settings – Sound – Audio Input.
PS4 – Change the Audio Format Preference to Linear PCM in the Sound and Screen menu – Audio output options – Primary output – Digital Out (optical)
Wireless DAC Adapter
If you want to broadcast sounds straight to your PS4 or PS5 gaming chair, you'll have to install the DAC adaptor. For audio connection, you adjust the chair to the frequency of the DAC converter.
FAQs
Are Gaming Chairs for PS4 & PS5 worth it?
Answer: These sophisticated and well-designed gaming seats are far superior to lounging in a kitchen chair or playing on the floor. Even if you're playing on a huge scale or simply playing for fun, you should concentrate on your gaming skills as well as your comfort. That is why a gaming chair is important for your comfort.
How long will a gaming chair for PS4 and PS5 last?
Answer: inexpensive PS4 & PS5 gaming chairs can last three to five years, but quality gaming chairs may last up to ten years.
Other elements that might affect the longevity of your gaming chair are the chair's components, the number of times you use it, and the setting in that you use it most. On average, a good gaming chair for console gaming will last you 7-8 years.
Conclusion
So, if you are searching for the best gaming chair for PS4 & PS5, your journey ends here. We have discussed and reviewed 9 of the best chairs for your consoles.
As you can see, there are a plethora of alternatives available when it comes to console gaming seats. The good news is that there is something for everybody, regardless of whether your primary concern is pricing or high-end functions.
So, which chair you choose is always dependent on your needs and the features you are looking for. For us, these nine chairs stand out among all other console gaming chairs on the market.
Make sure to choose the chair for your PS4 and PS5 after proper research, and don't just go for looks; keep a note of the features also.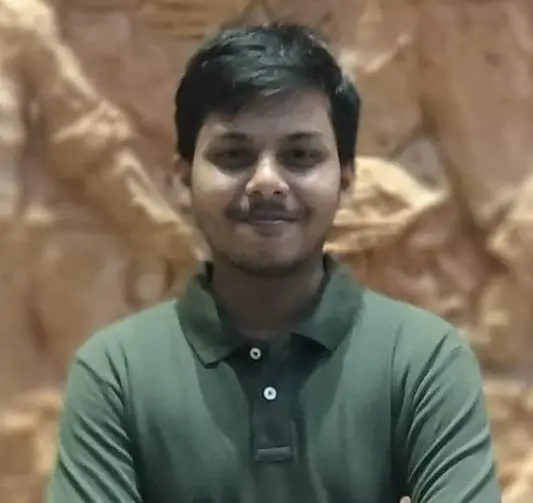 Hello Good People! This is Pavel and Welcome to PC Delight!
I'm an Electronics Engineer by profession with a passion for Gaming & PC builds. When I came up with the idea for PC Delight, it was my goal to share & offer the very best PC building ideas to tech-loving people like myself.
Since my school days, I've been just addicted to gaming & PCs. That leads me to experiment with various ways around the very niche, resulting in great productivity. And I'm here to share those practical experiences. So that next time you start some experiment with your PC builds or struggle to cope with a certain game, I'm here with the solutions. With these philosophies, I started my journey in 2017 and just kept going.