Perhaps, you've been using a VGA-only compatible television or monitor that you want to use to watch a film from Apple MacBook Pro or other computers. But all of them have an HDMI port.
Should you just leave things undone? Of course not. But how to connect a VGA monitor to an HDMI computer? 
Connecting a VGA monitor to an HDMI computer is quite simple. You can use either VGA to HDMI converter or a VGA cable to connect your VGA monitor to an HDMI computer. 
Stick to our article till the end to get your job done in no time. 
How To Connect VGA Monitor To HDMI Computer 
Yes, the Video Graphics Array (VGA), which had its heyday at the dawn of this digital age, has long served the function for which it was designed. 
However, as things evolve, and we must advance into newer technological realms, VGA is quickly becoming a thing of the past. Most modern computers come with an HDMI port. 
But if you have a VGA interface on your monitor and want to connect it to an HDMI computer, it won't be a tough task. Just follow the methods mentioned below. 
1. Using VGA-to-HDMI Converters
Card reader converters can bridge older ports, such as VGA or AV jack inputs, and newer connections, such as HDMI or computer system inputs. Among these converters, VGA-to-HDMI converters connect a PC with a VGA output to a TV or monitor with HDMI.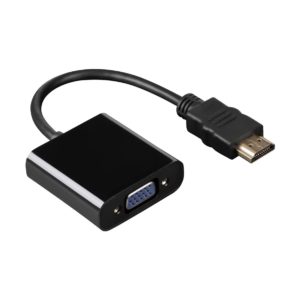 If you have an old VGA monitor that you want to connect to an HDMI computer, an inexpensive and easy solution is to use a VGA-to-HDMI converter.
The converter comes with a built-in chip that translates the analog signal from your old PC to a digital output suitable for most TVs and other displays. Here are some tips on how to use them: 
Get a VGA-to-HDMI converter from any local store or order it online.
Connect the converter to the VGA port on your computer and the HDMI port on the monitor. 
Be sure that the cables are long enough so that they reach from the converter to the monitor without having to be bent or folded excessively. 
Turn on your computer, and you should now be able to view images from your monitor on your PC's screen.
If the monitor does not turn on automatically, you may need to manually turn it on by pressing its power button for a few seconds.
2. Using VGA Cable
VGA has continued to be widely used despite being antiquated compared to other video technologies in recent years. The standard on many new computers to manage some VGA interfaces is the default for new technology, though older systems can still be fitted with VGA ports.
You can connect your VGA monitor to an HDMI computer using a VGA cable, as well. VGA cables can be purchased in many electrical stores. Just be sure to invest in an adequate quality cable. 
The quality of your purchased VGA cable can influence your viewing experience, as an adversary quality cable might leave you watching a delayed video. 
Connect the VGA cable to your laptop or PC's port. Make sure it's fixed securely.
Now attach the other end of the cable to the monitor. The port will be positioned at the back of the screen.
Go to the control panel and find the video display settings. Choose the projection presentations you want to change. 
If you want to replicate the entire VGA monitor screen on the computer, select the duplicate option. You can also extend your screen by accessing the extended option.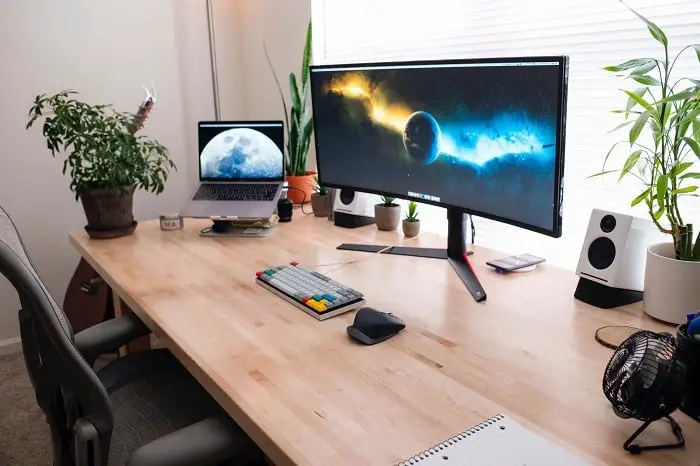 Why Do VGA is Not Working on My Monitor?
There are a few reasons why a VGA port might not be working on your monitor. Occasionally, a cable connecting the monitor to the computer can become disconnected, causing problems with the VGA port. 
If the problem is with the cable, you can fix it by reconnecting it or replacing it. If the problem is with the VGA port, your only recourse may be to replace your monitor. 
One possibility is that the cable connecting the graphics card to the monitor is either damaged or missing. If the cable is not plugged in properly, the signal from the graphics card won't reach the monitor. 
Another possibility is that there is something wrong with the graphics card or monitor. If one of these components isn't working correctly, it will cause problems with displaying images on the screen. 
FAQs
How do I get VGA to work on my computer?
There are a few things you can try. First, make sure your computer has a VGA output. If it doesn't, you'll need to purchase a separate graphics card or adapter. Next, check to see if your computer has the correct drivers installed. Finally, make sure your computer's settings are configured to use VGA instead of HDMI or DisplayPort.
How do I connect my laptop VGA port to my TV HDMI port?
You'll need to purchase a cable that will allow you to connect your laptop VGA port to your TV HDMI port. Then connect the VGA expelling from your personal computer to the VGA input on the converter, and the HDMI from the Converter to the HDMI slot on your television set.
How do I connect two VGA monitors to a laptop with one HDMI port?
An HDMI cable has only one end attached to it. To connect two screens or two projectors, connect one end of the HDMI cable to your computer or laptop's HDMI port, then connect the other end to the HDMI splitter's input port. Now, connect another HDMI cable from the other end to the splitter's HDMI cable input.
End Remarks
At this point, you've got to know how to connect a VGA monitor to an HDMI computer. For almost three decades, the VGA interface has been a fixture of our past. so it is no longer feasible to completely erase it. 
So, make sure to master the above-mentioned tips. Who knows when the necessity comes up!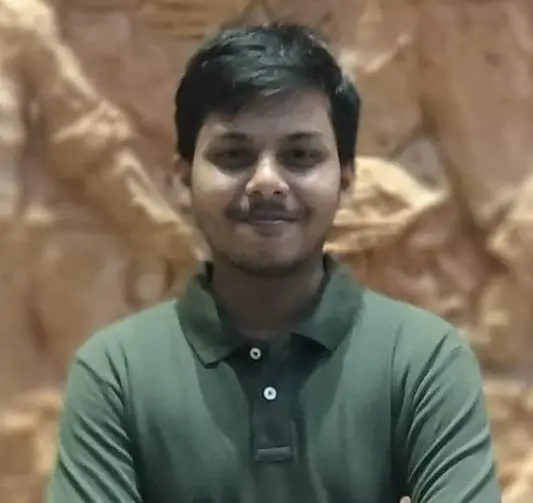 Hello Good People! This is Pavel and Welcome to PC Delight!
I'm an Electronics Engineer by profession with a passion for Gaming & PC builds. When I came up with the idea for PC Delight, it was my goal to share & offer the very best PC building ideas to tech-loving people like myself.
Since my school days, I've been just addicted to gaming & PCs. That leads me to experiment with various ways around the very niche, resulting in great productivity. And I'm here to share those practical experiences. So that next time you start some experiment with your PC builds or struggle to cope with a certain game, I'm here with the solutions. With these philosophies, I started my journey in 2017 and just kept going.