Are you a gamer who spends quite a lot of time playing games? Or maybe you are an office worker who works for long hours sitting in a chair. Then you are just in the correct place.
A gaming chair with a massage option will let you ease the back pain and discomfort that you suffer from sitting in the chair for a long. When it comes to finding a gaming chair with massage, the choice can bit tricky as it is really hard to find a good massage gaming chair.
Hence, today we are here to review the 10 best massage gaming chairs for you.
10 Best Massage Gaming Chairs reviewed
1. Dowinx Gaming Chair with Massage Lumbar Support
Sale
With this beast of a gaming chair, Dowinx has established its mark in the gaming chair business. Their ergonomic racing-style recliner has excellent features and should be seriously considered if you're searching for a reasonably priced gaming chair.
Product Description
The Dowinx massage gaming chair is a big chair with a dimension of 23 x 20 x 55 inches and a weight of 49.8 pounds. It can support weight up to 350 pounds which is great for big size gamers.
What makes this chair unique is the PU carbon fiber leather, whereas other chairs mostly contain regular PU Leather. This chair has a neutral color scheme and high sports car finishes, making it suitable for use in an office setting.
Furthermore, this chair is designed in the manner of a racing chair, but it has flanks for days. It envelops you like a bear embrace, and everything is well-integrated and flowing.
In addition, the wing-shaped backrest has been extended to provide better waist support. The USB-powered massaging lumbar pillow relieves musculoskeletal ailments such as back problems and leg stiffness.
The chair has a 360-degree swivel, as well as headrest and height adjustments, and a backrest tilt of up to 180 degrees for optimal comfort. In addition, there is elbow support for all postures, including lying down.
Pros
Heavyweight support up to 350 lbs
Huge flanks
Thickened cushions
It comes with PU Carbon leather
Cons
The armrests don't have enough cushioning
Final Verdict
The Dowwinx Gaming Chair offers a sophisticated leather design that is ideal for dedicated gamers who also need to work from home. This, along with the fact that it includes a footrest, makes this chair adaptable and suitable for a wide range of applications.
---
2. Ficmax Gaming Chair with Footrest
The Ficmax Massage Gaming chair has a robust, sturdy build, bolstered yet gently tufted support, and an ergonomic and comfy footrest. You might easily lose track of time on this chair.
Product Description
The Ficmax Massage gaming chair elevates the traditional gaming chair to new heights. It comes at a dimension of  33.8 x 25.2 x 12.6 inches with a weight of 49.9 pounds and supports a weight of up to 400 lbs.
When it comes to feature, this chair has a vibrating USB massage feature on the lumbar pillow, a bigger seat cushion, a retractable footrest, and a thicker seat cushion when compared to conventional gaming chairs on the market.
Moreover, this gaming chair includes an improved version of the aluminum frame that has been extended and widened to accommodate diverse body shapes. The side wings on both sides of the cushion have been shortened to lessen leg constraint. Increase the operational space and the game experience.
The Ficmax massage gaming chair has thicker memory foam that measures 4.8 inches in thickness. You get the feeling of sitting on a sofa when you use this high-density native-shaped foam. Appropriate suppleness and resilience guarantee that even more, extended periods of sitting do not result in aching buttocks.
Pros
8 inches thick cushions
The massage function is very comfortable
Strong and durable footrest
Heavy-duty build quality
Cons
Final verdict
Whether used for intensive gaming sessions or lengthy workdays, the Ficmax gaming chair gives the ultimate in luxury and relaxation. Furthermore, the massage on this gaming chair is meant to provide finely tailored comfort when and where you need it the most.
---
3. GTPLAYER Gaming Chair with Footrest and Lumbar Support
When it comes to ergonomic gaming seats, Gtplayer is a market leader. To carry on their history, they've created an ergonomic massage and footrest gaming chair. It's an excellent massage gaming chair for the price.
Product Description
GTPLAYER is one of the most relaxing and comfortable massage gaming chairs on the market. This chair has a headrest and a massaging lumbar cushion. As a result, if your neck is uncomfortable from gaming or working with your head down for an extended period of time, the headrest will provide relief.
When you grow weary of sitting in the same position, lean back and charge your waist cushion, which will electrically soothe your tired waist. In order to save money, most gaming seats have plastic legs. But what sets this gaming chair apart from the rest are the robust metal legs that will keep the chair steady and firm.
As a result, there is no need to be concerned about hot or low temperatures, the sun, or the wind; it will not rust or shatter. Whether a toddler rolls on the chair or a pet leaps up eagerly, the chair will remain upright.
Pros
Has an ergonomic chair
Very sturdy metal legs
Within the first two years, you are entitled to a free replacement or repair.
Looks aesthetic
Cons
Not suitable for large gamers
Final Verdict
GTplayer has started out on a quest to assist professional gamers in improving their abilities and becoming champions. If you've decided to get into professional gaming, the GTplayer Gaming Chair is what you should need.
---
4. Homall Gaming Recliner Chair Racing Style
Sale
Homall is not like other gaming chairs in our list of best massage gaming chairs. It is a recline gaming massage chair. This is one of the finest massaging gaming recliner chairs with a footrest that is like a traditional theatre seat which comes with a variety of electric massager settings and controls.
Product Description
This gaming chair comes at a dimension of 29 x 26 x 41 inches with a weight of 63 pounds and is comprised of skin-friendly high-quality PU leather and a high-resilience & high-density denser sponge, creating a more pleasant gaming atmosphere.
Additionally, this chair can be utilized in three different shapes ranging from 90 to 180 degrees, making it excellent for gaming, working, watching movies, and even napping.
The massager function is very effective. The built-in waist massager helps alleviate pain caused by prolonged sitting.
Gamers will like the comfortable, thick headrest and lumbar cushion. These pillows are pretty broad, making them suitable for persons of all sizes. The advantages of a couch recliner are that they are generally considerably larger and cushioned than computer seats.
A nice feature of this massage recliner is that you do not have to assemble the chair. This massage couch is pre-installed, so you just need to spend 3 minutes following the instructions to finish the installation of this sofa.
The Homall recliner is designed to help you relax. Therefore it has two side pouches to store your essentials such as your phone, wallet, keys, and controller. Along with it, there is also padding on the chair's legs to prevent scratching the hardwood flooring when moving the recliner.
Pros
Extra comfortable design
Has two additional side pockets to store wallets, phones, etc
Non-marking pads for anti floor scratches
Adjustable headrest and massager waist pillow
Cons
Final Verdict
The Homall Gaming Recliner is a single-person sofa-style gaming chair that is excellent for casual gaming as well as viewing movies in the comfort of your own home. If you want a recline with a massage function, then the Homall gaming recliner is the one to go for.
---
5. VON RACER Massage Gaming Chair
The VON RACER is an economical pc gaming chair with massage capabilities that is ideal for business contexts due to its low-profile design and availability in a variety of color combinations. The Back Support is excellent, along with the massaging feature on the low back, which is quite convenient.
Product Description
The VON RACER massage gaming chair comes at a dimension of 11.42 x 32.38 x 21.26 inches with a weight of 36.3 pounds. This chair has a flat, broad seat that gives more space for comfortable seating.
Additionally, there is soft cushioning and superior PU leather, which is simple to maintain and fade resistant, provides excellent comfort and support. Compared to the price point, the weight limit of 250 pounds is quite decent.
Armrests are height and depth adjustable and cushioned for your comfort. The seat height is also adjustable, ranging from 18.1 to 21.3 inches. The seat width is 18.1 inches, which puts it in the center of the spectrum for seat widths.
From the swivel free slide wheels to the soft and smooth headrest, the whole design of this gaming chair is perfectly ergonomic and comfy. Furthermore, the massager employed in this chair is undoubtedly the greatest on this list of massage gaming chairs in terms of quality and efficiency.
Even if you can recline this chair, you can only do so to 45 degrees, with a maximum recline of 135 degrees. However, you do receive a retractable footrest as well as detachable and adjustable lumbar and headrest cushions.
Pros
Huge color option
Significant adjustability of seat height
It comes at an affordable price
Has a wide flat seat
Cons
Final Verdict
If you are on a budget, then the VON RACER massage gaming chair is a great choice. Even though this is a budget massage gaming chair, but it still looks like a premium-looking chair that is very soft and comfortable to use. Furthermore, the wheels roll pretty smoothly.
---
6. NOKAXUS Gaming Chair with Massager Lumbar Support
Sale
Nokaxus gaming chair comes at a dimension of 33.07 x 25.59 x 12.6 inches at a weight of 49.8 pounds. They produce some of the superb gaming seats and furnishings on the market. Their racing-styled gaming chair with retractable footrest and massaging lumbar support is a beautiful example of their manufacturing skill.
Product Description
The Nokaxus gaming chair comes at a dimension of 33.07 x 25.59 x 12.6 inches with a weight of 49.8 pounds. Large gamers frequently have difficulty with workplace chairs because they are either not supportive enough or are unsafe.
The Nokaxus gaming chair, on the other hand, has one of the highest weight ratings we discovered in our analysis, at 360 pounds. You'll have adjustable armrests that can be adjusted from 11 to 13.8 inches in height. The seat height is also adjustable, ranging from 19.3 to 22.4 inches.
Moreover, you may not only add padding to make it more pleasant, but you can also rely on it owing to the reasonably priced and intriguing method it is constructed.
In terms of cushioning and cushions, the chair does not skimp. As a result, the lumbar massaging feature on this chair is noticeably superior. Moreover, the adjustable headrest pillow complements the chair's otherwise race-car-like design.
Pros
Made from a high-quality frame
Designed with SGS class 8 barometer
Large-sized PU wheels
Has an ergonomic design
Cons
Final Verdict
The NOKAXUS is a high-priced massage gaming chair. However, due to its high-quality components and great craftsmanship, it is a strong contender for the best massage gaming chair and a true value for money.
---
7. YOURLITEAMZ Racing Gaming Chair with Footrest and Massage Lumbar Pillow
YOURLITEAMZ Gaming Racing Chair is committed to producing the most incredible gaming chair with a huge seat space for professional gamers. Sit on the YOURLITEAMZ gaming chair for a more comfortable gaming experience.
Product Description
The Yourliteamz racing massage gaming chair comes at a dimension of 26.3 x 20.9 x 45.2 inches with a weight of 50.4 pounds, and it can support weight up to 330 pounds.
Since we are talking about massage gaming chairs, YOURLITEAMZ includes a neck pillow and USB-powered lumbar massage pillow that make this gaming chair much more pleasant during lengthy gaming sessions.
The prismatic shape of this chair may make you believe you're dealing with something cutting-edge, but trust us when we say it's just your average gaming chair.
But it's unique because it combines memory foam with a very effective lumbar massager, making it stand out in a crowded industry. This chair is built of high-density shaping foam for added comfort. It also has an anti-oxidation condition as well as elasticity and resilience.
Furthermore, as compared to the pricing point, the 1.8mm thick steel frame is remarkably sturdy and solid. The upholstery is made of skin-friendly and wear-resistant PU leather.
YOURLITEAMZ Racing gaming chair is ideal for the office, home, and even conference and gaming rooms. Simply sit back and unwind, knowing that this video game chair is supported by a limited lifetime dedicated, year-round representative support.
Pros
Made from a sturdy metal frame
Great budget option
Memory foam cushions for better comfort
It looks minimalistic that is suitable for office as well as gaming
Cons
Doesn't have a head pillow
Final Verdict
If you're searching for a low-cost, high-quality ergonomic gaming chair with a footrest and massage, the YOURLITEAMZ racing gaming chair is without a doubt the greatest entry-level ergonomic gaming chair choice on our list.
---
8. OHAHO Gaming Chair Racing Style Office Chair
Sale
OHAHO introduces this rotating massage gaming chair which is a swivel chair designed to look like a race car seat. It's ideal for gamers, but it's also great for office employees who want to be more comfortable while working.
Product Description
The OHAHO massage gaming chair comes at a dimension of 21 x 26 x 52 inches with a weight of 49.9 pounds and supports a weight of up to 300 pounds. It also includes an innovative implant USB electric massage that efficiently relieves tiredness in the lumbar cushion.
Furthermore, the ergonomic body design makes it an excellent choice for gaming, working, and learning. The structure is also made of high-quality full-PU leather that is both skin-friendly and simple to clean.
Furthermore, the seat is fairly pleasant due to the use of a high-density thicker sponge with great resilience. What makes this massage gaming chair different from others is the rocking function.
First and foremost, you'll get a 180-degree reclining angle range, which is ideal for napping. And, within that range, you may lock the reclining at any degree. However, for those who enjoy rocking in their seats, the Ohaho chair allows you to rough rock from 0 to 10 degrees and smooth rock from 0 to 20 degrees.
Pros
It can be used as a rocking chair
The bright and colorful aggressive design
Many different color options
Metal frame designed with explosion-proof gas spring.
Cons
Too flashy for office use
Final Verdict
If you are in search of a rocking gaming chair with massage functions, then the OHAHO gaming chair is a great choice. It comes with all standard features like adjustable height, 360-degree swivel, and many more.
---
9. Marvel Avengers Gaming Chair
If you are a Marvel Avengers fan and want your massage gaming chair in the avengers' theme, then this is the chair for you. This marvel avengers gaming chair comes in an array of different colors based on your favorite superhero.
Product Description
The Marvel Avengers gaming chair comes at a dimension of 27 x 28 x 48 inches with a weight of 44 pounds and supports a weight up to 300 pounds. A high-density, molded foam cushion is included inside the seat and backrest to keep you comfy for an extended period.
In addition, the chair features a coated steel structure with an additional thickness of 0.3mm. It is corrosion-resistant, healthful, and capable of offering ideal spine support.
The upholstery is made of high-quality vintage leather that is stain and scratch-resistant. Furthermore, to assure safety and stability, all parts are BIFMA-certified.
Marvel avengers gaming chair has a comfortable backrest that reclines up to 180° for a relaxing slumber. So, stretch your legs whenever you want and rest. It also has a Lumbar with a USB massage function and neck cushions for customized support and fit.
Pros
Made to serve you for a very long
Thicker steel frame
Looks very cool
Quite comfortable to sit on for hours
Cons
The assembly takes a long time
Final Verdict
The Marvel Avengers massage gaming chair is extremely comfy and easily customizable. It's not only really comfortable but also extremely well-made with high-quality materials. The stitching is both durable and gorgeous.
---
10. Kinsal Ergonomic High-Back Large Size Gaming Chair
The Kinsal Gaming Chair stretches the whole length of the back, providing support for the shoulders, head, and neck. It provides you with a sense of relaxation throughout your working hours as well as interesting game experiences.
Product Description
The Kinsal Ergonomic gaming chair comes at a dimension of 33 x 25 x 11 inches with a weight of 55 pounds and can support weight up to 300 pounds.
This ergonomic high-back gaming chair is a cut above the rest, whether it's because of the quilted tufts or the elegantly upholstered leather. You get full lumbar support, as well as USB-powered massage and cushioning to keep you comfy for hours.
What distinguishes this chair from the throng is undoubtedly its design, which appears to be a designer item. Because of the stronger steel frame, this gaming chair appears to be quite durable. There is also a high-quality, SGS-certified class-4 gas lift that is both sturdy and dependable.
Pros
Well suited for larger and tall gamers
It looks like a designer piece
SGS class 4 lift which is very durable
Made from heavy-duty materials
Cons
Final Verdict
If you are in search of a gorgeous-looking massage gaming chair that makes your chair stands out from everyone else, then the Kinsal gaming chair is for you.
---
Buying Guide for the Best Massage Gaming Chairs
We picked out the ten best massage gaming chairs so far, but down below, we will tell you how we decided on this list.
Adjustability
For a better gaming experience, a decent gaming chair will often have a wider reclining range than ordinary office chairs. They also have a retractable footstool that allows you to lie flat.
You'd also want your gaming chairs to feature seat height adjustment so that if you wish to use one as an office chair, you can adjust it to the height of your desk.
Massage option
The most noticeable aspect of a massaging gaming chair is the massager. The massage feature on gaming chairs is generally USB-powered, which makes it easy to use and tries to avoid versions that require an electrical outlet to be operated.
Support
The entire purpose of massage chairs is to alleviate back discomfort. However, lumbar support is essential for keeping a good posture for an extended period of time.
A lumbar cushion should be able to conform to the curve of your spine and remain upright without putting unnecessary strain on your lower back. The best gaming seats include built-in lumbar support. At the same time, the backrest and seat of the chair are completely cushioned.
As a result, look for gaming chairs with detachable and adjustable lumbar support pillows.
Build Quality
The construction quality of a chair is determined by a variety of factors. Its base, armrests, fabric, and everything in between are all included.
As a result, always seek massage gaming chairs with a steel or aluminum frame because they have been proven to survive for more than a decade. A chair with a plastic base or frame should also be avoided.
Conclusion
If you suffer from back pain due to long hours of gaming or working at an office desk, then a gaming chair with a massage is for you. Even though there are many massage gaming chairs, but all chairs cannot be the best.
Hence, today we prepared this guide to review the 10 best massage gaming chairs for you to choose from. Make sure to read the reviews thoroughly before finally making your decision on which chair to buy.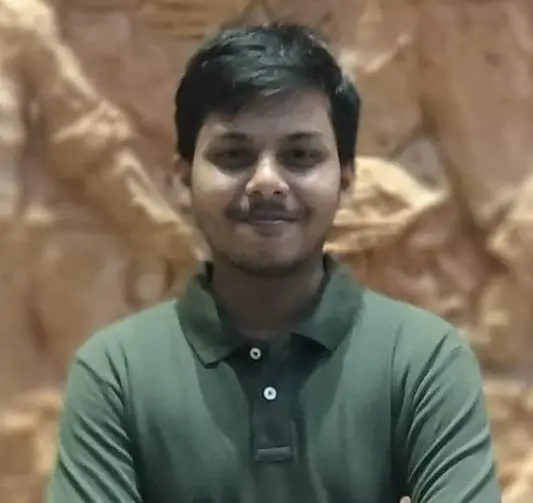 Hello Good People! This is Pavel and Welcome to PC Delight!
I'm an Electronics Engineer by profession with a passion for Gaming & PC builds. When I came up with the idea for PC Delight, it was my goal to share & offer the very best PC building ideas to tech-loving people like myself.
Since my school days, I've been just addicted to gaming & PCs. That leads me to experiment with various ways around the very niche, resulting in great productivity. And I'm here to share those practical experiences. So that next time you start some experiment with your PC builds or struggle to cope with a certain game, I'm here with the solutions. With these philosophies, I started my journey in 2017 and just kept going.