No, it's not an issue with your eyesight (if you're panicking already). Sometimes when you purchase a new computer, a grainy monitor may appear. Or sometimes, after some years of using the same PC, the fuzziness can irritate you. Then how to fix a blurry computer screen?
Well, there are multiple solutions to your problem. You can fix a blurry monitor by restarting the PC, cleaning the mirror, confirming the connection security, changing the resolution, and many more!
This write-up focused on the adjusting part of your PC screen no matter what issues it may have. We'll discuss why your computer screen is misty and the steps you can follow to remove it. 
Let's remove the blurriness!
Why is Your Computer Screen Blurry?
Before jumping into the fixing part, let's find out why your pc screen is blurry. The issue can vary from monitor to monitor. So, it's important to find out what type of problem your computer is facing.
Once you know that, you can find a cure (solution) to that trouble. The following things can make your screen foggy. They are:
The first thing to notice about your monitor is if it's having any connection problems. Often, connectivity issues can cause your screen fuzziness and that's really annoying if you don't fix it immediately.
The Screen is Full of Dirt
Well, this can happen with a very old device you've been using for ages. We mean, sometimes we get so attached to our work life that we forget to clean the screen of our PC or laptop.
This is absolutely normal though. Checkout if the display is having dirt or the camera over your screen is really dusty. It may be causing a foggy screen!
USB cables can cause serious blurry screen issues at any time. The cable may be damaged or loose which can eventually affect the signal of your monitor. And then the monitor will become blurry.
Make sure the cables are okay and if you find any problem with them, you have to fix it!
Wrong resolution settings can blur your screen too. If the settings are unmatched or different in 2 displays, text, or apps, it's highly possible for your screen to go wild!
Software and Hardware Problems
If you find the mentioned issues aren't the ones behind it, the problem may be lying in your software or hardware.
For example, software issues like a virus or corrupted graphics can make your screen look really blurred. Then again, the hardware itself may be causing the blurriness and in this case, the monitor should be replaced!
Other than these obstacles, the blurry screen may appear if – 
Your PC is running in the safe mode
The input cables aren't tightly secured
ClearType Settings aren't calibrated
There is a scaling issue
Outdated or missing drivers occur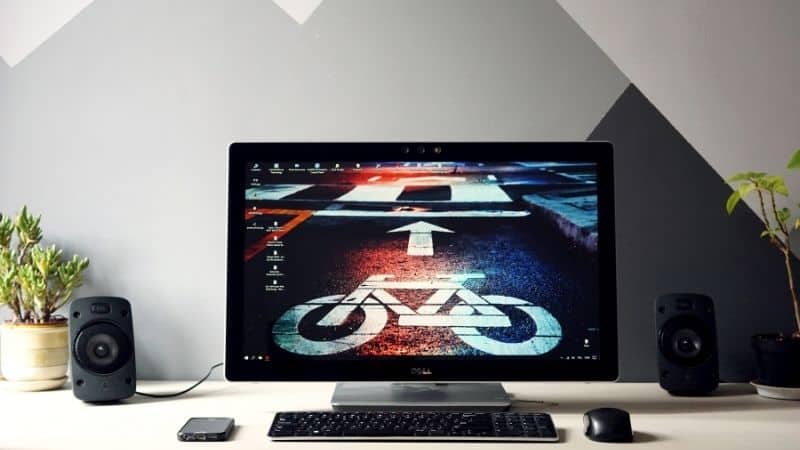 How to Fix a Blurry Computer Screen?
We hope at this point you already found out the issue with your blurry screen. Now it's time to fix it. Let's show you the solution list!
Clean the Mirror
The first thing is to clean your computer mirror. Most people don't do this and as a result, the blurry screen appears.
Use a dry microfiber cloth to remove any type of dust. Then, apply isopropyl alcohol for cleaning smudges and fingerprints!
Restart the PC
This may seem like a very basic fix, but trust us, most of the big issues can also be solved by one single restart. 
To solve the grainy or foggy screen issue, simply restart your computer because sometimes a monitor glitch is a real problem here. And to fix the glitch or bug, a reboot system is necessary. 
If you haven't done it yet, do it right away!
Exit the Safe Mode
Well, you may already know that sometime your PC may reboot in a safe mode and you may not even realize it. It's because, if your computer crashes more than one time in a startup time, the safe mode automatically gets activated.
Moreover, the safe mode can get started if any of your software isn't installed properly too. 
And in that mode, the video driver will load at the lowest resolution. Hence, you'll experience a blurry screen. Try to exit the safe mode and see the difference.
Observe Display Cable
Damaged or loose cables can also be the reason for your blurry screen.
To fix this, you need to ensure that the data and power cables are tightly and securely fit in their accurate ports. Then, make sure if there's any breakage or tear in the cables. If there's, replace it with a new one immediately!
Finally, inspect if the quality of your new cables is okay with the "HDMI Cable Certification App". This way, you'll get the highest resolution and the screen won't be grainy anymore!
Confirm the Connection Security
Often your internet connection can be low and that thing can cause any blurriness or fogginess to your video quality. 
It's a common thing and everybody knows it but still if you're facing this issue while you're watching any videos then check if the internet is okay.
Set Your Screen to the Maximum Resolution
You're supposed to use your PC's native resolution always. Native resolution means the maximum amount of pixels the monitor can display.
Low screen resolution settings may cause picture distortions which eventually lead to a misty or blurry screen. In this case, you have to update the resolution! But how?
It's pretty simple. Find out the search bar and click display settings. Then, there's a drop-down menu under display resolution, from that choose the maximum one.
Done!
Fix ClearType Text
ClearType is a software of Microsoft that improves the readability of the text on the display. You can enable it by default in any Windows 7, 8, or 10. This step can be considered only when the other given steps are checked by you. 
If still, you're facing the blurry screen, try to re-calibrate the ClearType. To fix this, go to the ClearType and find out the option called "Adjust Clear Type" in your control panel. Turn it on and pick "Next". 
Then, follow the instructions given and ask ClearType what font will be the best for your PC. It'll do the rest of your work!
Check-Out the Display Scaling Problems
To know if your pc is having a display scaling issue, check the apps, toolbars and icons. These can appear too small or too large and eventually turn blurry.
No worries, you can fix it by simply logging out and logging into the Windows account. There you'll find "Fix scaling for apps". Turn it on and select the scale and layout size to 100%. Your screen will be sharpened in a minute!
Update Windows
Next up, you can try to update your windows to fix this fuzzy problem. For that,
Go to settings and click on "update and security section"
Here you'll find the "check for updates tab", choose that for the latest versions
There'll be pending update messages. Click here and download the windows
After the system is completed, restart it for a new windows installation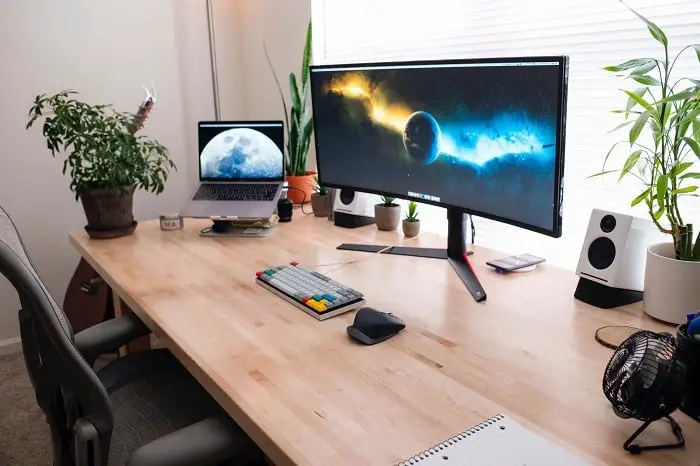 Things to Keep in Mind to Avoid Blurry Screen Issues
We have already given you the solution for the blurry screen on your computer. Here are some tips and tricks you can follow to not get a grainy screen ever. They include,
Always keep your PC updated
Try to maintain the cleanliness of the computer including the monitor, CPU, speakers, mouse and all
Check the resolution and pixels once in a while. If there are any changes, fix it
Buy good quality cables for your pc
Have the fastest Wi-Fi connection
Keep the pc in a safe place so children can't have access to it because sometimes they click on to wrong tabs and mess up the settings.
Frequently Asked Questions
How do I make the computer screen sharper?
If you think your screen is foggy, there are several things you can do to make it sharper. The first and foremost thing is to clean the mirror of the pc. Then try to restart it, fix the resolution, change DPI scaling, or check the cable connection!
Can I clean the mirror of my pc with a damp cloth?
You should always clean the dirt on your camera or mirror of pc with a dry cloth. That piece should be of microfiber so that no damage can happen.
Try to clean it often to avoid any further inconvenience!
Why is my computer screen hazy?
There can be multiple reasons why your pc screen is hazy right now. It can be for bad resolution, dirty screen, cable problem, or hardware/software issues.
The Bottom Line
That's all we have for you to make your screen look more visible. If you know how to fix a blurry computer screen, you can easily do it by yourself at home in a short amount of time (without getting panicked)!
However, always be careful about what you're doing. If you think you don't have enough knowledge about computers, leave it to the professionals.
All the best!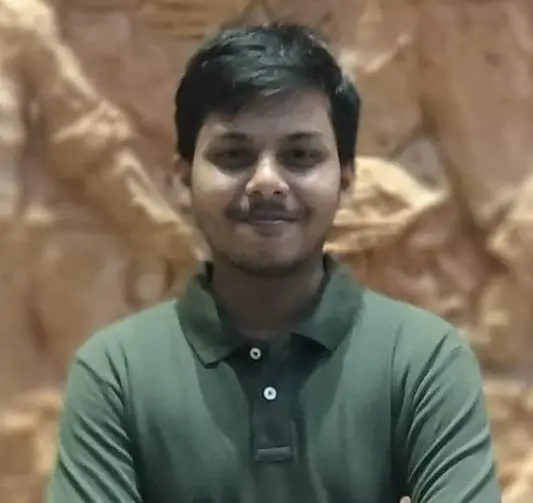 Hello Good People! This is Pavel and Welcome to PC Delight!
I'm an Electronics Engineer by profession with a passion for Gaming & PC builds. When I came up with the idea for PC Delight, it was my goal to share & offer the very best PC building ideas to tech-loving people like myself.
Since my school days, I've been just addicted to gaming & PCs. That leads me to experiment with various ways around the very niche, resulting in great productivity. And I'm here to share those practical experiences. So that next time you start some experiment with your PC builds or struggle to cope with a certain game, I'm here with the solutions. With these philosophies, I started my journey in 2017 and just kept going.