Roku has become pretty popular lately as a good streaming device. It's a tool that sends video across the internet in real-time. Typically Roku users link their box to their television, but can you use a Roku tv as a computer monitor?
To answer shortly, yes, the Roku TV can be used as a Computer monitor. You may also use an HDMI connector to connect your computer to the TV and use it as a PC. Screencasting can also be used, but that's feasible for laptops and Mac.
So, our guide is here for you if you want to use your Roku Tv as a computer monitor. Today we will discuss everything you need to know about how to use Roku Tv as a computer monitor.
can you use a Roku tv as a computer monitor?
Yes, provided your PC or laptop has an HDMI connector and built-in loudspeakers or an earphone input, you may use Roku TV as a computer display. Then you just connect your PC to your Roku TV using HDMI. One of the simplest methods to turn your Roku into a computer display is to use this method.
If you're using a laptop or Mac, you may also utilize screencasting to use the Roku TV as a computer display.
Why use a Roku Tv as a Monitor
There are a huge array of options available for computer monitors. Then why do you use a Roku Tv as a monitor? Well, using Roku as a computer display has some great advantages.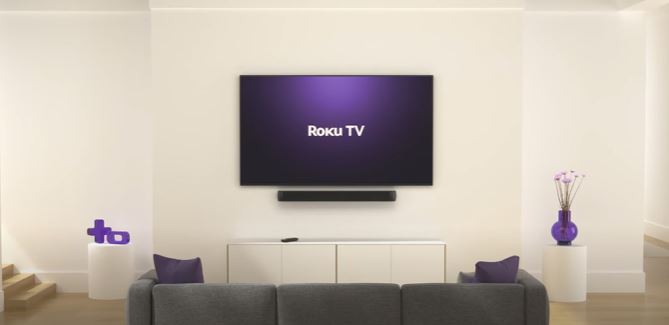 Advantages of Using Roku Tv as a Monitor
Though owning a monitor is less expensive, having a smart TV is a much better value because the gadget can be used in both directions.
Roku TV may be used as a monitor as well as for entertainment purposes, such as streaming content from Netflix, HBO Max, and other websites. It's simple to set up.
One of the main reasons to consider utilizing your Roku TV as a computer display is that you can get the most out of your money by using it for work, gaming, and video streaming.
Better viewing angle than a laptop
You can also use Roku Tv with your laptops, which will give you a better viewing angle. Seeing movies on a tablet or a little laptop isn't going to provide you with the ideal movie experience.
Regular computer monitors are also considerably smaller than televisions. As a result, watching movies on your Roku TV will provide you with a far superior viewing experience.
Regular computer monitors are really costly. But, Roku Tv provides a good resolution under a price tag less than regular monitors. Hence, using it as a computer monitor will surely save you some money.
How to use Roku TV Wirelessly as a computer monitor
Wirelessly connecting Roku Tv to a computer is not possible. Wireless connection is made through screencasting, which is only supported in laptops and Macs. Let's check the steps which you need to follow.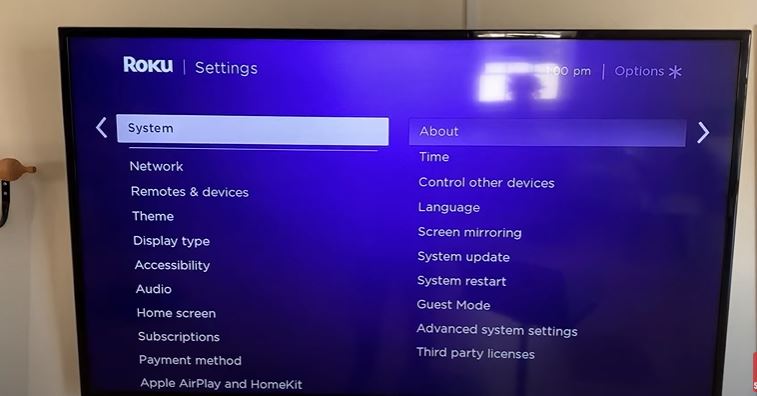 Step 1: Setting up the TV
The first step is to set up your Roku Tv. Follow the steps below to set up your Tv.
The home button can be found on your television remote; hit it and scroll down to settings.
After there, check for the word 'systems,' which is normally at the bottom of the options.
Look for screen mirroring in 'systems,' select 'screen mirroring mode,' then adjust the prompt to 'always allow.'
You're done setting up your Roku TV, and you can exit the settings.
Step 2: Setting up Laptop
We have already fixed the setting of the Roku Tv for screen casting. Now we need to alter a few settings in our laptop for the connection to be completed.
Turn on your laptop and go to the toolbar in the lower right-hand corner and choose the 'notifications' option
After that, select 'connect' to get a list of all the devices that are connected to your laptop.
Select Roku TV from the list of devices and wait for both devices to complete the connection process.
Step 3: Finishing Up
We are done connecting Roku Tv to our laptop via the screencasting process. You'll be able to see your laptop screen projected on the Roku TV after it's finished.
Few Important Key Points to keep in mind
If your laptop isn't strong enough or your network is slow, you'll have considerable latency while utilizing this configuration.
Everything you do on the monitor will take a long time to refresh. When you're undertaking resource-intensive activities like playing games or watching 4K films, the latency might range from a few frame drops to the full screen freezing up.
How to use Roku Tv Wired as a computer monitor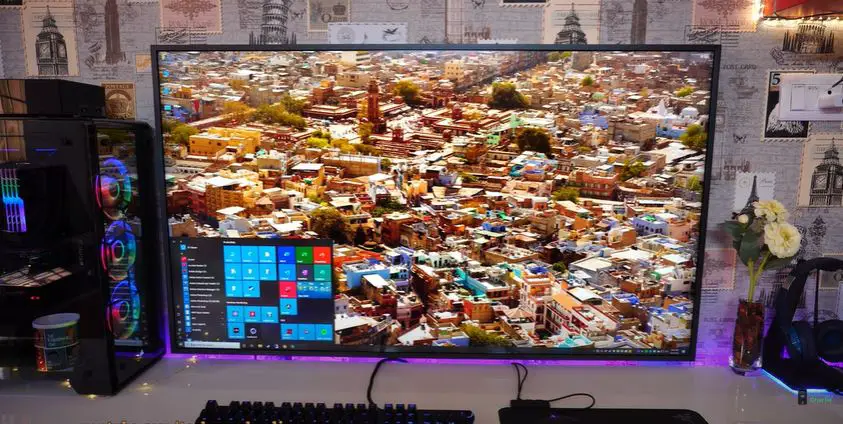 The best way to connect your computer with Roku Tv is via wired method using an HDMI connector. Below, we will discuss all the steps you need to follow to do this.
Step 1: Initial Connections
The first step is obtaining a high-quality HDMI cable that is compatible with your CPU and your Roku TV. Then, using the HDMI cord, link your Roku TV to your CPU. The HDMI ports are located on the backside of your Roku TV.
Step 2: Roku Tv Settings
When both devices are connected, a 'Computer HDMI' connection window will appear beside conventional channels such as Disney Plus, Netflix, and so on. Just select the 'Computer/Computer HDMI' option, and the picture of your pc will be mirrored on your Roku TV.
Step 3: Customizing Display type
Right-click on the desktop and select 'display settings' from the drop-down menu. You may select how you wish to utilize the Roku TV as a monitor right here. Multiple displays' are located here, and you have the option to 'duplicate these displays,' 'expand this display,' or show only display 1 or 2′. Choose the one which you need.
You may also play with the quality and screen size to improve your watching experience.
FAQ
Down below, we will look at the FAQ related to our discussion of whether you can use a Roku Tv as a computer monitor. These question answers will clear your confusion further.
Can I connect my laptop to Roku TV?
Answer: Yes, your laptop can be connected to a Roku TV. Using your Roku device as a receiver, screen mirroring on Roku Tv allows you to display whatever is on your Android mobile or Windows PC onto your TV. You can also use an HDMI cable to connect your Roku TV to your laptop.
Does Roku work with Gaming Monitor?
Answer: Yes, according to Roku, any monitor with an HDMI connector and inbuilt speakers may be linked to any of its streaming devices now on the market. So, sure, gaming monitors can be linked to Roku streaming devices through HDMI and should function flawlessly.
Is it OK to use a TV as a monitor?
Answer: It is OK to use a television as a computer monitor. You may require a particular cable based on your PC's outlets and your HDTV's inputs, and you'll have to double-check a few options, but most recent PCs and HDTVs should work fine together. HDMI outputs are available on most current HDTVs.
Conclusion
Can You Use A Roku Tv As A Computer Monitor? Yes, you can use a Roku Tv as a computer monitor. There are many advantages to doing so, the primary being that you can save a lot of money doing that.
The connection process of your CPU with your monitor is quite easy. You can easily learn how to do it from this guide. Just make sure to follow all the steps in order, and you should have no problem making the connection.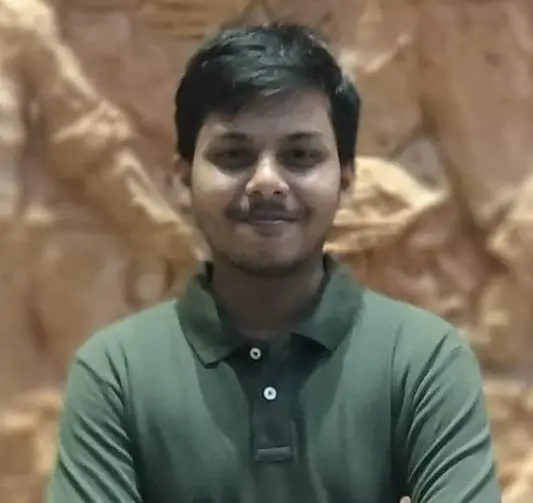 Hello Good People! This is Pavel and Welcome to PC Delight!
I'm an Electronics Engineer by profession with a passion for Gaming & PC builds. When I came up with the idea for PC Delight, it was my goal to share & offer the very best PC building ideas to tech-loving people like myself.
Since my school days, I've been just addicted to gaming & PCs. That leads me to experiment with various ways around the very niche, resulting in great productivity. And I'm here to share those practical experiences. So that next time you start some experiment with your PC builds or struggle to cope with a certain game, I'm here with the solutions. With these philosophies, I started my journey in 2017 and just kept going.